Britons Are Tired of Black Friday
by
Only 21% of consumers plan to shop this year, down from 25%

Mismatch exists among perceptions of consumers and retailers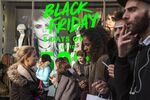 Just as U.K. retailers are gearing up for a Black Friday spending spree, new research shows that Britons are already tiring of the annual scrum for holiday discounts that's come over from the U.S. in recent years.
Only 21 percent of British consumers interviewed by consultant Retail Economics said they plan to shop for Black Friday bargains this year, down on the 25 percent that bought discounted goods a year ago. Of those that do intend to stand in line for cut-price holiday toys and televisions, 74 percent expect to spend less than during Black Friday last year.
"U.K. consumers may be growing tired of the event," Richard Lim, chief executive of Retail Economics, said by e-mail. "What's more, our research shows there is a mismatch between consumers' and retailers' perceptions of Black Friday."

About 40 percent of British retailers are anticipating an increase in demand, compared with only 14 percent of shoppers who said they intend to spend more, according to the survey. Retail Economics polled more than 2,000 individuals last month and also received responses from 20 companies accounting for 45 percent of retail industry sales.
The findings add to a growing list of concerns for U.K. retailers as they prepare for the biggest season of the year. Consumers are expected to come under pressure as the weaker pound stokes inflation, while retailers also face the prospect of rising costs to comply with the new national living wage. Consultants PricewaterhouseCoopers LLP forecast spending will grow by 38 percent to 2.9 billion pounds ($3.6 billion) over the Black Friday weekend.
Black Friday first became a prime part of U.K. shopping culture in 2014 when a rush for bargains saw fights break out as crowds gathered outside stores. Shoppers also rushed to get the best of the bargains online, but were frustrated as many retailers' websites crashed under the weight of demand.

'A Mismatch'
Those experiences may put people off this time around. Only 20 percent of those surveyed said they plan to do more of their Black Friday shopping online this year, while 64 percent said they would do less. The findings mean retailers may need to adjust their plans, with 70 percent of those interviewed saying they expect online demand to be higher this time round.
Even some U.S. retailers are rethinking their approach. In recent years, a growing number of shops kicked off their Black Friday sales the day before by opening on Thanksgiving Day. This year, chains including Nordstrom Inc. will remain closed on the holiday.
Before it's here, it's on the Bloomberg Terminal.
LEARN MORE