What Happens When Wall Street Pulls Back From Bond Markets
By
Number of fixed-income trading platforms exceeds 100

Investors to discuss market at conference in Barcelona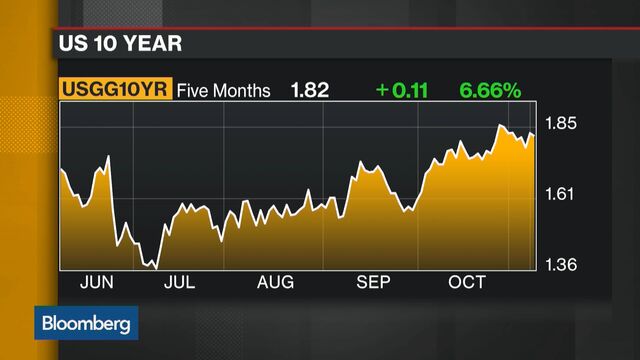 The bond market is becoming more fragmented as dealers pull back, forcing fixed-income investors to step up efforts to find other sources of liquidity.
Smaller lenders, brokers and electronic platforms are replacing banks making markets, leading both to more competition and challenges for investors seeking securities. The number of electronic fixed-income trading platforms hoping to link buyers and sellers has swelled to a record of more than 100, and new firms such as Millennium Europe Ltd. are filling the role vacated by banks.
Asset managers are having to become more proactive as they amass a growing pool of bond holdings that used to be held by dealers, bypassing sellside middlemen on electronic trading platforms and matching buy and sell orders within their own funds. About 600 mostly buyside traders and money managers are meeting at the Fixed Income Leaders Summit in Barcelona this week to discuss how to navigate the changing landscape. 
"The buyside is in the fastest phase of evolution that I've seen," said Carl James, global head of fixed-income trading at Pictet Asset Management in Geneva, who's worked in finance since 1986 and will speak on a panel at the summit. "You can either sit there and say the banks will look after me, or you can be more sophisticated and take responsibility for finding liquidity."
Reduced Liquidity
The environment for trading corporate bonds in euros is the most difficult since at least January 2013, according to a measure of the cost of buying and selling the notes. Investors pay an average 7,850 euros ($8,672) for every 1 million euros of securities traded, up from about 5,850 euros two years ago, data from fixed-income trading platform MarketAxess Holdings Inc. show.
Reduced liquidity has also made government bond markets more volatile. German 10-year bond yields surged to about 1 percent from almost nothing in less than two months last year, while earlier this year the average premium for on-the-run versus off-the-run Treasuries rose to almost twice the average of the past five years.
"With banks offering no or very little balance sheet to clients, the playing field has been leveled for smaller, specialist firms," said  Stewart Booth, chief executive officer of Chalkhill Partners, a specialist investment-bank that uses voice trading to connect European buyers and sellers of high-yield notes and structured finance.
New Players
Millennium Europe started trading small portions of corporate bonds in London last year, according to managing director Caroline Serdarevic, while Euronext NV and Algomi Ltd. announced a joint venture using algorithms to create auctions last week.
Liquidnet Holdings started a private trading system last year, which connects buyside firms with each other to transact in large sizes. Aberdeen Asset Management Plc is among firms using the system, according to Louise Drummond, head of fixed income and FX dealing at the firm that oversees $400 billion, who will speak at the conference.
"The universe of people we're dealing with has grown," Drummond said. "Now there are second-tier banks and agency brokers to speak to in different niche markets plus electronic platforms."
Trade Data
Some investors such as Pictet and Pinebridge Investments are using data to choose trading partners. Pinebridge runs performance reports on banks' ability to make markets when asked, said Chris Perryman, London-based senior vice president of fixed income trading. New York-based Pinebridge, which oversees $83 billion, recently hired two traders with quantitative backgrounds to help compile and model the information.
"The market is more fragmented now and the main problem is trading efficiently," said Perryman, who's also speaking in Barcelona. "A bank salesman will probably always say they trade everything, because they want to see the business and the flow. We want to know what they're actually doing because the reality is they may trade 20 names even though they send round a list of 100 to 200 names."
Asset managers now need to use a mix of old and new trading partners, including banks and electronic platforms, said Christoph Hock, head of multi-asset trading at Union Investment in Frankfurt, which manages about 280 billion euros. "There is no silver bullet," he said.
— With assistance by Anchalee Worrachate
Before it's here, it's on the Bloomberg Terminal.
LEARN MORE