Brexit Uncertainty Halts London Financial Hiring, Adecco Says
by
Adecco's U.K., Ireland permanent placements revenue declines

Employers are waiting for the full impact to become clear: CEO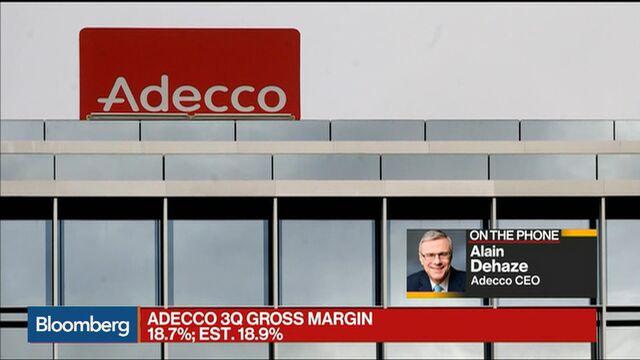 Adecco SA said uneasiness surrounding the U.K.'s vote to leave the European Union caused London's financial services companies to stop hiring in the third quarter, hurting revenue at the world's largest provider of temporary workers.
Sales from the finance and legal sectors in the U.K. and Ireland slid by 12 percent as the company started to see "the first signs of uncertainty" following the Brexit vote, Chief Executive Officer Alain Dehaze said in an interview on Tuesday. Revenue from filling permanent positions in the U.K. and Ireland fell 3 percent, the Glattbrugg, Switzerland-based company said.
"We saw some decline in the permanent placement in the U.K., coming mainly from London and mainly from the financial sector," the CEO said by phone. "Relocation hasn't taken place, it's just people waiting before hiring."
Adecco's shares plunged 11 percent after the Brexit decision on June 24, as investors fretted about the impact on the U.K. jobs market if the vote brought about a recession or a rush by companies to move offices into EU countries. The stock has since rebounded as the initial impact proved less severe than some had feared, and rose 0.3 percent to 57.85 swiss francs as of 1:04 p.m. in Zurich.
Overall sales in U.K. and Ireland, responsible for about 9 percent of Adecco's revenues, gained 4 percent in the third quarter to 543 million euros ($600 million), with the growth mainly coming from new clients in industries including automotive and online retail, Dehaze said. Adecco expanded in the region with the acquisition of Penna Consulting Plc for about 105.3 million pounds ($131 million) three months before the Brexit vote.

Adecco generated the most revenue growth in Italy, where sales gained 13 percent as companies hired more permanent employees, Dehaze said. The advance helped offset a 2 percent decline in the Germany, Austria and Switzerland region, which was hurt by a downturn in the watches industry. The company is now modifying its Swiss client portfolio, according to Dehaze.
Earnings before interest, taxes and amortization fell 10 percent to 294 million euros, Adecco said in a statement. The company remains committed to a long-term outlook to grow revenue in line with competitors and raise the Ebita margin to 4.5 percent to 5 percent, Adecco said.
Before it's here, it's on the Bloomberg Terminal.
LEARN MORE