You Too Can Invest In a Startup Likely to Go Bust
Equity crowdfunding offers regular Britons a chance to back fledgling companies. So far the payoff hasn't matched the hype.
By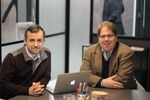 In June, three aspiring London entrepreneurs struggling to raise money for a food-delivery startup turned to a crowdfunding website called Seedrs that helps fledgling businesses solicit money from people online. In exchange, backers get a stake in the company—and a payout if it prospers.
The founders had about 700,000 pounds ($875,000) in the bank from outside investors, but brought in an additional 100,000 pounds online. The company, named Pronto, saw crowdfunding as a bridge to keep the business afloat until it could raise more money from venture capitalists. It ended up being a bridge to nowhere.
By September, three months after taking money from people online, the money was gone. "It is with deep regret that I must inform you that we have had to make the decision to shut Pronto," Chief Executive Officer James Roy Poulter wrote investors. No money would be returned. "I am entirely sorry that I have not made this work," he said. 
Apology letters are becoming a regular occurrence for U.K. companies that raise money via crowdfunding, and that's the subject of this week's episode of the Decrypted podcast (subscribe on iTunes here). The same month as Pronto's announcement, East End Manufacturing, an aspiring clothing maker in London, suffered the same fate after raising about 400,000 pounds investors. Earlybird, a subscription-snack startup, folded around the same time. Hen Restaurants closed in October—less than a year after raising 150,000 pounds.
Thanks to favorable regulations, more than a dozen crowdfunding services have opened in the U.K. since 2011, letting people make high-risk bets on unproven businesses. Unlike Kickstarter, where investors get a product or other reward in exchange for backing a company, the equity crowdfunding model gives people a piece of ownership. If backers of the virtual-reality company Oculus had received a stake in the company rather than a Kickstarter reward of yet-to-be-released VR headset, a $300 donation would have turned in to $43,000 when Facebook bought the company for $2 billion.
Equity crowdfunding is mainly a U.K. phenomenon, but is being closely watched around the world. Earlier this year the U.S. began letting mom and pop investors back early-stage companies online but limited the amount raised to $1 million. According to the consulting firm Nesta, about 15 percent of early-stage investments in the U.K. came from equity crowdfunding in 2015. Roughly 332 million pounds was invested last year, triple the year before.
It's starting to dawn on crowdfunding investors that many will have to wait a long time before cashing in—if at all. Of the more than 1,000 companies backed since 2011, only three have been sold. While it's normal for a high percentage of startups to go bust, critics are starting to wonder when the success stories will come. The lack of pay-outs, along with increased economic anxiety following the U.K. decision to leave the European Union, may already be cooling interest. Deals on equity crowdfunding sites fell 20 percent in the third quarter, according to the research firm Beauhurst. The U.K. government also is mulling new rules for the sector.
"I'm very much an idealist, but I'm also British and it's always counterbalanced by a healthy dose of skepticism," says Adam Oskwarek, a 35-year-old startup consultant who has backed more than 100 companies via crowdfunding, including Pronto. He sees the investments as high-risk, high-reward and knows he may end up with nothing. "Hopefully it all doesn't go pop at some point. Maybe it will."
The people running the crowdfunding platforms say it's too early to make any conclusions. They point to companies that are growing rapidly after raising money. Darren Westlake, co-founder of Crowdcube, the world's first and largest equity crowdfunding site, says investors understand the risks. Companies flop faster than they succeed. He frames online fundraising as a populist alternative to venture capital. "Ordinary people can be an investor," he says. "It's no longer the preserve of just the wealthy and well connected."
'VC investing has become sexy'
Westlake, who has a shaved head and a bouncer's brawny build, started Crowdcube with co-founder Luke Lang in 2011. The two were working at a telecommunications firm and, having watched crowdfunding services such as Kickstarter gain popularity around the world, saw an opportunity to tweak the model so backers could reap the financial rewards if a business got bought out. "I wondered why nobody else had done this," he says.
Crowdcube targeted companies having trouble raising money the usual way. Sales staff hung out at events frequented by startup employees and pitched them on crowdfunding. To lure online investors, Crowdcube advertised in the London Underground and elsewhere around the city. People who visit the site are followed elsewhere on the web with ads touting companies available to back—among them a men's underwear company and a maker of activity-monitors for dogs.
As startups and tech investing gain cultural cachet, platforms like Crowdcube have benefited. "VC investing has become sexy," Westlake says. "You see the success of Google and Facebook and whatever, and you see what the share price used to be and there are all these stories if you had brought $1,000 worth of Facebook when it was a year old it would be worth tens of millions now. People see that stuff and they want to see if they can get their little part of it."

The model is straightforward. Companies list on the site to raise a predetermined amount. If the startup hits the fundraising target, it gets the money. Companies that miss the target get nothing. Crowdcube and its ilk take a commission on successful campaigns—typically about 7 percent of the sum raised. Investors make money if a company is sold or goes public. There's no other way to cash out.
Three companies have sold after raising money on Crowdcube. Camden Brewery was bought by Anheuser-Busch InBev SA/NV for a reported 85 million pounds, nearly doubling what online investors put in. A car-sharing startup, E-Car Club, sold for about triple the original amount. Wool In The Gang, a supplier of knitting kits, was acquired for about the same price that investors put in; Crowdcube backers got  a gift certificate in lieu of payment. The deals brought 5 million pounds to Crowdcube investors, compared with a total of 192 million invested via Crowdcube to date. 
"We were fed up with the banks and not being in control of our own destiny in how we raise capital," says Sarah Warman, a spokeswoman for Brewdog, a Scottish beer company that used 26 million pounds from crowdfunding to open more than 40 bars globally. The company calls its fundraising system "Equity for Punks" and holds investor parties with beer tasting and music. "Investors serve as ambassadors; they tell their friends because it's good for their wallet, but also because they care."
Jeff Lynn, a former mergers and acquisition lawyer, created the Crowdcube competitor Seedrs with co-founder Carlos Silva in 2012. He says failures are inevitable, but Seedrs puts startups through a stiff review period before being accepted. Seedrs says it tells investors that they may not see a return for at least five to seven years. Lynn says Seedrs takes a 7.5 percent cut of the proceeds from any sale, a strategy he says aligns the company's interest with investors and encourages selectivity. An accounting Seedrs performed in September found companies who raised money on its platform are on average now worth more than 40 percent more on paper when accounting for tax breaks, while 19 percent have failed or declined in value since 2012. Venture capital firms such as Draper Esprit have invested alongside Seedrs backers. Still, Lynn says investors understand the risks. "Anybody who doesn't know that," Lynn says, "shouldn't be investing in this space."
Not all investors are financially savvy, of course. Hybrid Air Vehicles, which is developing an airplane-blimp mashup, was contacted by about a dozen potential investors after it started raising money through Crowdcube. Chris Daniels, Hybrid Vehicles' head of partnerships and communications, says they'd failed a financial literacy test people must take before being accepted on the crowdfunding sites. (The multiple-choice includes questions like: What happens to most startups -- do they fail, or do they become big successes and make investors lots of money? What happens if the company fails—will you lose your money, or will Crowdcube reimburse your losses?) Daniels said the people asked for the correct answers so they could invest, but the company didn't help. He said many crowdfunding investors aren't too critical when making their bets. "You're taking a punt on an emotion."
'Balance sheets didn't balance'
What happens to crowdfunded companies after they raised money was largely a mystery. Then Rob Murray Brown started paying attention. Brown, whose thin grey-blonde hair and squinty eyes make him resemble the British actor Bill Nighy of the film "Love Actually," publishes the blog "Truth About Equity Crowdfunding" from his home in Scotland. Brown, 57, was initially an enthusiastic supporter of crowdfunding. On Crowdcube, he put a few thousand pounds behind an exporting business that aimed to take advantage of the upcoming Olympics. The company never delivered, and Brown doesn't expect to get his money back.  
The experience prompted him to look into other companies. Brown pulled unaudited balance sheets filed with the U.K. government and cross-checked them against projections used to gin up interest from online investors.  "It was really quite easy, actually," Brown said during an interview at a pub near his house in Saint Andrews. "Balance sheets didn't balance."  
In 2012, Brown contacted Crowdcube, offering to perform due diligence on companies seeking to raise money. When Crowdcube said no, he started going onto user forums to warn potential investors of the risks. The company banned him. "I kept re-joining under different names and different e-mails," he says.
His kids helped him set up the blog after tiring of his rants. While the site gets a modest 1,000 readers per week, it's widely read in the industry and has been cited by London newspapers.  "To be honest with you, I really hate bullshit, it really annoys me," Brown says. "The Internet has come in and produced what could be this magnificent new channel for funding, but the old regulatory system just can't cope."
He appointed himself industry watchdog and began publishing a few times a week. Here's a sampling of his posts:
March 2015, a children's production named "Waterbabies the Musical" raised 1 million pounds. Brown reports that 80 percent of the money came from other investors, not from online backers. The show went into liquidation after poor reviews.
May 2016, Solar Cloth Company, which was attempting to make flexible photovoltaic fabric, closed 18 months after raising 1 million pounds. Following up on Brown's report, The Times of London calls it "one of the largest failures of a crowdfunded business in the U.K."
September 2016, snacks company Earlybird announces liquidation, a year after Brown first criticized its business model.
October 2016, Brown publishes records showing watch retailer Orsto, which had raised 60,000 pounds from online backers, had losses of 40,000 pounds in 2015, compared with projected profits of 500,000 pounds.
Brown says most companies are well-intentioned, but platforms need to do a better job of weeding out the duds and push their companies to file audited figures with the government so investors have a clearer picture of the business. Tax breaks that allow investors to write off crowdfunding losses also should be revisited, he says. Brown acknowledges that Seedrs and a platform called Syndicate Room, which allows people to invest alongside more established investors, have been stricter than others. 
Crowdcube declined to discuss Brown specifically, but said it has about 20 people, including lawyers and analysts, who review businesses before people can invest. The company plans to publish details about its due diligence process soon. "We welcome any constructive commentary on the industry," Crowdcube said in an e-mailed statement. "We are constantly improving our processes to ensure investment opportunities are presented fairly and our investors are aware of the risks, the importance of diversification and have appropriate protections in place."
The U.K. government is grappling with how to oversee the fast-growing sector. David Geale, the director of policy at the U.K. Financial Conduct Authority, which is drafting the rules, said regulators must strike a balance that protects investors and encourages alternative methods to raise money. "This is something that is potentially exciting, it challenges the way things are done, it's an alternative for business to find funds, and in many ways that's a good thing," says Geale. "We just need to be sure anybody investing in crowdfunding understands the risks."  
Brown says the agency asked for his input, one of several unexpected opportunities as a result of his blog. He set up a consulting business after several companies reached out for his advice about crowdfunding. In exchange for helping with financial reporting and due diligence, he takes a fee or stake in the company. Asked if he'll avoid criticizing a company where he has financial ties, even if they deserve it, he demurs. "I only take on companies that I think have a good chance of actually getting somewhere and giving some returns to investors," he says.
Even with his financial interests now intertwined with the sector's success, Brown expects investors to lose more money next year as companies close down in a weakening economy. "I'm not happy to see the failures," he says, "but I'm very happy to be proven right."
Poulter, Pronto's 28-year-old CEO, read Brown's obituary of his company. ("It seems incomprehensible to us that a business model can be brilliant in June and a dead duck in September," Brown wrote.) Angry e-mails poured in lambasting Poulter for burning through so much money so quickly. 
Poulter was just as surprised. The company had been trying to grow quickly to compete against larger food-delivery businesses, but couldn't keep up. Venture capitalists he thought were going to back his company backed out. He describes sleeping on a blow-up mattress at Pronto's central kitchen and the hard work that went into building a mobile app. He'd long wanted to run his own startup and saw crowdfunding as a step towards success. "I'm OK with myself because we did an unbelievable job with what we had," Poulter says, before adding. "I wish we didn't spend other people's money."
—With John Detrixhe and Edward Robinson 
Want to listen to more stories like this? Subscribe to Decrypted on iTunes and Pocket Casts for new episodes every week. Decrypted is a podcast that uncovers the hidden projects, quiet rivalries and uncomfortable truths in the global technology industry.
(Updates with tax breaks analysis. A previous version of this story was revised to correct the spelling of Seedrs.)