U.S. Financial Conditions Ease as Clinton Gets Election Boost
By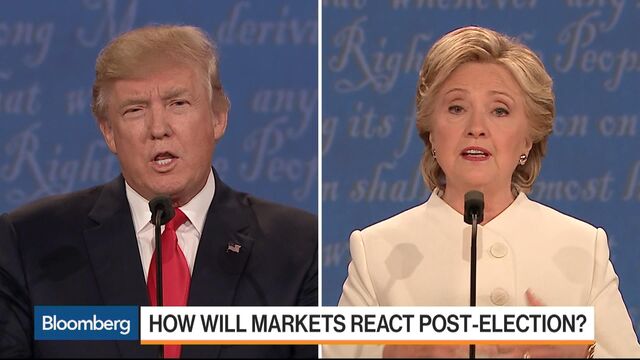 Easy does it. 
U.S. financial conditions staged a partial recovery on Monday in the wake of renewed market confidence in a Hillary Clinton victory, after financial stress climbed to its highest level since the aftermath of the Brexit vote on Friday.   

The FBI's decision on Sunday to absolve Clinton of criminal wrongdoing on a fresh trove of emails saw financial conditions ease to minus 0.46 on Monday, a slight reversal in a two-week downward trend, during which times markets priced in a higher probability of a surprise Donald Trump victory.

On Friday, the Bloomberg U.S. Financial Conditions Index closed to a post-Brexit low of minus 0.58, after the S&P failed to snap an eight-day losing streak amid election-related jitters. (The metric tracks financial stress across money, bond and equity markets, with a positive value indicating easier financial conditions relative to pre-crisis norms.)

While stress has staged an uptick in recent weeks, conditions remain broadly accommodative compared with the market maelstrom following the shock devaluation of the yuan last August, and have sharply rebounded since the Brexit vote in June. 
With October's labor data affirming the relative vigor of the U.S. economy, the financial-conditions metric has assumed outsize importance in influencing the Fed's decision on whether to hike rates in December, say analysts. 
"The Fed is likely viewing any material slowing in the economy or tightening in financial conditions associated with [the] election as one of the largest risks for their ability to raise rates in December," Bank of America Merrill Lynch analysts, led by Michelle Meyer, wrote in a research report last week.
An upturn in liquidity conditions in the event of a Clinton victory would, therefore, boost market confidence that the U.S. economy can withstand the impact of a rate hike.
"If Clinton wins on Tuesday that could lead to a sharp reversal in the recent trend — hinted at by today's slight reversal in the index — while a surprise Trump victory would probably initially cause financial conditions to decline further," Michael McDonough, economist at Bloomberg Intelligence, wrote in a note on Monday. 
Financial conditions might soon reach their cyclical peak, however. 
Economists at Goldman Sachs Group Inc. reckon the relative buoyancy of financial markets since the Brexit vote will help drive an upturn in inflation-adjusted U.S. output next year. The Fed, therefore, could overshoot its inflation target unless it engineers a tightening in liquidity conditions — a sharp turnaround in its post-crisis monetary stance — through at least three rate hikes from now until the end of 2017, the analysts argue.
"In order to prevent this overshooting, an optimal control policy would undo about half of the easing of financial conditions since early 2016," Goldman economists, led by Sven Jari Stehn, concluded in a research note on Friday.
Before it's here, it's on the Bloomberg Terminal.
LEARN MORE