U.S. ELECTION WRAP: Clinton Polling Edge Aids Democratic Senate Chances
As Hillary Clinton and Donald Trump make their closing arguments to voters in battleground states, pundits attempt to read the political tea leaves for the White House and Congress.
By and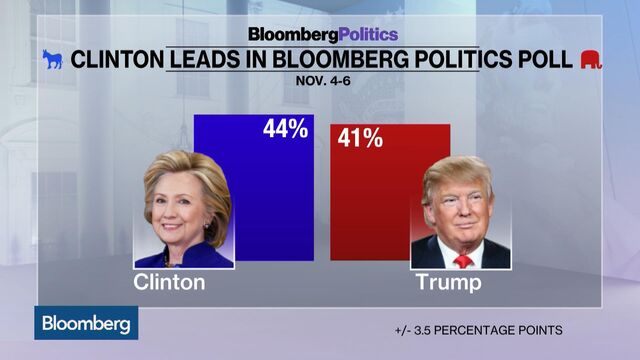 With one day to go, Hillary Clinton and Donald Trump are stumping across a total of five battleground states to make their last pitch to voters in a presidential campaign that promises to be groundbreaking no matter who wins.
Clinton would be first female U.S. commander-in-chief almost a century after American women gained the right to vote; a Trump win would mark a historic upset by one of the most controversial nominees in modern history
A Clinton win would aid Democrats' Senate prospects because the vice president casts tie-breaking votes

Sabato's Crystal Ball sees Democrats gaining control of Senate by picking up 4 Senate seats, splitting the chamber 50-50 with Republicans but giving Democrats tie-breaking power through Democrat Tim Kaine, the vice president (assuming Clinton wins)
Charlie Cook, editor and publisher of the nonpartisan Cook Political Report, predicts Democrats will make a net gain of at least four Senate seats, with GOP incumbents defeated in Illinois, Pennsylvania, Wisconsin, New Hampshire and Democrats holding their seat in Nevada

Cook, speaking Sunday on NBC's Meet the Press, said he sees Republicans keeping their seats in Florida and Indiana; he declined to make a prediction on Senate races in Missouri, North Carolina

The New York Times' The Upshot gives Democrats a 56% chance of winning the Senate

GOP favored to keep House, though likely to lose seats

Cook analyst David Wasserman said "most likely outcome" is a Democratic gain of between 10-15 seats, short of the 30 seats the party needs to regain control of the chamber
CLOSING CAMPAIGN
Both camps expressed optimism early Monday, though polls showed Clinton with a slight edge

"He's a great closer," Republican National Committee Chairman Reince Priebus said about Trump on Fox News
Clinton has a "strong hand" going into Election Day, Joel Benenson, senior strategist for the Democratic nominee's campaign, told MSNBC

Meanwhile, pundits and forecasters sought to interpret the electorate's mood amid a hodge-podge of final polls, both in terms of the White House race and what they might portend for Congressional control next year
A raft of new national surveys show Clinton in the lead, with the Democratic nominee ahead by 3 points in a final Bloomberg Politics national poll; and leading Trump 50%-44% in a Monmouth University Poll

Fox News survey, CBS News Poll and ABC/Washington Post Tracking Poll all have Clinton with a 4-point advantage over Trump

Bloomberg QuickTake: Why 'Swing States' Dominate U.S. Presidential Race
The world's wealthiest people became $37 billion richer as of Monday afternoon as stock markets rallied on mounting speculation that Clinton will be elected U.S. president over billionaire rival Trump: Bloomberg
Still, Trump maintains "plausible path" to White House, Tina Fordham, Citigroup's chief global political analyst, told Bloomberg TV

Current projections show "an awful lot of states" within 3-5 point margin of error and "that's very, very close," Fordham said

Sabato's Crystal Ball, at the University of Virginia, predicts Clinton will be the victor on Nov. 8, with 322 electoral votes of the 270 needed to win; Trump is forecast to get 216; NBC News' final battleground map has Clinton 274, Trump 170, with 94 electoral votes in the "Tossup" column, leaving Trump short even if he took all the too-close-to-predicts states
WHAT HAPPENS TO THE SENATE IF CLINTON WINS?
A 50-50 Senate along with a Clinton win may be good news for Democrats in the short term, but it would set the stage for a potential 2018 headache for the party, Bloomberg Intelligence analyst Brian Rye wrote last month
While Virginia's Democratic governor, Terry McAuliffe, would almost certainly appoint a Democrat to temporarily replace Kaine, who would give up his Senate seat to be Clinton's VP, a Nov. 2017 special election would put Kaine's former seat in play

"One side effect of such a scenario is that you might see Democrats try to accelerate their legislative initiatives quickly in 2017, fearful of potentially seeing control flip back to the Republicans in either 2017 or 2018," Rye wrote
That could possibly accelerate movement of Clinton-backed initiatives, such as establishing risk fees on big banks or curbing high drug prices: Rye

Even if Democrats protected Kaine's vacated seat, the party would face more pressure in the Senate in 2018; Republicans are defending 24 of 34 seats this year, but Democrats will defend 25 of 33 seats in 2018, including states such as North Dakota and Montana that tend to favor Republicans
NOTE: Democrats now control 46 of the Senate's 100 seats, meaning the party needs a net gain of four if Clinton wins and five if Trump becomes president; vice president can cast tie-breaking vote in Senate
ON THE TRAIL
Last-minute campaign trips show how competitive the presidential race has become in its final hours, with Trump trying to puncture Clinton's advantage in states such as Michigan, Colorado or Wisconsin, and Clinton working to ensure victory in the crucial swing states of Pennsylvania and Michigan, and gain the edge in North Carolina and New Hampshire
Clinton will end Monday in North Carolina, a change from previous schedule showing her final campaign event in Pennsylvania

After a Philadelphia rally Monday night with President Obama, Michelle Obama and rock stars Bruce Springsteen and Jon Bon Jovi, Clinton will end the evening with a midnight rally in Raleigh, North Carolina, along with former President Bill Clinton and Chelsea Clinton
Another addition to the Clinton schedule is former Vice President Al Gore stumping for her in Boulder and Lakewood, Colorado

Trump's schedule on Friday showed him winding up Monday in New Hampshire, a state that offers just 4 electoral votes, yet can make the difference in a close race; Trump added an 11 p.m. rally in Grand Rapids, Michigan
The last-minute spotlight on Michigan included President Obama campaigning in the Wolverine State on Monday

"This race will be close here in Michigan," just like it will be in other places, Obama told the crowd at University of Michigan in Ann Arbor 
Obama also speaks at rally for Clinton in New Hampshire before joining the Democratic nominee in Philadelphia 
SWING STATES
Clinton and Trump are in virtual dead head in Florida and North Carolina, Quinnipiac University Poll showed

In Fla., Clinton 46%, Trump 45%
In N.C., Clinton 47%, Trump 45%

Clinton also tied with Trump in North Carolina, with both at 44% each, in separate Upshot/Sienna poll
Trump in Florida on Monday told voters this election is their last chance to beat a "rigged" system
Trump is ahead of Clinton 46%-39% in Ohio and 47%-41% in Missouri, according to Emerson College polls

Clinton leads Trump in Nevada 47%-46%, and in New Hampshire 45%-44%, both within margin of error: Emerson
ELECTION DAY CONCERNS
U.S. states are on high alert for election cybersecurity threats
Homeland Security Department officials are in talks with representatives from all 50 U.S. states about election security, according to two DHS officials who declined to discuss the issue publicly ahead of Nov. 8 election

A team of 15 analysts are working nonstop to monitor state networks for intrusions, virus infections, Brian Calkin, VP of operations at the Multi-State Information Sharing and Analysis Center, told Bloomberg
The center is working with Homeland Security Dept in effort to thwart attacks
FBI FALLOUT
Relief swept over stock markets Monday after the FBI reiterated Clinton's controversial handling of her e-mails wasn't a crime, Bloomberg's Joseph Ciolli wrote
Clinton has an 80% chance of winning, up from 70% on Nov. 4, following the FBI's announcement on Sunday, Bloomberg Intelligence analyst Brian Rye wrote, citing PredictIt traders
Gold fell the most in a month in wake of FBI's latest twist favoring Clinton: Bloomberg
At the same time, a timetable presented in court Monday by a Justice Department lawyer suggests that the slow-drip release of e-mails from Clinton's time as secretary of state may drag on beyond the first term of the next president, Bloomberg's Andrew Harris reported
CLOSING ARGUMENTS
Clinton will speak to voters about "core values" in a 2-minute closing ad targeted at about 20 million people who watch NBC's singing competition "The Voice" and CBS's "Kevin Can Wait," a comedy starring Kevin James

"Is America dark and divisive or hopeful and inclusive?" Clinton asks in ad

Trump released his 2-minute closing ad on Friday

"The establishment has trillions of dollars at stake in this election. For those who control the levers of power in Washington, and for the global special interests, they partner with these people that don't have your good in mind," Trump says in ad
The spot is airing across the country, including during NFL, NCAA and NASCAR programming; his campaign says it put $4 million behind the ad: USA Today
The Anti-Defamation League criticized the ad for using what it said is the "rhetoric and tropes that historically have been used against Jews and still spur antisemitism": Slate
ETC.
Bloomberg View columnist Michael Lewis imagines some new e-mails from a Wall Street trader to both Clinton and Trump: read about it here
Hedge fund manager David Tepper, who runs Appaloosa Management, said he's supporting Clinton for president after initially being open to backing Donald Trump: CNBC
In the house after the 45th U.S. president is elected, equity investors need to brace for volatility. What they shouldn't do is panic. Read full Bloomberg story here
As the country prepares to vote on Tuesday, Bernie Sanders' supporters are getting behind Clinton with varied levels of enthusiasm, Bloomberg's Arit John wrote
CONGRESSIONAL ELECTIONS
SENATE RACES (Republicans hold 54-46 majority)
PREDICTIONS: Charlie Cook, editor and publisher of the nonpartisan Cook Political Report, said on NBC's "Meet the Press" program yesterday Democrats would make net gain of at least four seats in tomorrow's elections

Cook said Democrats will unseat GOP incumbents in IL, PA, WI, NH and will hold their seat in NV
Cook said Republicans hold their seats in FL, IN; declined to make a prediction in MO, NC
Democrats would win Senate majority with four-seat gain if Clinton is elected president because Tim Kaine would have tie-breaking vote as vice president
FL: Republican Sen. Marco Rubio had 50% to 43% for Democratic Rep. Patrick Murphy in Quinnipiac University Poll conducted Nov. 3-6 of 884 likely voters (+/- 3 ppts)

Obama at Kissimmee rally yesterday said Rubio "supports Donald Trump" while Murphy "actually shows up to work" and "puts you ahead of politics," in reference to Rubio missing votes to run for president
Murphy spoke before and introduced Obama, who won Florida by <1 ppt in 2012, smallest margin of victory among the 50 states
MO: Senate Majority PAC, the top super-PAC in Democratic campaign to win control of chamber, released TV ad saying race bwteen Republican Sen. Roy Blunt and Democratic Secretary of State Jason Kander is a choice between a "soldier who served his country" and "the senator who's lost his way"

Narrator says Kander, a 35-year-old Army veteran, part of "new generation of leadership" and Blunt is "career politician" with family members who are lobbyists
Blunt said in statement yesterday FBI investigation into Clinton's e-mails "was rushed work" that was "clearly botched" and "a failure"; Kander would ''serve as a rubber stamp for her liberal agenda"
Kander received $2,000 from House Minority Leader Nancy Pelosi's campaign committee Oct. 31, according to FEC filing
Emerson poll shows tight race: Kander at 46%, Blunt at 45%
NH: Democratic Gov. Maggie Hassan had 49% to 45% for Republican Sen. Kelly Ayotte in UNH Survey Center's Granite State Poll, conducted Nov. 3-6 of 707 likely voters

Emerson College poll flips results, has Ayotte at 49% and Hassan at 46%
NC: Deborah Ross's campaign released TV ad criticizing Republican Sen. Richard Burr's "out-of-state special interests" and touting endorsements from newspaper editorials
NV: Democrat Catherine Cortez Masto will defeat Republican Rep. Joe Heck 46%-43%, political analyst Jon Ralston predicted in Reno Gazette-Journal

Heck is "a formidable candidate" but he "had trouble with Trump" and there will be "high Hispanic turnout to elect the first Latina in U.S. Senate history," Ralston wrote
Emerson poll has Cortez Masto edging Heck 48%-47%
Senate Majority PAC released TV ad attacking Heck for voting against federal funding for Planned Parenthood and to "make abortion a crime"
Ad cites Heck's vote in July 2012 for a bill that would have made abortions in Washington illegal after 20 weeks
PA: Obama in Nov. 5 statement praised Democrat Katie McGinty and said Republican Sen. Pat Toomey "won't tell Pennsylvania voters where he stands on Donald Trump, trying instead to have it both ways by telling different people what he think they want to hear"

Obama statement, released by Democratic Senatorial Campaign Committee, was prompted by Toomey TV ad highlighting past praise from president for co-authoring proposal that would expand gun-background check system
McGinty campaigned with Vice President Joe Biden Nov. 5 in suburban Bucks County north of Philadelphia and yesterday in Scranton and Harrisburg
In Scranton, McGinty referred to "Pat 'Wall Street' Toomey" and said Trump is "a fraud"
Political spending on the race "is on track to hit $140 million," Associated Press reported
OH: Emerson poll finds Republican incumbent Rob Portman holds advantage over Democrat Ted Strickland, 49%-28%
VA: Carly Fiorina, the former Hewlett-Packard chief executive and 2016 presidential candidate, may run in special election that would be held next year if Kaine is elected vice president, Politico reported

Fiorina relocated to Virginia after losing 2010 California Senate race to Democratic incumbent Barbara Boxer
If Clinton-Kaine ticket wins, Kaine would resign his Senate seat and Democratic Gov. Terry McAuliffe would appoint successor who would serve through Nov. 2017, when special election would be held; regularly scheduled election would be held Nov. 2018
WI: Republican Sen. Ron Johnson said today "we need a massive turnout" in a race against Democratic ex-Sen. Russ Feingold that "is entirely winnable," according to WTMJ

Feingold in TV ad said voters have a choice to "go along with a rigged system" or "stand for something that matters"
A revised version of the ad, first airing in La Crosse market, has Feingold saying Republican Sen. Ron Johnson "stands with CEOs, tax loopholes for billionaires, tax breaks for companies that ship jobs overseas"
Senate Majority PAC in TV ad said Johnson is "just not for us," and "sided with corporate interests" in backing trade pacts with Panama, Colombia, Korea in 2011
NOTE: Senate voted 83-15 to implement the Korea agreement and 77-22 for the Panama pact; Democrats voting for both included New York Sen. Chuck Schumer, the Democratic leader-in-waiting, and Herb Kohl, who then held Wisconsin's other Senate seat
Feingold's late donors Planned Parenthood Action Fund $1k on Nov. 1; Johnson's donors include Ohio Gov. John Kasich's presidential campaign fund, Google's PAC, Tea Party Express
HOUSE RACES (Republicans hold 246-186 majority)
PREDICTIONS: Cook Political Report projects Democratic gain of between 5-20 seats, though "Democrats would be lucky to gain 13 seats to simply get back to where they were before 2014," House editor David Wasserman wrote in analysis today

"Although Democrats look likely to pick up House seats in California, Florida and Texas, they are struggling in the industrial Midwest and Northeast -- a reflection of the presidential race," House editor David Wasserman wrote
NOTE: Democrats need net gain of 30 seats for a majority
AZ-01, AZ-02: Low outside spending in Arizona's two most competitive districts "is a sign national Republicans and Democrats don't see" the districts "as possible flips," Associated Press reported

In AZ-01, a vast district of 55k square miles including Flagstaff, Republican Paul Babeu "is getting no support from national GOP groups"; Democrat Tom O'Halleran, a former state legislator, favored to win seat of Democratic Rep. Ann Kirkpatrick, who's running for Senate
''The flow of outside money has mainly stopped" in Tucson-area AZ-02, where Republican Rep. Martha McSally won close race in 2014 but is favored against Democrat Matt Heinz, a physician and former state legislator
CA-07: Republican Sacramento County Sheriff Scott Jones "is playing offense in an election cycle in which many GOP House incumbents are fighting for political survival," Sacramento Bee reported

Jones seeking to unseat Democratic Rep. Ami Bera, who was barely re-elected in 2014 in suburban Sacramento district
It's been 22 years since "a Republican ousted a sitting House Democrat in California," the newspaper reported
CA-10: Republican Rep. Jeff Denham received donations last week from billionaire casino executive Sheldon Adelson, his wife Miriam Adelson, and campaign committee and leadership PAC of Majority Whip Steve Scalise, according to FEC filing

Denham and Democrat Michael Eggman, a beekeeper and almond farmer, in rematch of 2014 race Denham won 56%-44%
District is >40% Hispanic and includes Modesto, Tracy, Turlock, Manteca
CO-06: Democratic state Sen. Morgan Carroll's campaign and Democratic Congressional Campaign Committee aired TV ad of First Lady Michelle Obama urging support for Carroll and Democratic candidates

Carroll is opposing four-term Republican Mike Coffman in district that curls around Denver and includes parts of Adams, Arapahoe, and Douglas Counties; President Obama won district 52%-47% in 2012 election
FL-13: Democrat Charlie Crist gave $75k to his campaign on Nov. 4, according to FEC filing

Crist, Florida's former Republican governor, seeking to unseat Republican Rep. David Jolly in a Pinellas County district that absorbed more Democrats in court-ordered redistricting
IA-01: Republican Rep. Rod Blum led Democrat Monica Vernon 47%-41% in Loras College poll conducted Nov. 1-3 (+/- 4.8 ppts)

Vernon, a former councilwoman in Cedar Rapids, seeking to deny Blum second term in district that also includes Dubuque, Waterloo, Marshalltown
IA-03: Republican Rep. David Young led Democrat Jim Mowrer 44%-39% in Loras College poll conducted Nov. 1-3 (+/- 4.8 ppts)

Mowrer, an Iraq War veteran and former Pentagon aide, trying to deny Young second term in district that includes Des Moines, Council Bluffs, Ankeny
Young in TV ad said "I have some differences with both" Trump and Clinton but "my job is to be an independent fighter for Iowa"
NE-02: Democratic Rep. Brad Ashford "has touted his willingness to vote with Republicans, citing his ranking as one of the most independent-minded members of the House," Omaha World-Herald reported

Republican Don Bacon, a retired brigadier general, "has highlighted his many years of military service," the newspaper said
Ashford is one of just five Democrats from a district Obama didn't win in 2012
NJ-05: Republican Rep. Scott Garrett "faces the toughest fight of his congressional career" as he and Democrat Josh Gottheimer "have accused each other of manufacturing false charges over ethics violations, assault charges and embracing extremists," NJ.com's Jonathan Salant reported

Gottheimer, a former speechwriter for Bill Clinton, said in TV ad he would fight for lower taxes and described Garrett as a "Tea Party extremist"
Garrett re-elected in 2012 and 2014 with 55% of the vote
District includes politically competitive swath of Bergen County near NYC and Republican-leaning sections of Passaic, Sussex, Warren Counties
NY-01: House Majority PAC released TV ad invoking Trump's 2005 comments about groping women, as female narrator says Republican Rep. Lee Zeldin "still supports Trump, even now"

Zeldin favored against Democrat Anna Throne-Holst, a former Southampton Town Supervisor, in district on eastern Long Island
Ad similar to one House Majority PAC aired in VA-10 against Republican Rep. Barbara Comstock
NY-03: Democrat Tom Suozzi led Republican Jack Martins 47%-40% in Newsday/Siena College poll conducted Oct. 30-Nov. 1 of 614 likely voters, Newsday reported

Suozzi, a former Nassau County Executive, and Martins, a state senator, seeking to succeed retiring Democratic Rep. Steve Israel in district that includes parts of Nassau and Suffolk Counties and some Queens neighborhoods
NY-19: Republican John Faso led Democrat Zephyr Teachout 48%-42% in Time Warner Cable News/Siena College poll conducted Nov. 1-3 of 605 likely voters (+/- 4 ppts)

Faso, a former state representative, and Teachout, a law professor and anti-corruption activist, vying to succeed retiring Republican Rep. Chris Gibson
District includes all or part of 11 counties in central Hudson Valley; Obama won NY-19 52%-46% in 2012, though Trump led Clinton in survey 43%-38%
NY-24: Democrat Colleen Deacon and Democratic Congressional Campaign Committee released TV ad featuring Obama endorsement

Obama noted Deacon's Syracuse upbringing and her being single mother who became Democratic Sen. Kirsten Gillibrand's top N.Y. aide
Obama won NY-24 by 57%-41% in 2012, though polls show Deacon trailing one-term Republican Rep. John Katko
Katko and Deacon held their third and final TV debate yesterday, Syracuse.com reported
PA-08: Defending Main Street, a super-PAC advocating for mainstream Republican views, in TV ad praised Republican Brian Fitzpatrick for serving as FBI special agent

"When our nation called on Brian Fitzpatrick to serve and protect, Brian heeded the call," a narrator says
Fitzpatrick is seeking to succeed his brother, retiring Republican Rep. Mike Fitzpatrick; state Rep. Steve Santarsiero is the Democratic nominee
District includes all of Bucks County and part of northern Montgomery County near Philadelphia
TX-23: Democratic Congressional Campaign Committee released Spanish-language TV ad tying Republican Rep. Will Hurd to Trump and promoting Democratic ex-Rep. Pete Gallego

Ad began airing yesterday on Univision in San Antonio, the biggest city in Bexar County, where about half of the TX-23 vote was cast in 2012 and 2014 elections
District is more than two-thirds Hispanic and runs about 550 miles from San Antonio to El Paso; includes most of Mexico-Texas border
Hurd beat Gallego 50%-48% in 2014
VA-10: Democratic businesswoman LuAnn Bennett in TV ad said she's "learned a lot" living 35 years in northern Virginia, including raising three sons and building a successful business after her husband died

Bennett said Congress needs to be "working again"
Bennett seeking to unseat one-term Republican Barbara Comstock in upper-income district running from Fairfax County west to West Virginia border
Before it's here, it's on the Bloomberg Terminal.
LEARN MORE