markets
U.K.'s Hammond Dodges EU Meeting as Britain Keeps Distance
By
Chancellor sending his deputy for second consecutive month

U.K. uncertainty endangers EU economy, Finnish minister says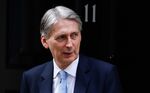 Chancellor of the Exchequer Philip Hammond plans to miss the regular meeting of European Union finance ministers for a second consecutive month, as Britain's fragile relationship with the rest of the bloc becomes increasingly strained.
Hammond, who met his EU counterparts for the first and only time in September, will leave Tuesday's discussions in Brussels on the bloc's fight against tax evasion and money laundering to his deputy, Chief Secretary to the Treasury David Gauke. That means that even if he turns up to December's ministerial gathering, Hammond will have cut himself off from the EU's economic and financial discussions for 12 weeks.
Follow @Brexit for the latest news, and sign up to our Brexit Bulletin for a daily roundup.
"This is a very delicate question," Slovak Finance Minister Peter Kazimir, who'll lead the discussions, told reporters as he entered the meeting. "I'm looking forward to see Philip again with us."
Hammond's absence underscores how Britain's focus has shifted away from core EU business since the vote to leave in June. European governments are pressing Prime Minister Theresa May to clarify what type of trading relationship she wants with them when the U.K. exits, demanding she end uncertainty as soon as she can.
Hammond's absence on Tuesday comes a day after the U.K.'s Brexit Secretary David Davis told lawmakers in London that "the point of no return was passed" when Britain voted to leave the EU at the referendum on June 23.
Parliamentary Votes
A Treasury official said that the U.K. Chancellor doesn't always attend meetings of his EU counterparts and on this occasion he was busy preparing the Autumn Statement, a semi-annual update on economic policy due Nov. 23.
"I know he regrets he's not here today because I met him in London two weeks ago," Swedish Finance Minister Magdalena Andersson told Bloomberg News. "He's made a very good impression."'
While it's not unusual for ministers to miss the bloc's meetings occasionally, especially if they're involved in important parliamentary votes or fighting elections at home, it's rare for finance ministers from the EU's other 27 countries to be absent so regularly. George Osborne, the previous chancellor, missed several meetings before the U.K's referendum on EU membership in June. Conversely, Foreign Secretary Boris Johnson has attended every meeting of EU foreign ministers since he took the position.
At a summit of EU leaders in Brussels last month, Prime Minister Theresa May said she was determined for the U.K. to play a full part in the bloc's work until the country officially left, which according to the government's timetable could be around March 2019.
Brexit Uncertainty
Last month, a British government official, speaking on condition of anonymity, said the U.K. had already fended off attempts by other governments to exclude Britain's representatives from some EU meetings in Brussels.
The uncertainty over the U.K.'s relationship with the rest of the European Union needs to come to an end as soon as possible, Finnish Finance Minister Petteri Orpo said in an interview in Brussels on Monday.
"We can see how difficult it is in Britain; we can see how difficult it is between Britain and the European Union," he said. "Every day and week and month and year makes this more difficult and causes troubles to the European Union and its economy."
— With assistance by Svenja O'Donnell, and Thomas Penny
Before it's here, it's on the Bloomberg Terminal.
LEARN MORE