Trump's Fate Will Help Decide Success of Global Pollution Fight
By
Republican win may see U.S. scrap Paris deal on climate

Delegates from 190 nations start two weeks of talks on Monday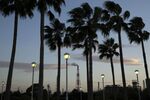 The annual United Nations talks on how to limit global warming last two weeks, but success will hinge on whether Donald Trump triumphs in the U.S. presidential election on Tuesday.
Trump has questioned the science of climate change, vowed to pull out of the landmark Paris agreement and pledged to stimulate production of coal, the dirtiest fossil fuel. Envoys gathering Monday for the talks in Marrakesh, Morocco, are unsettled by polls showing Trump is within striking distance of defeating the Democratic contender, Hillary Clinton.
The meeting is supposed to lead to a rulebook for nations to comply with the Paris climate accord signed last year. Instead, delegates drawn from energy and environment ministries are focused on the threat of Trump, whose victory would raise questions over the U.S. commitment to acting and throw into turmoil the UN effort.
"If Mr. Trump is elected president in the United States then all bets are off," Robert N. Stavins, director of the Harvard University Environmental Economics Program, said in a phone interview.
Businesses such as Monsanto Co., Nestle SA and BP Plc are looking to the talks to provide a signal from policy makers that the Paris agreement won't unravel and limits on fossil fuel pollution will continue to get tighter for decades to come. The world may need 45 trillion euros ($50 trillion) of investment in power networks and energy efficiency to rein in climate-damaging emissions, according to the International Energy Agency.

The Paris deal, which saw 197 countries agree last year to limit global warming to below 2 degrees Celsius (3.6 degrees Fahrenheit) and work toward net zero greenhouse gas emissions, came into force last week after being ratified by almost 100 countries, including the U.S. Trump has said he would scrap the deal.
While U.S. officials have said it would be difficult for Trump or any other president to walk away from the Paris agreement, it's not impossible for the next administration to unpick it. The U.S. is the richest among the top six polluting nations, and its support for the deal is essential to keep China and other developing economies working for cleaner industry.
"If you've got Donald Trump, we can say whatever we like and it won't make the slightest bit of difference at all," said Joanna Haigh, co-director of the Grantham Institute for Climate Change & Environment and professor of atmospheric physics at Imperial College London. "If he gets in, then a side-effect might be that the U.S.A. will pull out of the climate negotiations. It's a very worrying situation."
Temperatures have reached records for the past 16 months, underscoring the need to act, according to data from the U.S. National Oceanic and Atmospheric Administration. Scientists continue to warn of shrinking sea ice, rising sea levels and atmospheric carbon dioxide levels that are now permanently above 400 parts per million.
U.S. officials including Jonathan Pershing, principal deputy director of the Energy Department's office of energy policy and systems analysis, say it would be difficult for Trump or anyone else to undo the deal simply because of the economic opportunities it creates in clean energy. That along with increased risk of droughts, floods and other extreme weather patterns give even a Trump administration strong incentives to remain at the climate negotiating table, Pershing said during a conference call with reporters Thursday.
"There are going to be huge domestic advantages to staying in this agreement and doing the work that we have agreed to do,'' Pershing said. "We are a leading country. We are going to continue to be a leading country.''
China's top climate envoy Xie Zhenhua last week criticized Trump's climate stance, according to Reuters. A joint pact between the world's two biggest producers of carbon emissions announced a year ago was seen as key to the success of the Paris summit.
Other nations are also watching the election carefully.
"We hope the U.S.A. will continue down the path of ensuring the leadership they've shown for the world to be able to see that if America can do it, we should also be able to do it," said Alain St. Ange, minister for tourism and culture for the Seychelles, in a phone interview. The island nation in the Indian Ocean is already facing the threat of rising seas.
Even the pledges made in Paris aren't strong enough to prevent the catastrophic damage that could occur if warming exceeds 2 degrees, such as rising seas, super storms and deadly drought. The world is still on track for warming of 3.4 degrees, compared to pre-industrial levels, according to the UN. So starting in Marrakesh, countries will need to find an additional carbon dioxide saving of at least 12 gigatons, according to the UN. That's equivalent to the greenhouse gases emitted by all the cars on Europe's roads over 12 years.

Technical Details
The Marrakesh talks are unlikely to feature much of the discord seen at previous UN talks because the overall direction of travel was settled in Paris last year. Instead, delegates will work to flesh out the 13-page Paris agreement with technical language on issues on accounting for climate finance and how the deal applies to existing carbon markets. They'll also be looking toward a 2018 global evaluation that will assess how much more carbon the world must cut to reach the temperature goal.
Some countries, including the U.S., are also expected to announce mid-century climate targets in Marrakesh, which would help provide certainty to investors and low-carbon businesses, according to Liz Gallagher, senior associate at the E3G think tank.
A Clinton victory would provide more certainty to delegates. In that case, delegates would look for signs she will continue President Barack Obama's program for cleaning up utility emissions, Gallagher said.
— With assistance by Joe Ryan
Before it's here, it's on the Bloomberg Terminal.
LEARN MORE