Culture
The Secret Behind Tyler Perry's $500 Million Madea Empire
She goes to the bank. Every time.
By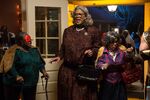 In Chris Rock's 2014 dramedy Top Five, his character releases a film only to lose out to the latest fictional hit in Tyler Perry's decade-old Madea franchise, Boo! A Madea Halloween. Perry had a laugh, then he got a phone call from his studio.
"Lionsgate called, 'Oh, we love that idea Tyler. Can you make that happen?'" Perry later told Jimmy Fallon on the Tonight Show. "I'm going, dude, it's a joke in Chris's movie. But then I came up with a concept–it's pretty damn funny."
Boo! A Madea Halloween, now an actual film from Lionsgate, debuted at $27.6 million its opening weekend in October, topping the U.S. box office over the Tom Cruise action sequel Jack Reacher: Never Go Back. The next week, it stayed atop the rankings to beat out Inferno, the third installment of the Da Vinci Code franchise starring Tom Hanks. In its first 17 days, Madea raked in nearly $65 million.
Mabel "Madea" Simmons, the character portrayed by Perry, is a tenacious elderly woman with a tendency to overreact and, say, cut a couch in half with a chainsaw when she's mad. That usually leads to shenanigans like getting sent to anger management class or being placed under house arrest. Perry has made eight Madea movies (plus one cameo) since the character made its first big screen appearance in 2005's Diary of a Mad Black Woman. None of the films have a lifetime gross of less than $50 million at the box office. In total, they've grossed nearly a half billion dollars.

Geetha Ranganathan, a media analyst with Bloomberg Intelligence, said much of Madea's success is derived from Perry's built-in fanbase, a group of viewers who go see every Madea movie because they love Perry and his character. But Madea's latest win was also a slap at Hollywood's star system, showing that you don't need a flashy actor to get crowds interested.
"There's really no A-list star anymore," said Ranganathan. "As long as you can make good content, even if it's on a small budget, people will come out and watch it."
There's plenty more Madea to come. Lionsgate Chief Executive Officer Jon Feltheimer told analysts Thursday that there are two more Perry films on the way–and one of them will once again star Madea. Despite their modest budgets, Madea movies have had an uncanny ability to draw people into theaters.
"It proves you don't need a big budget to make a big presence," said Erik Feig, co-president of Lionsgate Motion Picture Group. "And those are exactly the kinds of franchises that made the big difference for us as well."
Before it's here, it's on the Bloomberg Terminal.
LEARN MORE