Luxury Travel
Four Innovative Suitcases to Help You Pack Better, Travel Easier
We put them to the test on trips from Miami to Morocco.
By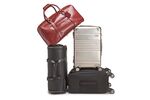 Forget about techy suitcases that charge your phone and follow you around the airport—they sound a lot more useful and exciting than they really are. Instead, focus on suitcases that are innovative where it matters most—in helping you pack better, more efficiently, and best of all, wrinkle-free.
Here we test out four models that aim to ease your next business trip.
Arlo Skye Carry-On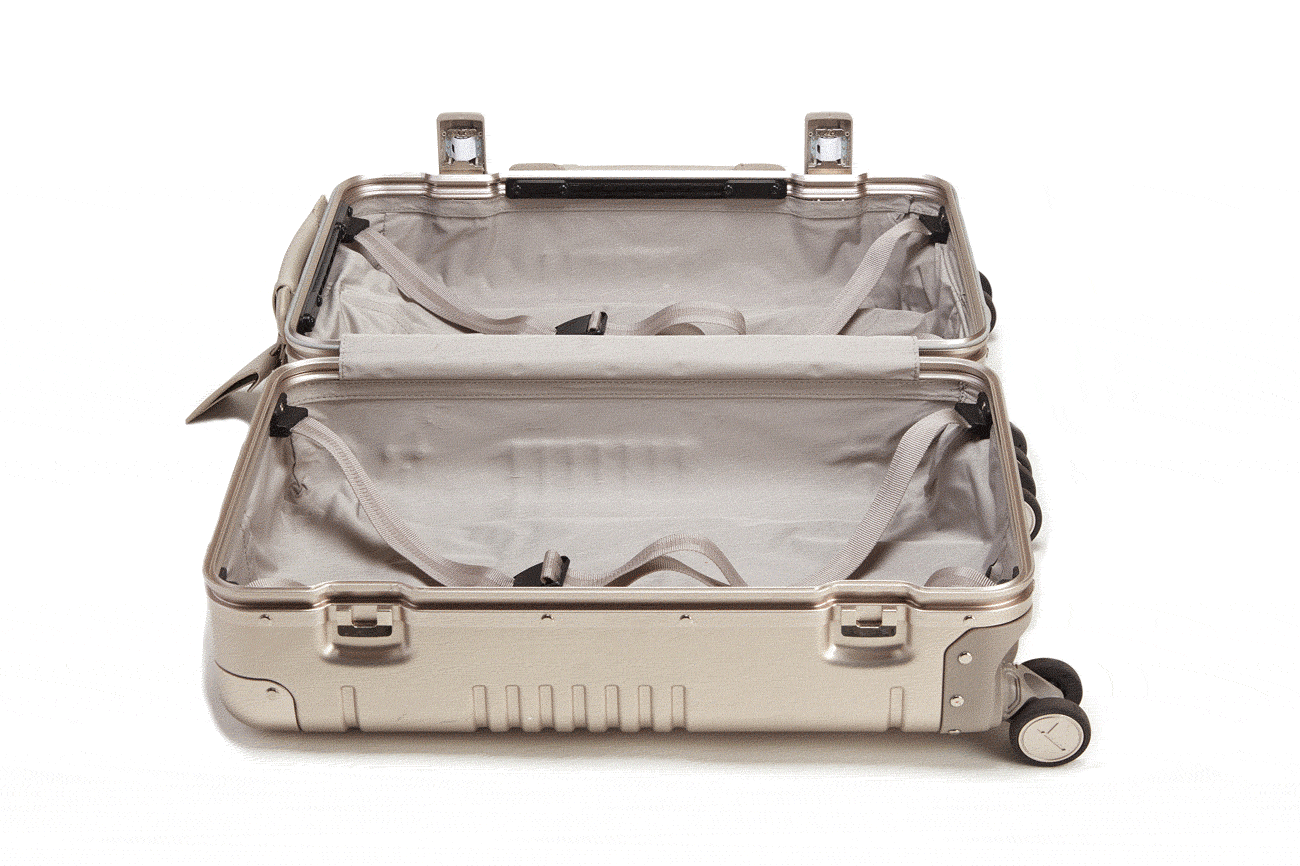 The Big Idea: Anti-microbial liners, packing cubes, and shoe sleeves to keep everything neat and organized
Price: $550
The Tumi and Louis Vuitton alums behind Arlo Skye didn't compromise on anything when they created their debut line of luggage earlier this year: scratch-resistant aluminum for their hard case exteriors, ultra-quiet Japanese wheels, Florentine leather for handles and trim. "It took more than a year and a half to design," said co-founder Mayur Bhatnagar. But the product's smartest touch has nothing to do with its glossy, Rimowa-like aesthetic or the built-in charging station—which Bhatnagar pointed out can be removed with the push of a button if you ever need to gate check the bag.
Here, the humblest bells and whistles are the most purposeful ones: simple organizational tools such as packing cubes, a toiletry bag with an over-the-door handle, and shoe sleeves that are all stitched from anti-microbial, odor-proof material. They make even the most botched attempts at packing look organized and keep dirty laundry from stinking up the rest of your business attire. Plus, compression strips allowed us to fit in enough clothing for a long trip that included five days of meetings and a few days of leisure in Morocco—no small feat for a carry-on.
The Caveat: As much as these materials are meant to be scratch- and dent-proof, we found evidence of handling damage (include a scuff on our beautiful Florentine leather handles) after a couple of trips.
Wool & Oak Duffle Suitcase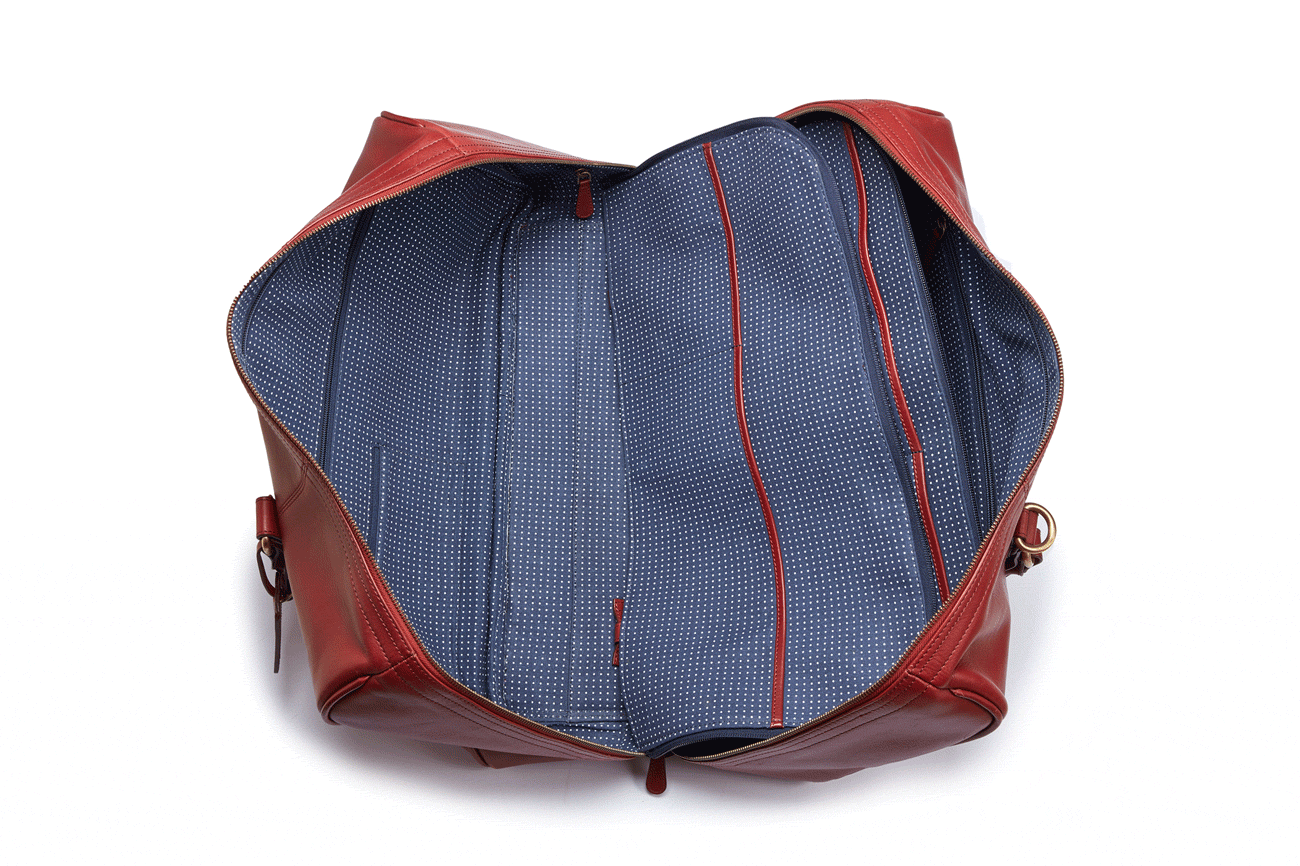 The Big Idea: A handsome leather duffle that unzips into two halves for easy packing, similar to a hard-sided suitcase. This is form and function at their best.
Price: $295
When the founders of Wool & Oak listed their "duffle suitcase" on Kickstarter, they were looking for $75,000 in seed money to bring their vision to life. It raised more than $500,000. On Indiegogo, it raised even more. (Units are already shipping.) Here's the money shot: Unlike duffle bags that have a zipper across the top, this one zips all the way around three sides, just like a hard-sided suitcase.
Inside are pockets for your laptop and passport, with one clever compartment down the middle that's designed for ties. Shoe bags are built in, there's an exterior strap for a newspaper or umbrella, plus a snap-on dopp kit that's easily removable for TSA. Pick it up in one of four colors (oak, black, navy, or olive), all with a stylish polka-dotted lining, and keep an eye on this nascent company—they'll be releasing backpacks in the first half of 2017.
The Caveat: Like any other duffle, this one doesn't have wheels, so carrying it can be tiring, especially when it's weighed down by all your clothes and a laptop (you really can fit a lot).
Vocier C38 Luggage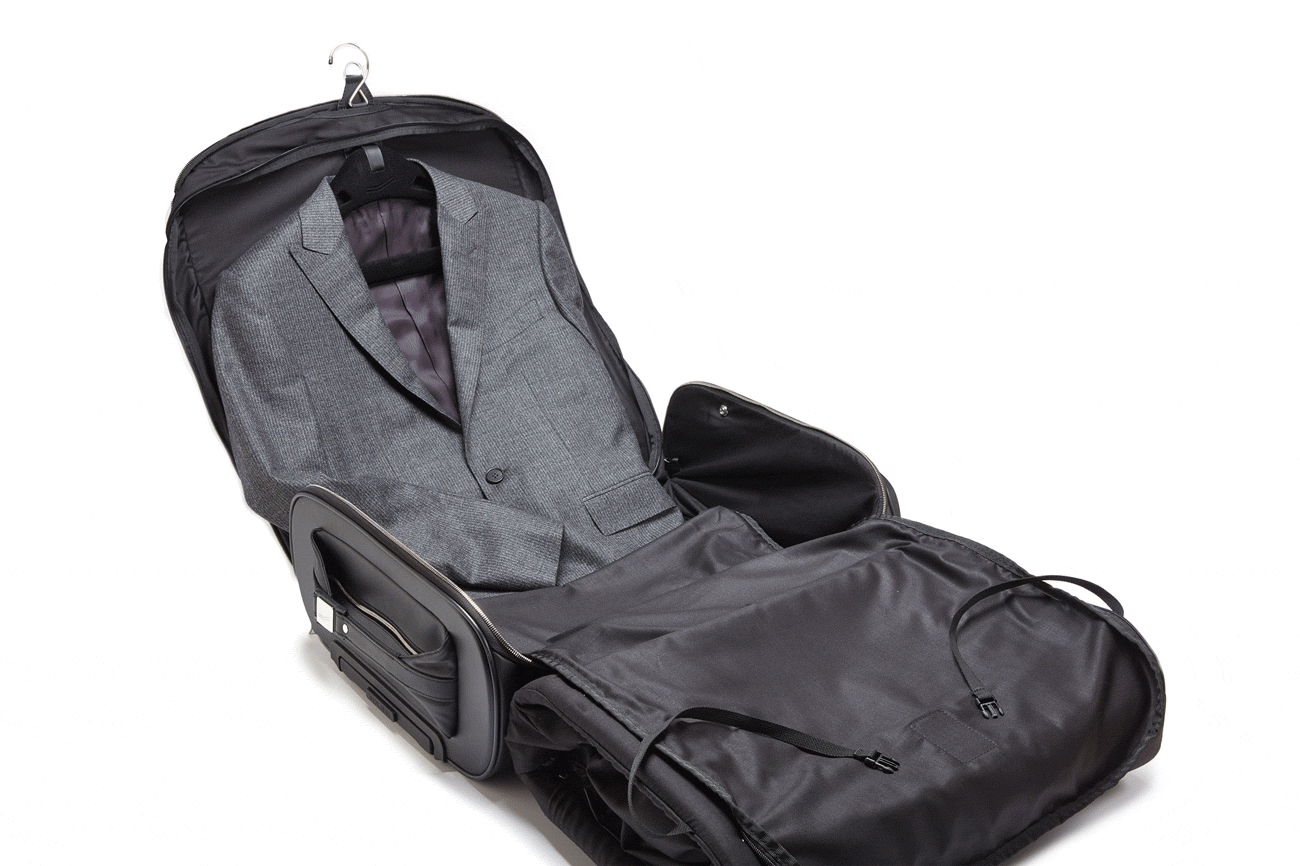 The Big Idea: The company's patented "zero-crease technology" system translates to a built-in garment bag. It's a feature in several of its bags, but we tested the premium C38 model.
Cost: $1,195
The supple leather and briefcase-inspired design are just two indicators that this bag is designed for the dapper gentleman—but the patented suit sleeve seals the deal. The C-shaped zipper across the top of the case reveals a built-in garment bag; when you open it all the way, you can see how the compartment extends to the bottom half of the suitcase, creating the perfect space for an unfolded suit. (There's even a removable hanger you can use to keep the suit hung up—even while it's packed.) The rest of your clothing goes in a removable compartment, which nests into the carry-on after you've packed your most important outfit.
When we took it to Seattle and Boston, the Vocier mostly lived up to its wrinkle-free promise, as long as we were careful about how weight was distributed atop the suit sleeve. A passport compartment that's revealed when you lift the bag's handle proved to be clever and convenient; it keeps your passport hidden when you don't need it and in easy access when you do.
The Caveat: There's a really clever (in theory) built-in dopp kit in a spill-proof compartment; it's right on top when the suitcase is standing. You access it by opening a magnet closure on the suitcase's main handle, which, in our experience, compromised its structural integrity. It repeatedly slipped open when we were lifting the case into an overhead compartment or the trunk of a taxi.  
Oregami Carry-On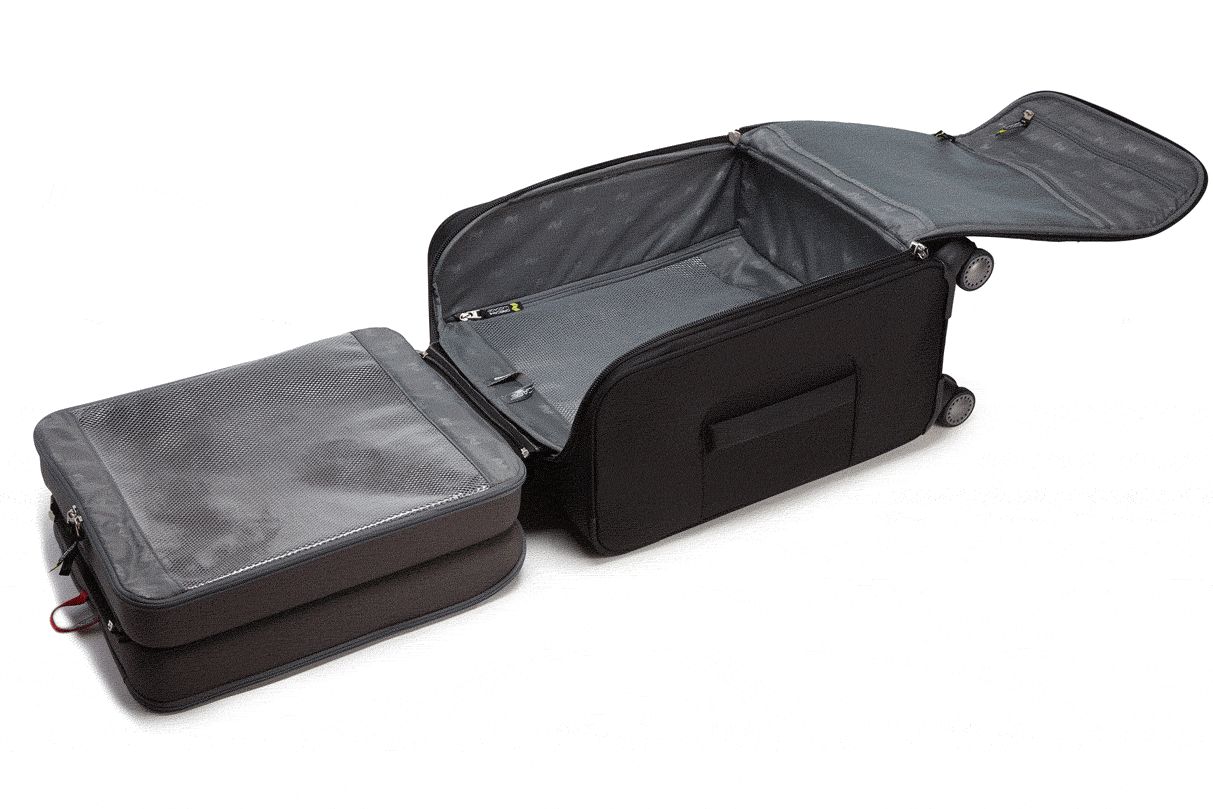 The Big Idea: Instead of packing in one cavernous compartment, the Oregami's body is made up of two big, interlocking packing cubes.
Cost: $179
There's nothing fancy or particularly luxurious about the Oregami, which looks like a standard-issue nylon bag, but its unique design is ideal for multi-purpose trips. Inside the carry-on are two big organizing trays you can unzip and pack individually. For my upcoming trip to Lima and Machu Picchu, for instance, I dedicated one tray to active wear (for hikes in the Sacred Valley), while the other was reserved for city clothes (for dinners in the culinary capital's best restaurants). The idea is you don't have to sort through (and wrinkle) all the clothes you know you don't need when you're trying to figure out what to wear.
The Caveat: The compartments are easy to zip apart, but putting them back together is a frustrating endeavor. And ultimately, you'd get the same benefit from packing into a hard-sided suitcase that splits in half.
Before it's here, it's on the Bloomberg Terminal.
LEARN MORE