markets
Stocks Jump as Clinton Gets FBI Boost; Treasuries Sink With Gold
By and
Dow Average rallies 371 points as Mexican peso strengthens

Asian futures signal more gains with Clinton ahead in polls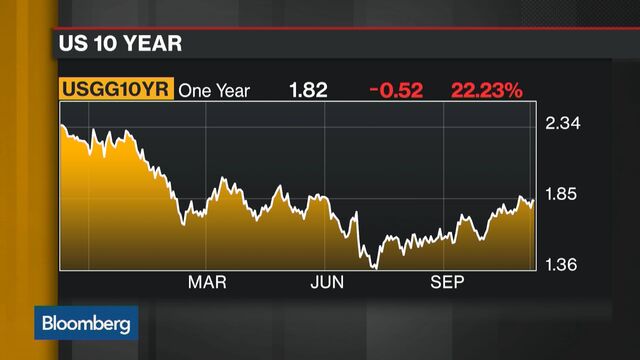 Global stocks rallied with commodities and the Mexican peso on speculation the odds of a victory for Hillary Clinton in the U.S. presidential election have improved, with the FBI saying her handling of e-mails wasn't a crime. Bonds retreated with gold and the yen.
The MSCI All Country World Index surged the most since June, as the S&P 500 Index snapped its longest run of losses in almost 36 years, jumping more than 2 percent Monday. Emerging-market shares also climbed with Democratic candidate Clinton seen as a more predictable president than her Republican rival Donald Trump. The peso gained the most among major currencies, while a rally in the dollar versus the yen showed prices close to fully reflecting a Clinton win. Oil and metals also rose, while gold sank with Treasuries.

Relief swept over markets as the election loomed, with James Comey, director of the U.S.' Federal Bureau of Investigation, saying Sunday that the agency's position on Clinton's use of e-mail servers hadn't changed and that he wouldn't recommend criminal charges against her. Traders had been on edge since the FBI said Oct. 28 that it had reopened a probe into Clinton's e-mail usage. While the Democrat is seen as a continuity candidate with government experience,Trump has campaigned as a political novice who has advocated winding back free-trade agreements and building a wall on the border with Mexico.
"There's a restrained global relief," said Piet Lammens, head of research at KBC Bank NV in Brussels. "The market reacted to the message that they started the investigation and now they have to do the opposite. However, we are just one day before the election and it would be imprudent to take big positions and think everything is OK."
Clinton is leading Trump by three percentage points among likely voters nationally, the latest sign that her campaign's painstaking focus on women, Latinos and blacks could help propel her to the White House. The final Bloomberg Politics national poll before Tuesday's election has the Democrat ahead of Trump, 44 percent to 41 percent, when third-party candidates are included. In a two-way contest, she's also up by three points.
Speculation around Clinton's chances helped boost odds of a Federal Reserve interest-rate hike next month. The probability of higher borrowing costs by year end is 80 percent, up from 76 percent on Friday, according to fed funds futures trading compiled by Bloomberg.
While riskier assets are climbing before the U.S. election, trading patterns around the U.K.'s referendum over European Union membership provide a cautionary tale. A similar rally in stocks, emerging markets and commodities on the day of the British vote gave way to a slump -- and a rebound in haven assets -- after the unexpected decision in favor of Brexit. The outlier this time around is the dollar, which is strengthening, having weakened before Britain's plebiscite.
Stocks
MSCI's global gauge climbed 1.6 percent as of 4:15 p.m. in New York, its steepest advance since June 29.
The S&P 500 rallied 2.2 percent to 2,131.37, wiping out its November decline as the Dow Jones Industrial Average added more than 370 points. The measure of market turbulence known as the VIX slid 17 percent after surging 39 percent last week. JPMorgan Chase & Co. and Microsoft Corp. advanced more than 2.9 percent, while Biogen Inc. led gains in health-care stocks.
"We've been down nine straight days as concerns over a potential Trump victory put a lot of caution in the market," said Michael James, managing director of equity trading at Wedbush Securities Inc. in Los Angeles.
Regardless of how prices react on Nov. 9, next-day moves in the S&P 500 are basically useless at foretelling what comes after. While the index swings an average of 1.5 percent the day after the vote, gains or losses over the first 24 hours predict the market's direction 12 months later less than half the time.

The Stoxx Europe 600 Index jumped 1.5 percent after posting its 11th consecutive day without gains for the first time since 1994. HSBC Holdings Plc climbed amid a surprise increase in adjusted profit, while Glencore Plc and Antofagasta Plc paced a rally in miners. PostNL NV surged after Belgian mail service Bpost SA revived an approach to its Dutch counterpart.
The MSCI Emerging Markets Index climbed 1.7 percent for its first increase in five days. Brazil's Ibovespa and Mexico's IPC index led gains and Hungarian shares rose to a record after the country was returned to investment grade by Moody's Investors Service. Egypt's EGX 30 gauge extended an eight-day rally on bets a decision to float the nation's currency will help cement a $12 billion loan from the International Monetary Fund.
Currencies
Mexico's peso posted the biggest advance among major currencies, climbing 2.3 percent. It's moves have been tied to Trump because the Republican has pledged to renegotiate the North American Free Trade Agreement.
The Bloomberg Dollar Spot Index, which measures the U.S. currency against a basket of 10 major counterparts, rose 0.4 percent following a six-day decline. The greenback advanced 0.9 percent to $1.1040 per euro, and 1.3 percent to 104.48 yen.
The dollar's surge sent the greenback close to the levels likely to prevail if Clinton won the presidential election. The U.S. currency rose as much as 1.5 percent to within 0.6 percent of the 105.25-yen level that the top 10 currency forecasters see it reaching within 24 hours of a Clinton victory. A majority said the dollar would tumble through 100 yen if Trump won.
"Our base case is that Clinton wins and the dollar strengthens" into the Fed's meeting in December, said Robert Rennie, head of financial-markets strategy in Sydney at Westpac Banking Corp. He sees the dollar at 105 should the Democrat be victorious. "Clearly, markets appear to have embraced that view today," he said.
The yuan dropped the most in a month after China's central bank weakened the currency's reference rate and as the greenback rebounded.
Bonds
Treasuries led declines among the safest sovereign bonds, with two-year notes falling for the first time in seven days amid speculation that a potential Clinton win would open the way for the Fed to raise rates next month.
Benchmark 10-year Treasury yields climbed five basis points, or 0.05 percentage point, to 1.83 percent, their increase since Oct. 27, according to Bloomberg Bond Trader data.
"For the Fed, as much as they want to stay out of politics, they're reading the tea leaves to see what happens," said Michael Franzese, head of fixed-income trading in New York at MCAP LLC, a broker-dealer. "You would assume if Clinton gets in, it's status quo around the globe. It's definitely two visions."
Ten-year German bunds, perceived to be among the safest debt securities in Europe, slid relative to those of Italy and Spain. Yields on 10-year U.K. gilts rose seven basis points to 1.20 percent.
Commodities
The Bloomberg Commodity Index rose 0.6 percent, the most since Oct. 27, the day before the Clinton's e-mail issue was reignited by the FBI.
Gold futures for December delivery slid 1.9 percent to settle at $1,279.40 an ounce on the Comex in New York, their steepest decline since Oct. 4.
Oil rebounded amid a broader market rally and after OPEC Secretary General Mohammed Barkindo said Russia, the world's biggest energy producer, is "on board" with an agreement to limit crude production.
"The U.S. election is front and center in all the markets," said Chris Kettenmann, chief energy strategist at Macro Risk Advisors LLC in New York. "There was talk over the weekend of Russia agreeing to limit production in cooperation with OPEC, but we need to see a resolution from the Nov. 8 vote before the focus shifts to Nov. 30."
West Texas Intermediate oil for December delivery climbed 1.9 percent to $44.89 a barrel on the New York Mercantile Exchange, while Brent for January settlement rose 1.3 percent to $46.15 a barrel in London.
Before it's here, it's on the Bloomberg Terminal.
LEARN MORE