Sanders Voters Get Behind Clinton With Varied Levels of Enthusiasm
Sanders' words of support for the Democratic nominee are helping ease his backers' disappointment.
By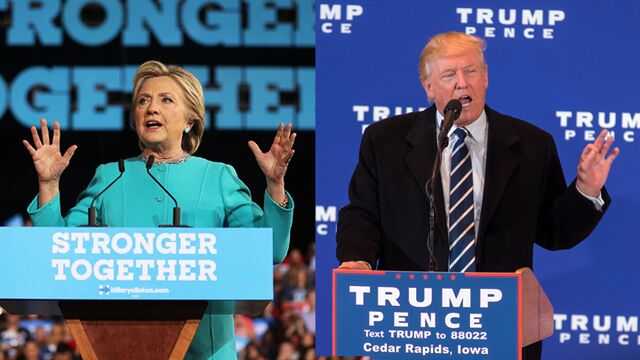 Voting for Hillary Clinton on Saturday was a lot easier for Nathaniel Pleasants, a 34-year-old who caucused for Bernie Sanders during the Iowa nominating contest in February, than he thought it would be.
"I was a little unsure of what I wanted to do, but it did assure me to hear Bernie talk and to see all the similarities," the retail worker said after attending a Sanders rally for Clinton in Ames on Saturday. 
It was in the Hawkeye State many months ago where Sanders' presidential campaign, despite losing the state's caucuses by less than half a percentage point, gained a new level of national credibility. And it's one of several states where Clinton will need the votes of Sanders' 13 million primary supporters to defeat Republican Donald Trump on Election Day.  
Whether with enthusiasm or resignation it appears a significant number have elected to do just that. In interviews, Sanders supporters in Iowa said they're responding to his backing of his past rival as well their combined efforts to shape the Democratic Party platform and her policies on college costs and health care. Though they expect they will have to push Clinton on issues when she's in office, they're willing to help put her there.
"I have some concerns but my main concern right now is getting her in the White House," said Hannah Day, a 20-year-old biochemistry major at the University of Iowa who caucused for and donated to Sanders' campaign and now supports Clinton. "Then I can deal with the rest of it when the time comes: signing petitions, doing my best as a citizen to keep her accountable for what she said she was gonna do."
A Shaky Alliance
Over the last two months Sanders has held dozens of campaign events across the country on Clinton's behalf, including stops in Colorado, Michigan, Maine, and New Hampshire. In his stump speech he has talked about the same issues that animated his presidential run and emphasized the work his campaign, along with Clinton's, put in to shape the Democratic Party platform.
"He thinks that what moves crowds like this is to talk about the issues that matter in their lives: climate change, income inequality, higher education," said Sanders spokesman Michael Briggs.
Sanders also has explicitly addressed the enthusiasm gap in this election. During his stump speech in Ames, Sanders said he'd just spoken to a young man who used to work for him and said that people aren't excited and might not vote.
"This is what I want to suggest to you in the strongest possible terms: Please do not sit it out," Sanders said. "If Donald Trump wins this state by a few votes, and if those few votes and if those electoral votes make him president of the United States, there are a lot of people that are going to be dealing with that reality for the rest of their lives." 
To a degree, it seems to be working. Despite fears that Sanders voters would sit out the election, in a YouGov/Economist poll conducted Oct. 31-Nov. 1, 93 percent of those who preferred Sanders have either already voted or plan to vote.
The poll also found that 68 percent of likely voters who backed Sanders plan to vote for Clinton, up from 54 percent who said they would vote for her in an earlier poll conducted in July, before the Democratic convention. Between July and October, support for Libertarian candidate Gary Johnson among Sanders' primary supporters shrank to seven percent from 10 percent, while support for the Green Party's Jill Stein fell to three percent from 12 percent. 
Winnie Wong, the co-founder of the grassroots group People for Bernie, pointed to Stein's poll numbers as proof that Sanders supporters hadn't abandoned the Democratic front-runner. While her group hasn't endorsed Clinton, she said, they are dedicated to defeating Trump.
"If Hillary doesn't do well, it will not have to do with a small number of angry disgruntled Bernie supporters who didn't vote, who couldn't find it in themselves to vote for Hillary," she said. "It'll be Hillary's own fault, and the media's fault."
Bernie or Bust
That said, there is still a subsection of Sanders backers who oppose Clinton, sometimes vocally. That tension between Sanders and that wing of his base was on display throughout his Iowa swing. At Sanders' Iowa City rally on Friday, one woman shouted that Sanders was a sellout, while another held up a sign that read "If I can't vote 4 Sanders I will vote Stein." 
While introducing Sanders at his Ames rally at Iowa State University, Kaleb Vanfosson, the president of the school's Young Democratic Socialists group, used the opportunity to say that Clinton only cares about "pleasing her billionaires" and can only be trusted by Goldman Sachs, CitiGroup, and Henry Kissinger.
"Voting for a lesser of two evils, there's not point," Vanfossen said as a Clinton staffer pulled him off stage. Some in the audience applauded his remarks.
In Iowa, where Trump leads by an average of three percentage points, there are signs that the number of Sanders holdouts is damping Clinton's chances. A Des Moines Register poll conducted Nov. 1-4 found that just 25 percent of 18-34 year olds identify as Democrats, compared with 33 percent of that age group who identified as Democrats in 2008, when then-Senator Barack Obama won the state by nearly 10 percentage points. "I just have to wonder if the Bernie lovers are sitting this one out," J. Ann Selzer, who conducted the poll, told the Register. 
Salome Phillmann, a 35-year-old medical interpreter from Iowa City who attended the rally there, said that while she feels "resigned" to voting for Clinton, she's also considering voting for a third-party candidate like the Stein. 
"I keep getting in this same situation in every election and voting for the second best, which is the conservative Democrat," Phillmann said. "So it's kind of a hard decision because I still had my hopes up for somebody like Bernie."
Neil Sroka, a spokesman for Democracy for America, a grassroots group that endorsed Sanders in the primary and now backs Clinton, said that most of that group's members understand the stakes of this election. 
"As much as I would have loved to see Bernie Sanders be in the Oval Office after next Tuesday, I'll be damned if my preference for Bernie Sanders gets in the way of stopping Donald Trump from getting into the White House," Sroka said, adding that many DFA members feel the same way. 
But DFA has also had to work around people who are unenthusiastic about Clinton. To motivate those members to phone-bank and volunteer, the group has focused on down-ballot races, hoping that those votes will "trickle up" to Clinton. 
If Clinton does win, progressives have made it clear that their plan to hold Clinton accountable to the promises of her campaign starts the day after the election. Sroka said DFA will call on Clinton to immediately take an active role in preventing the Trans-Pacific Partnership from being passed during the lame-duck session. The organization will also be closely monitoring who Clinton appoints to her cabinet.
"I don't think the progressive base of the Democratic Party is under any allusion that we can sit back after this election is over," Sroka said. He said that could be a "huge asset" for Clinton, but only if she embraces it.

Before it's here, it's on the Bloomberg Terminal.
LEARN MORE