business
Ryanair to Buy Back Shares as Passenger Record Lifts Profit
By
Discounter boosts long-term passenger target by more than 10%

Plans 550-million-euro buyback, with more likely: CEO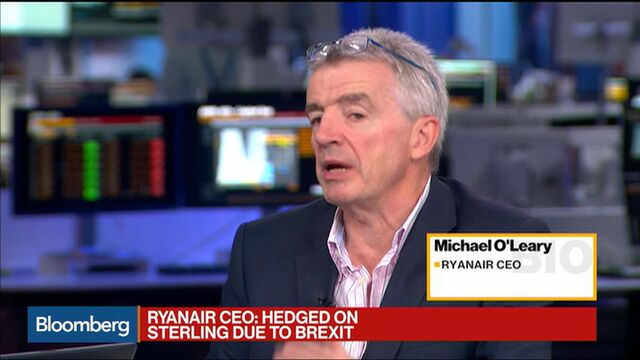 Ryanair Holdings Plc plans to buy back as much as 550 million euros ($609 million) of stock after record passenger numbers over the summer helped second-quarter profit beat analyst estimates. The shares rose.
Follow @Brexit for the latest news, and sign up to our Brexit Bulletin for a daily roundup.
Profit after tax increased 8.2 percent to 912 million euros in the three months through September, Dublin-based Ryanair said on Monday. Analysts predicted earnings of 897 million euros, based on the average of four estimates compiled by Bloomberg. The company stuck to its full-year earnings forecast and raised its long-term passenger target by more than 10 percent.
"Ryanair is doing very well in tough times as people trade down to lower fares," Chief Executive Michael O'Leary said in a Bloomberg Television interview. If profits continue to rise, the airline will most likely continue buybacks after the current one is completed by February, he said.
Ryanair is attracting passengers by cutting fares, increasing the number of seats and adding larger airports to its schedule as it battles against expansion by competitors. While cheaper tickets boosted Ryanair's passenger tally by 12 percent in the first half to a record 64.8 million, pricing pressure and economic uncertainty resulting from the U.K.'s decision to leave the European Union are clouding the outlook. 
By putting a firm number behind its buyback plans, the company is "saying to investors 'okay this is real,' " Gerald Khoo, analyst at Liberum Capital said by phone. "They've previously talked about it, but opportunistically. Now they've made an actual commitment."
The shares climbed as much as 6.3 percent, the most in more than three months, to 13.54 euros and were trading at 13.40 euros at 10:44 a.m. in Dublin, shaving the year's loss to 13 percent.
"Cautious" Outlook

Ryanair is betting that economic uncertainty and falling fares could help it grow, as its low-cost base allows it to grab market share by undercutting rivals. The company raised its long-term passenger target, saying it will have more than 200 million customers by 2024, up from the previously forecast 180 million.
Still, Ryanair said it's "cautious" on its outlook for this fiscal year and warned that its short-term view may need to be cut again. Last month the company had finally bowed to Brexit by downgrading its full-year guidance, saying that the sterling's depreciation was denting pricing more than anticipated.
"Weaker airfares and Brexit uncertainty will be the dominant features of the second half," the company said, predicting winter fare declines between 13 percent and 15 percent. Full-year guidance is "heavily dependent upon there being no unexpected adverse declines in fourth-quarter airfares."
For now, Ryanair stuck to its forecast that profit for the full year will grow to between 1.30 billion euros and 1.35 billion euros. To avoid some of the Brexit turmoil, Ryanair has started hedging its U.K. currency exposure and is shifting expansion away from the U.K. and to other European countries where it says incumbent carriers are retreating amid lower fares.
"What worries me about Brexit is the U.K. government clearly has no idea what it's doing," O'Leary said. "Ryanair is in negotiations with airports across Europe," where "frankly the costs are lower and at least you have political certainty."
Boeing Deal
Ryanair, infamous for sending passengers to airports far outside the major cities they serve, will fly to more primary hubs by the end of the year, it said in the statement. Last week, the carrier said it would base two aircraft at Deutsche Lufthansa AG's Frankfurt hub, reversing an earlier decision to never fly there. The company is also considering flying out of Paris's Orly or Charles de Gaulle airport, O'Leary said.
As it looks to increase its passenger count, Ryanair may decide to add airplanes by converting some of its 100 options to buy 737 MAX airplanes from Boeing Co. "in the next year or two," O'Leary said.
In addition, the carrier will hold onto some aircraft originally planned for sale and extend some leases. The airline is now forecasting a fleet of 585 aircraft by 2024 up from plans for about 546.
At the same time, the carrier is continuing to rein in costs, now expected to fall by 3 percent in the full-year, instead of a more modest 1 percent decline. Ryanair will have lowered costs by about 5 percent since starting its Always Getting Better marketing strategy three years ago, O'Leary said. The campaign has focused on refining Ryanair's image and website, offering a range of paid-for extras to entice more business passengers and targeting more primary airports.
(
Updates with analyst comment in fifth paragraph, CEO's Brexit comments in 10th paragraph.
)
Before it's here, it's on the Bloomberg Terminal.
LEARN MORE