Portugal Banks on 'Davos for Geeks' to Bolster Cooling Economy
by
50,000 tech leaders and followers to attend Lisbon Web Summit

Farfetch is adding headcount to its 650 workers in Portugal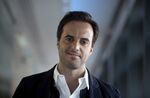 Portugal's success in getting the organizers of the Web Summit to move to Lisbon from Dublin, beating out contenders like Amsterdam and Paris, may have been the easy part. Now, it wants to convince participants to move some operations there.
The government is wooing the 50,000 tech leaders and their followers descending upon Lisbon this week for a gathering described as the "Davos for Geeks," hoping they will bolster investment and create much-needed jobs in the southern European country.

There are signs it may be already happening. Farfetch Ltd., a London-based startup which has half its staff in Portugal, is looking to add more.
"Ever since we won the Web Summit, companies have been telling me they want to move here," said Joao Vasconcelos, the secretary of state for industry and former director of incubator Startup Lisboa. "We're pitching to the entrepreneurs, the startup founders and their teams to move here."
Winning the bid last year to host the event was a big victory for Portugal, which is still picking up the pieces after the sovereign debt crisis and ensuing recession left its youth unemployment rate at close to 30 percent. The Web Summit from November 7th to the 10th features speakers including Portuguese Prime Minister Antonio Costa on Monday, Facebook Inc. Chief Technology Officer Mike Schroepfer and Nissan Motor Co. Chief Executive Officer Carlos Ghosn on Tuesday, and Tinder Inc. CEO Sean Rad on Wednesday.
Restaurants, Taxis
The gathering will generate as much as 200 million ($222 million) euros for Lisbon's economy through hotel bookings, restaurants and taxi rides, according to the Lisbon Tourism Association. It may also help bolster the reputation of the city, whose red suspension bridge, cable cars and nearby surfing locations often draw comparisons to San Francisco.
"The Web Summit is key to consolidate Lisbon and Portugal as a credible tech hub," said Stephan Morais, an executive board member at Caixa Capital, a Lisbon-based 500 million-euro venture capital and private equity firm that's part of state-owned bank Caixa Geral de Depositos SA. "Sooner or later it will generate investments in the Portuguese technology sector and lead to the creation of new companies both by Portuguese and foreign entrepreneurs."
Portugal's main selling points include cheap rents, 300 days a year of sunshine and legions of high-skilled, affordable, English-speaking engineers and developers eager to find jobs in the technology sector. The cost of employing a worker in Portugal was 13.20 euros per hour last year, which is 55 percent less than the 29.50 euros per hour average cost for a worker in the euro region, according to the European Union's statistics office.
Farfetch, run from the U.K. by its Portuguese founder and valued at more than $1 billion last year after completing another round of financing, already employs more than half of its 1,200 staff in Portugal. The e-commerce website, which sells designer fashion for more than 500 boutiques and brands worldwide, is looking to hire another 100 people in Portugal.
"Some key roles that we are looking for at the moment include developers, quality assurance engineers, performance engineers and product owners," CEO Jose Neves, whose grandfather ran a shoe factory in Portugal, said in an e-mailed response to questions on Nov. 1. "We see Portugal as a hub for great tech talent."
Golf App
While many Portuguese left the country to seek new opportunities after the country sought international aid in 2011, others decided to go it alone. A total of 37,924 new companies were set up in Portugal last year, the highest since 2007, according to business data provider Dun & Bradstreet. Employment has improved more than initially forecast by the government this year, unlike the indebted economy, which is set to grow less than in 2015.

Portugal's unemployment rate fell to 10.8 percent in the second quarter and youth unemployment declined to 26.9 percent from 29.8 percent a year earlier, according to the national statistics institute. It's scheduled to report jobless data for the third quarter on Wednesday. The government forecasts economic growth will slow to 1.2 percent this year from 1.6 percent in 2015.
Some of Portugal's most successful startups include Hole19, a golf app that works as an intelligent caddy and uses global positioning system technology; Uniplaces, a room-rental service that caters to university students in countries including Portugal, Spain, Italy, Germany, France and the U.K.; and Zaask, a web platform that connects tradesmen and professionals to potential clients.
"One of the challenges for Lisbon in its drive to become a relevant tech hub in Europe, alongside Berlin or Barcelona, is to produce very high quality startups that result in major exits, and at the same time, to keep building a sustainable ecosystem," said Pedro Rocha Vieira, president and co-founder of Lisbon-based Beta-I, a so-called accelerator. "Until now, Lisbon has been a source of attraction and inspiration, but now the game is getting much more serious, and it's really up to us to show that this is not just hype."
Before it's here, it's on the Bloomberg Terminal.
LEARN MORE