Vocal Duterte Critic Seeks Protection From Philippine Court
By and
Senator De Lima files injunction 'test case' against president

De Lima lawyer says presidential immunity should not apply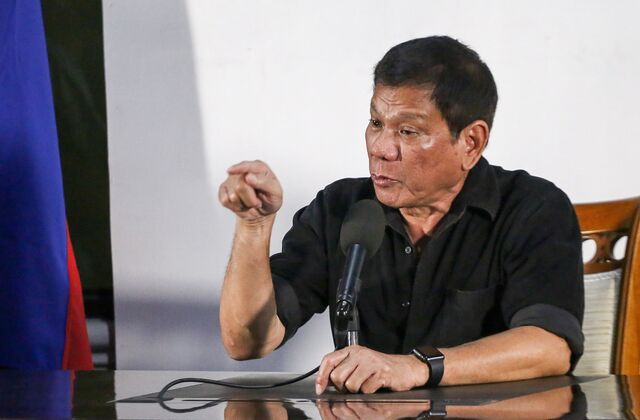 One of Rodrigo Duterte's biggest critics has asked the Philippines highest court to stop him using her personal life to persecute her.
QuickTake Philippines' Firebrand
"This is a test case," Senator Leila De Lima told reporters en route to the Supreme Court to file a petition for a writ of habeas data. "The question here is: can an incumbent president launch a personal vendetta against a person, against a woman," she said. De Lima also asked the court to compel Duterte to identify the foreign country that supposedly helped him listen to her private conversations.
A former Justice Minister, De Lima led the Commission on Human Rights when it investigated Duterte's drug war in Davao City when he was mayor. Duterte has accused De Lima of involvement in illegal drugs--which the senator has denied--and of conducting an extramarital affair.
Duterte spokesman Ernesto Abella accused Senator de Lima of playing the gender card as a shield against mounting evidence of her ties with drug lords. "Senator De Lima's filing of a petition before the Supreme Court is calculated to generate media noise to drown out the accusations against her," Abella said in a text message.
Long Grudge
Duterte's war against drugs has claimed as many as 4,737 lives, according to De Lima's tally. Duterte has bristled at criticisms of his campaign to rid the country of drug peddlers and pushers, often targeting U.S. President Barack Obama and the European Union in expletives-laden outbursts.
De Lima's lawyer Jose Manuel Diokno said at a briefing after filing the petition that Duterte is nursing a "long-held grudge" against the senator and that in this case, presidential immunity cannot be used as a shield.
"These verbal attacks and threats leveled against me are not covered by presidential immunity from suit because they are not the official acts of a President," De Lima said. "They constitute unlawful, unofficial conduct that have nothing to do with his duties."
Before it's here, it's on the Bloomberg Terminal.
LEARN MORE