Nissan Profit Falls 16% on Stronger Yen, Higher Incentives
Ma Jie and Masatsugu Horie
Company doesn't see potential for more growth in U.S. industry

Aims to boost U.S. markeshare with updated Titan, Rogue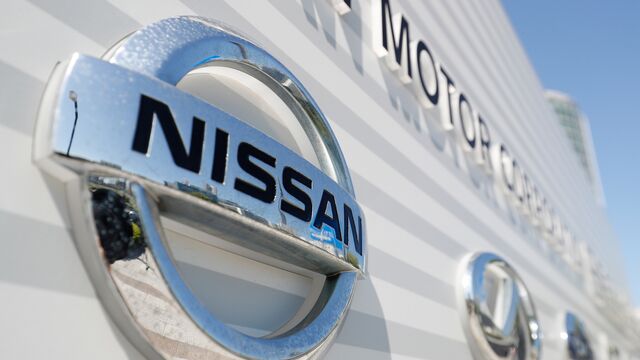 Nissan Motor Co. reported a 16 percent drop in second-quarter profit and predicted that industry demand in the U.S. and China, its two largest markets, will slow.
Net income declined to 146.1 billion yen ($1.4 billion) in the three months through September, as a stronger yen eroded overseas earnings and U.S. discounts increased, the automaker said on Monday.
Chief Executive Officer Carlos Ghosn has adopted an aggressive dealer-incentive program in the U.S. that has helped Nissan's deliveries climb, and weighed on its profit, even as industrywide sales in the world's second-largest market shrank. The automaker boosted discounts to about $4,000 per car, much higher than Japanese rivals and almost in the same range offered by the U.S. automakers, according to Tokai Tokyo Research Center.
"It's a peak and we don't see a potential for further growth" in the U.S. industry, Hiroto Saikawa, co-chief executive officer, said at a press conference Monday in Yokohama, Japan. "Incentives are rapidly growing in the industry, and we are paying close attention to it."
In China, Nissan's second-biggest market, Saikawa said the automaker plans to keep pace with industrywide growth. Still, it sees demand waning in the world's biggest auto market with sales slowing in the first quarter if a sales tax cut on small-engine vehicles isn't extended beyond its scheduled expiry at the end of this year, according to Jun Seki, the company's China chief.
Shares of Nissan climbed 1.7 percent in Tokyo trading, before it announced earnings. The benchmark Topix Index rose 1.2 percent.
U.S. Market
Nissan's deliveries in the U.S. rose 3.7 percent in the April-September period, compared with a 0.8 percent decline in industrywide sales. The carmaker has boosted its market share to 9 percent, compared with 8.5 percent a year earlier, according to researcher Autodata.
The Yokohama, Japan-based automaker plans to further boost its market share in the U.S. in the second half with updated Titan pickup and Rogue sport utility vehicle, Jose Munoz, the company's North America chief, said. The market in the U.S. is shifting from sedans to trucks, he said.
Demand for vehicles with smaller engines such as the Sylphy sedan and SUVs including the X-Trail and Qashqai paced Nissan's deliveries in China. The Japanese automaker's sales, including light commercial vehicles, increased 8.2 percent in the year through September. That compares with 13.2 percent expansion in industrywide deliveries of both passenger and commercial vehicles. Nissan is targeting to sell 1.3 million vehicles in the world's biggest auto market this year, including 1.08 million passenger cars.
Nissan was given assurances by the U.K. government before announcing new investments there last month that the industry would be kept competitive amid uncertainties over Brexit, Saikawa said. The automaker said it would start making the X-Trail SUV and the next-generation Qashqai at its Sunderland car plant, the U.K.'s largest, only a month after warning that possible post-Brexit tariffs could inhibit investment.
Nissan's deliveries in Japan fell 20 percent in the first half of this fiscal year, dragged down by a slump in minicar sales. The popularity of Nissan vehicles was dented by Mitsubishi Motors Corp.'s scandal of exaggerating fuel economy for its own models and cars produced for Nissan. Ghosn, after completing the purchase of a stake in Mitsubishi Motors, pledged to change Mitsubishi's culture and seek synergies.
Before it's here, it's on the Bloomberg Terminal.
LEARN MORE