Martin Shkreli Blames It All on His Lawyers, Wants Documents
By
Shkreli says he 'acted in good faith, without criminal intent'

Former drug company CEO accused of masking control of stock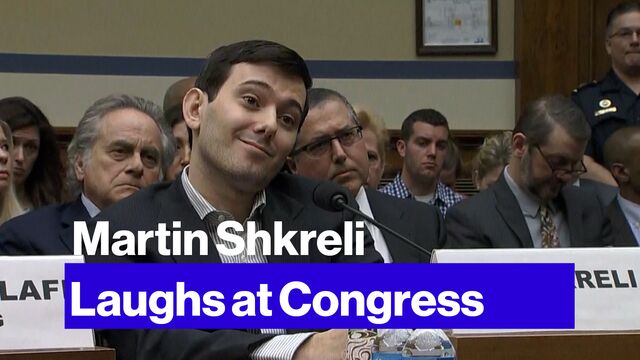 Martin Shkreli's new strategy to defend himself against criminal fraud charges is to blame his lawyers.
The 33-year-old founder of Retrophin and Turing Pharmaceuticals AG, who's been dubbed in the media as the "most hated man in America" for raising the price of a potentially life-saving drug by 5,000 percent, asked for a court order to force his former law firm to turn over three years' worth of documents. He says the evidence will help clear him.
"Shkreli sought and received his lawyers' legal advice and he followed it," his lawyers, Ben Brafman and Marc Agnifilo, said in the request for a subpoena. The documents sought "would tend to show that he acted in good faith and without criminal intent in connection with the decisions and actions that the government alleges to be illegal."
Shkreli's securities-fraud case stems from his operation of two hedge funds. Federal prosecutors say he defrauded investors in the hedge funds and used $11 million of Retrophin assets to pay them off. He's also accused of hiding his control in the company's unrestricted stock to help pay off his debts.
His former law firm, Katten Muchin Rosenman LLP, fired back Friday, saying Shkreli's sweeping document request covers all correspondence from 2011 to 2014 that involves Katten, Shkreli, Retrophin and the two hedge funds. The firm says it shouldn't be forced to hand over almost 600,000 pages of material, including 175,000 e-mails and documents, which covers years of work for multiple entities.
Overly Broad
Shkreli's subpoena is not only overly broad, but covers materials that can't be shared because they're protected by the attorney-client privilege, Katten said. Much of the material Shkreli and his legal team seek is for entities which the firm hasn't represented since 2014 or that it doesn't have the authority to turn over, Katten said. 
"We think the privilege belongs to Mr. Shkreli, and as a result, it's a privilege he has a right to waive," Brafman said in a telephone interview Monday.
Shkreli may also have already received many of the documents because the law firm turned them over to the government in May 2015 as part of a grand jury investigation, Katten lawyer Michael Verde said.
Another complication is that a former Katten lawyer, Evan Greebel, is accused of helping Shkreli carry out part of the scam and to cover his tracks. Greebel delayed filing a request to be tried separately from Shkreli, pending a judge's ruling. His lawyer, Reed Brodsky, didn't immediately return a voice-mail message seeking comment on the filing.
Both Shkreli and Greebel have pleaded not guilty and face trial in June 2017.
The criminal case is U.S. v. Shkreli, 15-cr-00637, U.S. District Court, Eastern District of New York (Brooklyn).
Before it's here, it's on the Bloomberg Terminal.
LEARN MORE