Japan Worried About Yen After U.S. Election, FX Chief Says
By and
Asakawa says intervention in FX market not ruled out

Declines to comment on specific levels, market operations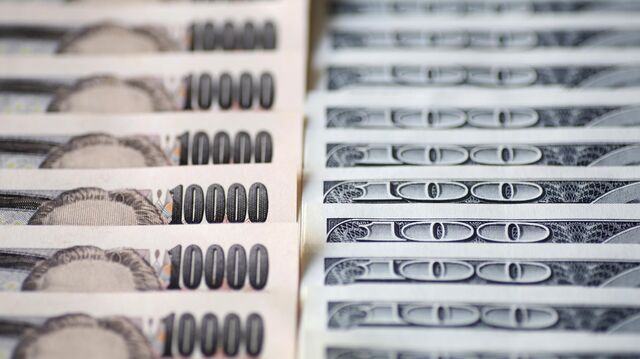 Japan is concerned about currency volatility after the U.S. presidential election and hasn't ruled out market intervention, said Masatsugu Asakawa, vice minister for international affairs at the Ministry of Finance.
Asakawa, who is responsible for currency policy, said Japanese officials would be closely watching markets after Tuesday's vote, but declined to comment on specific price levels or possible intervention operations.
"We haven't ruled out intervention," he said, speaking in an interview with Bloomberg on the sidelines of an International Monetary Fund seminar in Tokyo. "I think FX policy is an effective tool in macroeconomic stability. We'll take action if necessary. If you're considering the circumstances in which we'd act, it hasn't changed that we have to be concerned about excessive, disorderly moves."
The most-accurate currency forecasters predict that a victory by Donald Trump in Tuesday's election would result in a sharp rise for the yen versus the dollar. The yen fell the most in a month after the director of the U.S. Federal Bureau of Investigation said in a letter dated Sunday that the bureau was standing by its earlier finding that Hillary Clinton didn't commit a crime in her handling of emails as secretary of state.
A letter from FBI Director James Comey to Congress in late October saying the FBI was examining newly discovered emails related to its investigation of Clinton had roiled the presidential race, breathing new life into the Trump campaign and sending investors in search of assets perceived to be safe such as the yen.
Considered a haven, the yen often strengthens during times of global market turmoil, such as in June when the U.K. voted to leave the European Union, sending the yen briefly past 100 versus the dollar.
A weaker yen, which benefits Japanese exporters, has been a key to Prime Minister Shinzo Abe's economic program. Japanese officials have frequently expressed frustration over its gains this year, particularly what they describe as "disorderly" moves. 
"Whether it's a strong yen or a weak yen, it goes both ways," Asakawa said. "Whichever direction it moves, abrupt movements aren't good for economic stability, so it doesn't change the fact that we'd have to take the necessary actions."
The yen's strength and Japanese officials' talk of intervention has been a source of tension between Japan and the U.S. this year. The U.S. Treasury kept Japan on its currency watch list released in October, citing "persistent public comments by Japanese authorities aimed at restraining yen appreciation."
The yen has gained the most among major currencies this year, strengthening by about 15 percent.
Discussing Japan's economy, Asakawa said the Bank of Japan alone couldn't overcome the nation's deflationary mindset. He cited the need for higher wages and greater labor-market reforms, and said the government must balance fiscal spending and consolidation.
Before it's here, it's on the Bloomberg Terminal.
LEARN MORE