HSBC Shares Rise on Surprise Profit Jump, Capital Ratio Gain
By and
Change to treatment of Bocom stake frees up $5.6 billion

Revenue rose as costs fell, according to adjusted numbers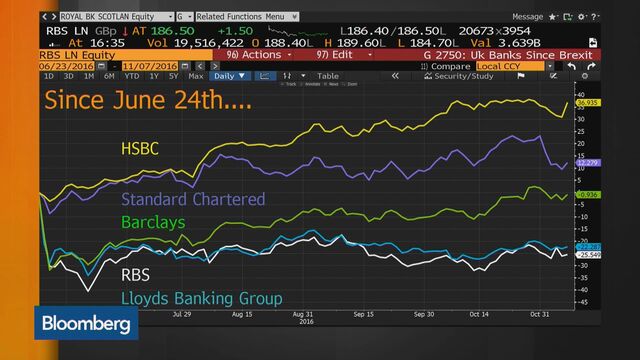 HSBC Holdings Plc climbed by the most in three months in London trading after the bank posted a surprise jump in adjusted profit and a regulatory decision boosted its key capital ratio.
Third-quarter adjusted pretax profit, which excludes one-time items, rose 7 percent from a year earlier to $5.59 billion, Europe's largest bank said in a statement Monday. That surpassed the $5.29 billion average of five analyst estimates compiled by Bloomberg News, as the bank cut costs and loan impairments rose less than expected.
Chief Executive Officer Stuart Gulliver showed progress in his efforts to combat a low growth environment, as revenue rose faster than costs -- a measure the bank calls jaws -- for the first time in more than a year. In August, the bank abandoned its target of surpassing a 10 percent return on equity by the end of next year amid low interest rates and political uncertainties.
"This is a reasonable quarter, we've got that momentum on costs coming through," Gulliver said in an interview. "People have talked previously about whether we can take our costs down because revenues aren't growing. You'll notice we have positive jaws in the quarter and for the full nine months."
The shares rose 4.9 percent at 10:48 a.m. in London, their biggest intraday gain since Aug. 3.
Capital Boost
The stock had climbed 16 percent in London this year, the most among major European lenders, and ahead of Standard Chartered Plc, up 14 percent in the period. Both get the majority of their profit in Asia and report in dollars, limiting the impact of Britain's vote to leave the European Union. Even so, HSBC still trades below its book value.

The bank's common equity Tier 1 ratio rose to 13.9 percent from 12.1 percent three months earlier. That beat estimates of JPMorgan Chase & Co. analysts, who expected an improvement to 12.8 percent.
A U.K. regulator's altered treatment of HSBC's stake in China's Bank of Communications Co. cut the British bank's risk-weighted assets by $120.9 billion. That freed up $5.6 billion, which increased the lender's capital ratio and will help to support its dividend and any future share buybacks, as well as providing a buffer for "the continuing uncertain regulatory environment," Gulliver said.
This should be enough to "allow the bank to maintain the dividend next year," Sanford C. Bernstein & Co. analysts led by Chirantan Barua said in a note. "For yield investors who have been the source of support for valuation of this stock, this keeps the stock in the safety zone into the next six to nine months."
There is "absolutely no change" in HSBC's relationship with Bank of Communications and China remains an "incredibly important market" for the British bank, Finance Director Iain Mackay told analysts. Gulliver told reporters on a conference call that the bank won't sell BoCom under his tenure.
HSBC's adjusted revenue gained 2.4 percent to $12.8 billion. Adjusted operating costs fell 3.5 percent to $7.25 billion, compared with the $7.33 billion average analyst estimate. Adjusted loan impairment charges increased to $566 million in the third quarter from $434 million a year earlier.
The "results show continued progress in improving profitability and capitalization," which should underpin the company's dividend payout, said Raul Sinha, an analyst at JPMorgan Chase & Co. with a neutral rating on the stock.
Brazil Charge
Reported pretax profit fell 86 percent to $843 million, driven by items including $1 billion in restructuring costs. HSBC provisioned about $440 million to compensate U.K. customers for improperly sold payment-protection insurance, raising the total cost to the bank to about $5.2 billion. It also took a one-time $1.7 billion loss on the sale of its Brazilian business. The disposal funded a $2.5 billion share buyback announced in August.

In global banking and markets, which houses the investment bank, adjusted profit jumped to $2.5 billion from $1.93 billion a year earlier. Fixed-income trading revenue climbed 46 percent, the biggest jump among major European banks.
"We are mostly taking market share from European banks that have pulled out of Asia-Pacific and the Middle East," Gulliver said in the interview. "We are also taking market share in a post-Brexit world with those international British companies looking to established trade ties with countries beyond the EU."
Adjusted pretax profit in Asia climbed 10 percent to $3.8 billion in the quarter from a year earlier, while Europe reported a 5.4 percent gain to $863 million. At the retail banking and wealth management division, adjusted profit rose to $1.8 billion from $1.5 billion a year earlier.
Since Gulliver started restructuring the bank in 2011, he's slashed headcount by about 60,000, exiting at least 80 businesses. Globally, the company has retreated to 71 countries and territories from 88. Nevertheless, as with most European lenders, HSBC has been struggling to boost profitability.
Gulliver said the bank would continue to trim headcount "modestly" next year primarily due to improvements in technology and automation. The areas affected will be operations, IT and the retail division, he said.
Before it's here, it's on the Bloomberg Terminal.
LEARN MORE