HSBC Delays Target for U.S. Unit as Profit Drops, Rates Stay Low
By
Bank had goal of $2 billion in pretax earnings by next year

Unit had $400 million of profit in first nine months of 2016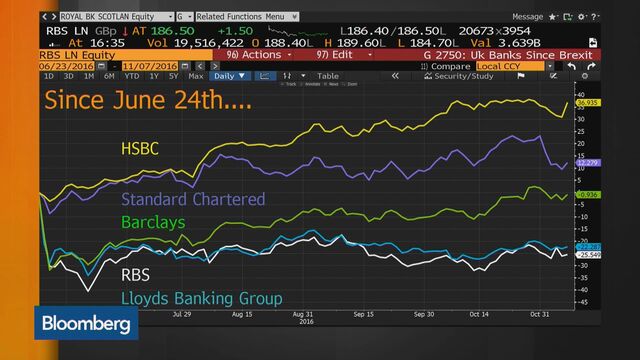 HSBC Holdings Plc said it will probably take two more years to meet profit goals for its U.S. business after the unit's pretax earnings dropped 28 percent this year.
"My expectation therefore is that we'll get all this achieved probably by the end of 2019 or thereabouts," Chief Executive Officer Stuart Gulliver said on a conference call with analysts. "So what we set as a target for end of 2017 will be delayed."
The London-based lender is struggling to meet its target of $2 billion in pretax profit from its principal U.S. operations as the Federal Reserve keeps interest rates unchanged this year after a hike in December, curbing revenue. An increase in impairments on loans to oil and gas companies is also offsetting improvements in the company's costs, Finance Director Iain Mackay said on the call.
The U.S. unit produced pretax profit of about $400 million in the first nine months of 2016, according to the presentation.
"Part of the reason it's being delayed is also the simple fact that we had assumed there would be some interest rate increases in the U.S., which would give us a revenue lift," Gulliver said. "Clearly, with interest rates staying lower for longer, that hasn't come through."
The bank's Mexican business is on track to meet a target of $600 million in pretax profit by next year, the company said in the presentation. The unit had about $200 million in pretax earnings in the first nine months, up 69 percent from a year earlier.
Executives decided to keep and restructure operations in Mexico rather than exit the country, citing the potential of its many international trade agreements. HSBC has been trying to improve controls at the unit after U.S. authorities fined the lender $1.9 billion in 2012 and charged it with violating sanctions laws and allowing Latin American drug traffickers to launder hundreds of millions of dollars.
Before it's here, it's on the Bloomberg Terminal.
LEARN MORE