Canada Stocks Rally, Snap Four-Day Slide as Clinton Pulls Ahead
Eric Lam
Global markets, oil rebound as gold slumps day ahead of vote

Concordia plunges, extends 3-year low as earnings miss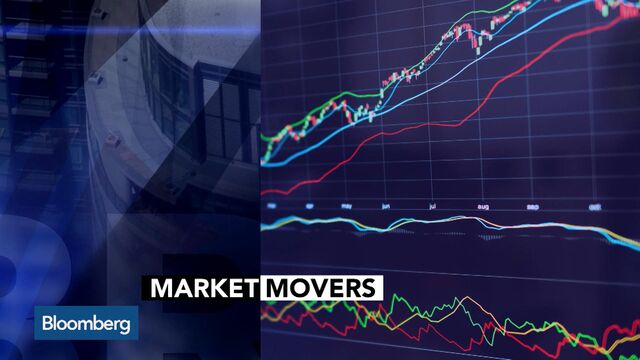 Canadian stocks snapped a four-day slide as global markets rallied as investors speculate Hillary Clinton's chances of winning the U.S. election have improved a day ahead of the vote.
The S&P/TSX Composite Index added 1 percent to 14,652.45 at 4 p.m. in Toronto, for the biggest increase in three weeks. The index had lost 1.9 percent over the previous four sessions. The equity benchmark is up 13 percent in 2016, the top performer among developed markets tracked by Bloomberg. Canadian stocks are now 14 percent more expensive than their peers in the S&P 500 Index.
Equities surged around the world after the FBI decided to stick to its previous view that Clinton's handling of her e-mails wasn't a crime. Clinton leads Donald Trump by three percentage points among likely voters, according to the final Bloomberg Politics national poll before Tuesday's election. Clinton has 44 percent support to Trump's 41 percent when third-party candidates are included.
Toronto-Dominion Bank and Bank of Nova Scotia each climbed 1.1 percent to lead a rally in the nation's largest lenders. Financial services and energy stocks gained at least 1.4 percent as 10 of 11 industries in the S&P/TSX advanced on trading volume 9.3 percent lower than the 30-day average. Raw-materials producers slumped 1.4 percent, the lone laggard, as gold sank the most in a month offsetting gains in copper and steel.
Suncor Energy Inc. and Encana Corp. rose more than 2.5 percent as crude rebounded to halt a six-day losing streak that was the longest since July. Futures rose 1.9 percent in New York to join the broader market rally. A magnitude 5 earthquake struck near the oil hub at Cushing, prompting some pipeline operators to shut operations as a precaution.
Concordia International Corp. plummeted 37 percent, extending the lowest levels in more than three years, after third-quarter earnings and revenue fell well short of estimates. The struggling drug maker also suspended its forecasts to assess its business under new leadership. Concordia shares have wiped out 95 percent of their value this year.
Air Canada surged 7.5 percent, the biggest increase in almost six months, after the airline tightened its full-year profit target. Earnings before interest, taxes, depreciation amortization and aircraft rent will probably increase 6 percent to 8 percent this year, the company said. Air Canada had previously forecast 4 percent to 8 percent growth. Air Canada's earnings also exceeded estimates.
Before it's here, it's on the Bloomberg Terminal.
LEARN MORE