Stocks Rise With Mexico Peso, Treasuries Fall as Americans Vote
By , , and
Yen drops on speculation Clinton has edge in presidential race

Oil trades near $45 a barrel as U.S. supply seen increasing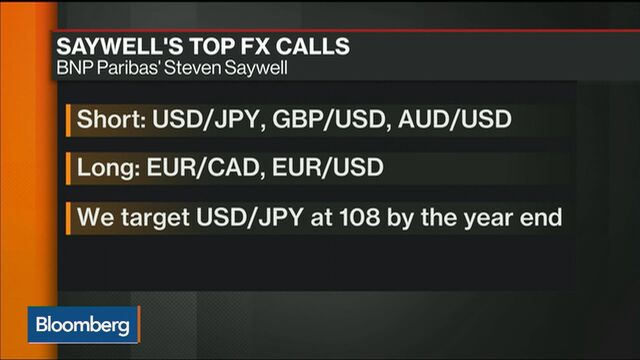 Stocks rose with Mexico's peso as Americans cast their ballots amid polls showing Hillary Clinton ahead of Donald Trump in the race to the White House. Treasuries, gold and the yen fell as haven demand waned.
The MSCI All Country World Index wiped out this month's decline, the S&P 500 Index posted its biggest back-to-back gain since June and emerging-market shares rallied. U.S. government bond yields climbed toward the highest levels since May. The peso -- a barometer for investors' perception on the American vote -- extended a four-day advance. Meanwhile, the yen, the euro and the Swiss franc dropped. Oil traded near $45 a barrel.

Traders looked for hints on the outcome of one of the most volatile U.S. elections in decades, with 226 million Americans eligible to vote. The candidates spent the past few days campaigning in key battleground states as polls showed the race had tightened. Still, state-by-state surveys indicate a narrow lead for Clinton. On websites that take bets on the presidential victor, the Democrat's odds of winning are generally about 80 percent.
"Put your seat belts on because this is going to be a bumpy ride," said Chad Morganlander, a Florham Park, New Jersey-based money manager at Stifel, Nicolaus & Co., which oversees about $172 billion. "As the polls close later today, investors will be moving in a chaotic fashion to get ahead of the information flow."
A provider of real-time analysis of voter turnout estimates that Clinton has earned more early votes than Trump in battleground states including Florida, Iowa and Nevada. Analysis by Slate.com's Votecastr shows Trump with an early lead in Pennsylvania.
Votecastr is using an unproven technique to deliver real-time updates on voter turnout in combination with polling done ahead of Election Day. The site says it's information is not making a prediction on who will win any states.
Speculation on Clinton's chances also boosted odds on a Federal Reserve hike next month to 86 percent, according to data compiled by Bloomberg based on fed funds futures. The Democrat is considered a continuity candidate whose election would likely do little to change the Fed's plan to raise rates gradually. Trump has accused the central bank of playing politics under the leadership of Chair Janet Yellen.
Stocks
MSCI's global gauge rose 0.4 percent at 4 p.m. in New York, led by raw-material and consumer discretionary companies. Health-care shares underperformed.
The S&P 500 increased 0.4 percent to 2,139.53, adding to Monday's rally that was spurred by the FBI reiterating Clinton's controversial handling of her e-mails wasn't a crime.
"There's still a relief rally occurring following yesterday's big gain," said Bill Schultz, who oversees $1.2 billion as chief investment officer of McQueen, Ball & Associates Inc. in Bethlehem, Pennsylvania. "Clinton represents less change, and positive news for her will be a positive for the market. Any uncertainty removed from an outlook is always good."
While the glare was firmly on the election, a bevy of earnings reports contributed to some substantial moves in individual stocks. Among the most notable:
The Stoxx Europe 600 Index rose 0.3 percent. ArcelorMittal tumbled after the steelmaker warned that a surge in coal prices would hurt earnings. Marks & Spencer Group Plc sank after the retailer said it plans to close all its stores in 10 foreign countries and shutter 30 outlets at home. Credit Agricole SA rose after saying profit doubled from a year earlier.
The MSCI Emerging Markets Index posted its steepest two-day increase since July, with Egyptian equities rallying for a ninth day as the pound's float lured investors.
Bonds
Benchmark Treasury 10-year note yields rose three basis points, or 0.03 percentage point, to 1.86 percent, according to Bloomberg Bond Trader data.
The day after Americans choose their next president, yields will either plunge by the most since the U.K.'s June vote to leave the European Union or hold near levels seen this month. That's according to the average forecasts of 11 respondents in a Bloomberg survey of the 23 primary dealers that trade with the Fed. Most strategists said yields will fall Wednesday if Trump wins the White House and will remain steady or rise if Clinton prevails.
A Democratic win will probably send the yield on 10-year U.S. Treasuries to about 2.6 percent by this time next year, according to Loomis Sayles & Co. Vice Chairman Dan Fuss. Her victory would allow the Fed to raise rates as many as three times before next November, he said.
"If Clinton wins, the central bank will probably raise rates in December, despite international pressures," Fuss said in an interview in Tokyo Monday.
Currencies
The Bloomberg Dollar Spot Index, which measures the U.S. currency's performance against a basket of 10 major peers, lost less than 0.1 percent. It rose 0.2 percent to $1.1016 per euro, and 0.6 percent to 105.11 yen.
Japan's currency fell in the days leading up to the race as Clinton re-established a firmer lead against Trump. She's seen as a more predictable candidate, while the Republican contender is a political novice who has advocated policies such as winding back free-trade agreements that could send jitters across markets.
Mexico's peso rose 1.2 percent to a two-month high of 18.37 per dollar. Nomura Holdings Inc. and Capital Economics say the peso could fall to as weak as 25 per dollar in the aftermath of a Trump victory, while most strategists predict more modest gains from this point if Hillary Clinton wins.
Tuesday's vote is key "not just for the Mexican peso, but for Mexico," said Juan Carlos Rodado, the director of Latin America research at Natixis North America in New York. "We're talking about an election that could determine the future of trade, that can call into question 20 years of economic integration."
Commodities
Gold futures for December delivery fell 0.4 percent to settle at $1,274.50 an ounce at 1:50 p.m. on the Comex in New York. It was the first back-to-back decline in almost a month.
"Gold is going to make a much larger move as the night progresses with the results coming in, especially after polling stations close," said Phil Streible, a senior market strategist at RJO Futures in Chicago. "And then 24 hours from now everyone is going to ask: 'Hey, is the Fed going to raise rates in December?' and then we'll proceed forward with life."
Oil rose 0.2 percent in New York. OPEC Secretary-General Mohammed Barkindo warned of prolonged instability in the oil market if the group and other major suppliers fail to act jointly to limit output and curb a global glut. U.S. supplies grew 2 million barrels last week, according to a Bloomberg survey before government data Wednesday.
West Texas Intermediate for December delivery advanced 9 cents to close at $44.98 a barrel on the New York Mercantile Exchange. Brent for January settlement declined 11 cents to $46.04 a barrel on the London-based ICE Futures Europe exchange.
— With assistance by Robin Ganguly, James Herron, Lianting Tu, Anooja Debnath, Julie Edde, Netty Idayu Ismail, Neil Denslow, Emma O'Brien, James Regan, Stephen Kirkland, Eddie Van Der Walt, Charlotte Ryan, Susanne Barton, Yun Li, Tatiana Darie, Jasmine Ng, Anna-Louise Jackson, John Hyland, Dani Burger, Phil Kuntz, Paul Dobson, Jeremy Herron, Isabella Cota, Joe Deaux, and Mark Shenk
Before it's here, it's on the Bloomberg Terminal.
LEARN MORE