Asian Stocks Climb as Risk Appetite Returns After FBI Statement
By
New Zealand benchmark gauge advances most since August 2011

Hong Kong developers slump after city cools housing market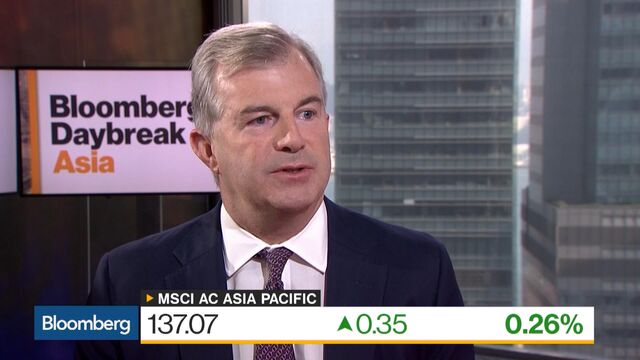 Asian stocks rose after the Federal Bureau of Investigation reaffirmed its view that Hillary Clinton's handling of her e-mails as secretary of state wasn't a crime. Hong Kong developers tumbled after city's government took steps to cool the world's least affordable home market.
The MSCI Asia Pacific Index climbed 0.5 percent to 137.4 as of 4:01 p.m. in Hong Kong, set for the first advance in four days and the biggest since Oct. 18. Japan's Topix index added 1.2 percent as the yen fell 1.3 percent against the dollar, while New Zealand's S&P/NZX50 Index had its biggest gain since 2011 after entering a correction last week. The Asian share gauge had dropped for the past two weeks and the S&P 500 Index had posted the longest streak of declines since 1980 as Clinton's lead over Donald Trump narrowed in most polls after the FBI reopened a probe into an unauthorized e-mail server.
"We're seeing a risk-on rally, looking at the currency movements," said James Woods, a strategist at Rivkin Securities in Sydney. "If Clinton widens her lead again, that will be very positive for the market. It will be good to get the U.S. elections out of the way so investors can focus on earnings and the economy."

The FBI said it's sticking with its view that Clinton's handling of e-mails during her tenure as secretary of state wasn't a crime after reviewing new communications potentially related to the Democratic candidate, director James Comey said in a letter to Congress dated Sunday in the U.S. The statement came just over a week after Comey said the bureau was looking into more e-mails.
The Hang Seng Index gained 0.8 percent even as real estate companies fell after Hong Kong Chief Executive Leung Chun-ying raised the stamp duty for all residential purchases, apart from first-time buyers who are permanent residents, after markets closed on Friday. Louis Chan, chief executive of the residential unit of Centaline Property Agency Ltd., said he sees transaction volumes plunging by 60 percent to 70 percent in the next three months.
Game Changer
Political risk may also weigh on Hong Kong shares this week. China's National People's Congress Standing Committee ruled on Monday that Hong Kong people who advocate independence can't hold public office, according to a document published by the official Xinhua News Agency, a rare intervention that lawyers and democracy advocates have warned could undermine the courts and spark unrest. The decision by the committee represented only its second unilateral interpretation of Hong Kong law since the former British colony was returned to China almost two decades ago.
"Hillary's improving prospects will provide a short-term boost to Hong Kong stocks," said Hao Hong, chief strategist at Bocom International Holdings Co. in Hong Kong. "In the longer term, the stamp duty increase and the NPC interpretation of Hong Kong law will have a negative impact outweighing any sentiment rebound triggered by U.S. election news. The stamp duty is a big game changer for Hong Kong's property market."
Australia's S&P/ASX 200 Index climbed 1.4 percent, its biggest advance since July 11. Taiwan's Taiex index rose 1.3 percent, the most since Sept. 19. India's S&P BSE Sensex measure increased 1 percent and South Korea's Kospi index added 0.8 percent. New Zealand's S&P/NZX 50 Index closed 2.4 percent higher, Singapore's Straits Times Index rallied 0.7 percent and Thailand's SET Index was up 1 percent. The Shanghai Composite Index gained 0.3 percent, reversing earlier losses of as much as 0.3 percent.
Suzuki Motor Corp. jumped 7.2 percent in Tokyo, pacing gains among Japanese exporters seen benefiting from a weaker yen, after raising its full-year operating profit forecast 11 percent to 200 billion yen ($1.9 billion). HSBC Holdings Plc rose 2.4 percent in Hong Kong after the British lender posted third-quarter profit that beat analysts' estimates. Sun Hung Kai Properties Ltd. tumbled 9.8 percent, leading losses among Hong Kong developers.
Indonesian GDP
Indonesia reported third-quarter gross domestic product increased 5.02 percent from a year earlier, less than a revised 5.19 percent in the previous three months and the median estimate for 5.08 percent expansion. The Jakarta Composite Index rose 0.2 percent. The Philippine Stock Exchange Index was the only decliner in Asia, falling 0.4 percent, led by a 5.2 percent drop in Globe Telecom Inc., which reported a 50 percent drop in profit last quarter.
E-mini futures on the S&P 500 jumped 1.3 percent, the most since Sept. 12. The U.S. equity benchmark index dropped 0.2 percent on Friday for a ninth day of declines, after data showing progress in the American labor market did little to soothe anxiety over the presidential election.
A report on Friday showed payrolls climbed by 161,000 last month following a 191,000 gain in September that was larger than previously estimated. Wages rose from a year earlier by the most since 2009, and the jobless rate fell to 4.9 percent. The figures are likely to keep the Fed on track to raise borrowing costs next month for the first time in 2016.
— With assistance by Fox Hu
Before it's here, it's on the Bloomberg Terminal.
LEARN MORE