Anxiety Drains From Market as S&P 500 Rallies After FBI Letter
By
Wagers on tempered volatility jump the most since August

Polls show Clinton with narrow lead before tomorrow's vote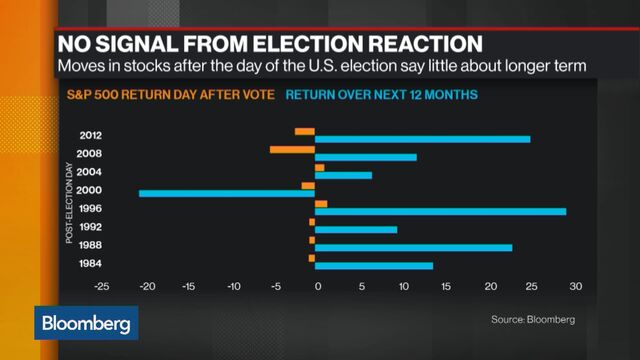 The resolution of the FBI's investigation into Hillary Clinton's e-mails two days before the presidential election could hardly have come at a worse time for investors betting on equity volatility into the election.
Relief swept over stock markets Monday after the FBI reiterated Clinton's controversial handling of her e-mails wasn't a crime, sending the CBOE Volatility Index tumbling 17 percent. Bets the slump will continue rose to the highest in almost three months relative to wagers on an increase. The S&P 500 Index surged 2.2 percent to 2,131.52 at 4 p.m. in New York, the biggest one-day gain in eight months.

The latest revelation quelled apprehension over the election's outcome after Federal Bureau of Investigation Director James Comey said on Oct. 28 the agency was examining new e-mails potentially related to its review of Clinton's use of a private server. Investors still smarting from being caught wrong-footed after the Brexit vote pushed the VIX up 39 percent last week, extending its longest-ever streak of gains to the highest level since June amid narrowing polls and an increasingly unpredictable election.
"The end of the investigation lends a little more clarity to the situation," Bill Schultz, who oversees $1.2 billion as chief investment officer of McQueen, Ball & Associates Inc. in Bethlehem, Pennsylvania, said by phone. "This gets us closer to reducing and possibly eliminating one of the main uncertainties surrounding the election, and you're seeing that reflected in positioning."
Open interest on put contracts for the VIX swelled to 45 percent of the same measure for calls, the most since Aug. 18, according to data compiled by Bloomberg. That's high relative to the average of 40 percent for the past year.
The worry last week also pushed the spread between expected and realized volatility into the 99th percentile since 1990, according to Goldman Sachs Group Inc. With the measure that extended, there could be a "VIX collapse if uncertainty declines post-election," David Kostin, chief U.S. equity strategist at the firm, wrote in a Nov. 4 client note.
American stocks have shown themselves sensitive to Clinton's presidential prospects, with futures rising in September during the first debate she was widely considered to have won. The S&P 500 tumbled about 20 points in the 40 minutes after Comey's initial letter was made public. While the race has been tightening before tomorrow's vote, Clinton still maintains a narrow lead over Republican rival Donald Trump, according to an average of polls by RealClearPolitics.
The S&P 500 on Monday halted its longest losing streak since 1980. The Dow Jones Industrial Average soared 371.32 points, or 2.1 percent, to 18,259.60, a four-week high. The Nasdaq Composite Index increased 2.4 percent. Banks, technology companies and drugmakers paced the rebound, with lenders capping their steepest climb since August. JPMorgan Chase & Co. and Microsoft Corp. advanced more than 2.9 percent. About 7.1 billion shares traded hands on U.S. exchanges, 8 percent more than the three-month average.
"We've been down nine straight days as concerns over a potential Trump victory put a lot of caution in the market," said Michael James, managing director of equity trading at Wedbush Securities Inc. in Los Angeles. "Some of that is being relieved with the comments from the FBI about the Clinton e-mail investigations. All today guarantees is that there will be more volatility for the rest of the week following tomorrow's election."
The S&P 500 has advanced in the five days before the vote in 20 of the past 22 presidential election cycles, according to data compiled by Bloomberg and Bespoke Investment Group LLC, with an average 1.9 percent climb in the run-up to votes going back to 1928. After today's 2.2 percent rally, the index rose 0.3 percent over the five sessions before tomorrow's election.
Hedge fund manager David Tepper said he's supporting Clinton for president after initially being open to backing Trump. He said in a CNBC interview on Monday that she will probably be to the right of her party's platform on economic policy. The head of Appaloosa Management also said he'll vote for Republican candidates running for the House and Senate.
"There isn't certainty she'll win, but she is gaining some momentum and at least we got one worry out of the way," said Christian Stocker, a strategist at UniCredit Bank AG in Munich, Germany. "This should last until Wednesday, when markets decide what the next direction is."
Speculation on Clinton's chances also helped boost odds of a Federal Reserve interest-rate increase next month. Data compiled by Bloomberg based on fed funds futures trading show an 80 percent probability of higher borrowing costs by year end, up from 76 percent on Friday.
The earnings season is drawing to a close, with about 85 percent of S&P 500 companies having reported. Of those, 56 percent beat sales expectations and 76 percent exceeded profit forecasts. Marriott International Inc. and News Corp. are among firms posting results today. Analysts forecast a profit increase of 2.5 percent for the benchmark's members in the third quarter. If that holds, it will end the longest earnings recession since the financial crisis.
Among shares moving on earnings news, Sysco Corp., the largest North American food distributor, surged the most in five years after posting first-quarter profit that beat analysts' estimates.
Before it's here, it's on the Bloomberg Terminal.
LEARN MORE