Trump's Manager Says 'We Don't Know' If Nevada Vote Was Improper
By
Late closing at Las Vegas voting site to process long lines

Clinton aide says When Trump is losing, 'everything's rigged'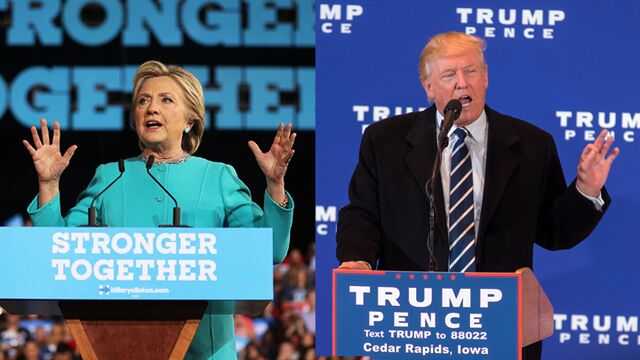 Donald Trump's campaign manager questioned whether the law had been followed during early voting in Nevada, which saw strong Democratic turnout, prompting the Republican candidate to renew claims of a "rigged" electoral system.
Kellyanne Conway said Sunday on CNN's "State of the Union" that "there isn't a problem" if polls stayed open late in the Democratic stronghold of Clark County simply to accommodate voters who were already in line.
"But we don't know that that's true," Conway added, "and we'll all take a look at Tuesday as well."
Dan Kulin, a spokesman for Clark County's government, has said nothing irregular occurred. "If the early voting site is scheduled to close at a certain time and there is still a line, obviously we continue to process those votes," he told Buzzfeed News.
The county's official Twitter account tweeted on Nov. 5 that closing times vary for its polling sites but that "those in line after that are being allowed to vote." The county has experienced record turnout during this year's early voting period.
Following his repeated claims that the U.S. electoral system is broadly "rigged" -- in this year's case, in favor of Democrat Hillary Clinton -- Trump has at times refused to say if he'd accept the results of Tuesday's election. He has also said he would accept "a clear result."
'Serpentine-Like Lines'
Conway said she hoped election officials would follow similar practices to Las Vegas in locations where there is strong turnout for the Republican presidential nominee, and predicted "really long lines, serpentine-like lines, on Tuesday of folks there for Donald Trump."
Michael McDonald, chairman of the Nevada Republican Party, said at a Trump rally in Reno on Saturday night that "they kept a poll open till 10 o'clock at night so a 'certain group' could vote."
Trump took up the subject himself after McDonald.
"It's being reported that certain key Democratic polling locations in Clark County were kept open for hours and hours beyond closing time to bus and bring Democratic voters in. Folks, it's a rigged system. It's a rigged system and we're going to beat it," Trump said Saturday.
It is also routine for campaigns and political organizations to transport voters to polls, especially those who are elderly or disabled.
Claims 'Ridiculous'
Clinton campaign chairman John Podesta called the Republican claims "ridiculous."
"The people who were in line got to vote, and as normal they kept the polling place open so they could vote," he said on ABC's "This Week With George Stephanopoulos." "With Donald Trump, as normal, when he's losing everything's rigged."
Nevada is critical to Trump's chances of putting together an Electoral College majority. Figures released by the Secretary of State's office showed a surge of Democratic support during Friday's in-person early voting in Clark County, the state's most populous.
— With assistance by Alex Wayne
Before it's here, it's on the Bloomberg Terminal.
LEARN MORE