Traders Hedge Risk of Selloff in Mexico Peso If Trump Wins
By
Investors stepping up bets in currency forwards, swaps markets

Trump has said he'd end or renegotiate Nafta agreement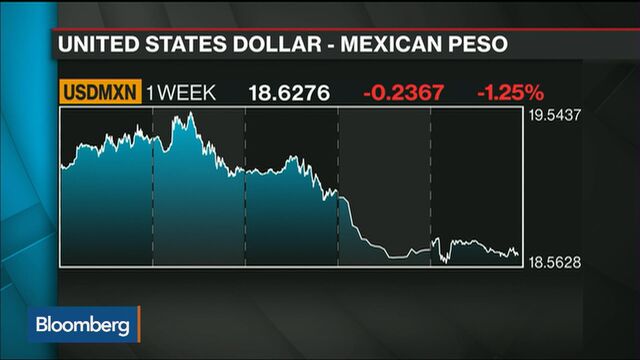 Investors are turning to Mexico's currency-derivatives and interest-rate swap markets to hedge against the risk of a selloff in the peso should Donald Trump win the U.S. presidential election.
So-called peso forward points -- a measure of the gap between the currency in the forwards and spot markets -- reached the highest since 2009 on Wednesday. That implies traders expect either the peso will weaken or local yields will rise faster than those on U.S. debt.

Meanwhile, rate swaps now suggest investors see Mexico's central bank raising benchmark borrowing costs by 0.8 percentage point in the next 12 months. Three weeks ago, they expected the country's key lending rate to rise by just 0.37 percentage point.

Currency traders are piling into these markets as polls show the race between Trump and Democratic rival Hillary Clinton tightening in the run-up to the election on Tuesday. Investors are concerned a Trump victory would cause the currency to slump, which may fan inflation and increase pressure on the central bank to lift rates. Trump has said he will end or renegotiate the North American Free Trade Agreement that governs trade between Mexico and the U.S., which is the Latin American country's biggest export market.
"We think most of this is pre-election hedging," said Phoenix Kalen, a currency strategist at Societe Generale SA in London. "We don't believe that the markets would expect Banxico to be aggressive on rate hikes if Clinton enters office."
The market would probably react to a Clinton victory by pricing in fewer rate increases, she said. Clinton leads Trump by three percentage points among likely voters, according to a Bloomberg poll published on Monday.
The peso soared 1.7 percent to 18.7104 at 6:07 a.m. in New York after FBI Director James Comey said Clinton should not face criminal charges over her use of a personal e-mail server while she was Secretary of State.
Comey informed Congress on Oct. 28 that the FBI was examining new e-mails potentially related to its investigation of Clinton's use of a private e-mail server, roiling the presidential race.
"During that process, we reviewed all of the communications that were to or from Hillary Clinton while she was Secretary of State," Comey said in a letter. "Based on our review, we have not changed our conclusions that we expressed in July with respect to Secretary Clinton."
The letter was released by Representative Adam Schiff, a California Democrat.
Before it's here, it's on the Bloomberg Terminal.
LEARN MORE