Park's Former Aides Arrested as Protesters Demand She Resign
By
Tens of thousands of citizens attend anti-Park rally in Seoul

Rally comes after president offered apology on Friday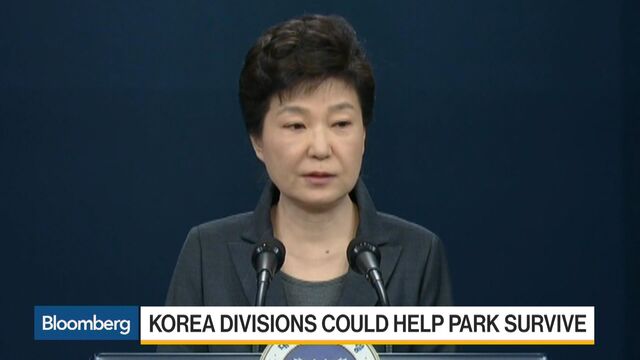 South Korean President Park Geun-hye's former secretaries were arrested early Sunday, adding pressure on her to resign as tens of thousands of protesters demanded her ouster over one of the nation's biggest political scandals in years.
Arrest warrants for former senior presidential secretary for policy coordination An Chong-bum and former secretary for private presidential affairs Jeong Ho-seong have been issued, according to text messages from the Seoul Central District Court. 
An has been accused of pressuring local companies to donate funds to foundations controlled by Choi Soon-sil, a friend of President Park who is at the center of the scandal. Jeong, dubbed as a "door knob" to Park by local media in that he is one of the key members controlling access to the president, was arrested on charges of allegedly leaking confidential documents to Choi. Both were already in custody.
The arrests came as tens of thousands of citizens rallied in Seoul demanding Park's resignation. Police said about 45,000 people turned out, although protest organizers estimated the crowd at 200,000, according to Yonhap News. Photos in local media showed protesters flagging banners reading "Park Geun-hye resign" and "Park Geun-hye out."
Still, Yong In University liberal arts Professor Choi Chang-ryul said he didn't expect Park to resign even though the situation may change as calls for her resignation increase.
"We are likely to see stand-off between political parties and the presidential office for some time, during which the public will continue demanding her resignation," Choi said. "How things will evolve after this is hard to predict."
Park has seen seen her approval rating plummet after media reports that Choi, a long-time friend of Park's and a private citizen, has taken advantage of their relationship to meddle extensively in state affairs. Choi was formally arrested on Nov. 3 on charges of attempted fraud and abuse of authority.
Park offered a national apology on Nov. 4, saying that she feels "great responsibility" and that she would cooperate with investigators over allegations that her friend had undue influence over her administration. A Gallup Korea poll released the same day showed her approval rating dipped to 5 percent from 17 percent a week earlier.
Before it's here, it's on the Bloomberg Terminal.
LEARN MORE