Bail-Ins Split Watchdogs in $450 Billion Danish Mortgage Market
By
Danish FSA disagrees with central bank on extending bail-ins

Industry is fighting talk of imposing extra bail-in buffer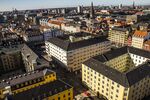 An argument has broken out in the world's largest mortgage-backed covered-bond market over whether issuers should be included in European rules designed to protect taxpayers from bank failures.
The governor of the Danish central bank says mortgage issuers should be treated like other banks if they run into trouble. The head of the Financial Supervisory Authority disagrees. Depending on who wins, Denmark's biggest banks may need to issue a lot more loss-absorbing debt than currently required.
Under the EU's Bank Recovery and Resolution Directive, national regulators can determine how much equity and debt banks need to get them through failure without hurting the economy they operate in.
Danish Lobbying
But largely because of lobbying by Denmark, BRRD exempted mortgage banks. More specifically, lenders that issue covered bonds and don't take deposits don't need to worry about a requirement to hold a minimum amount of own funds and eligible liabilities (MREL) as a percentage of total liabilities. That exemption covers all the banks that operate in Denmark's $450 billion mortgage-bond market. Lenders can instead be unwound according to "national insolvency procedures" that meet the objectives of BRRD, according to the law.
"In the very unlikely event that a mortgage credit institution should fail, Denmark has a long-established system for resolution that allows for a gradual winding down and thus prevents fire sales," Jesper Berg, the FSA's director general, told Bloomberg.
But Lars Rohde, governor of Denmark's central bank, says it's unwise to assume the industry is immune to messy insolvencies. In a recent speech to bankers, he said mortgage issuers can't assume they'll continue "being so lucky" in the future. There is a risk mortgage issuers may fail and the current unwinding options risk triggering a credit freeze that could destabilize the entire financial system, he said.
State Support
"We must not bring Denmark in a situation where there is pressure on the government to guarantee mortgage bonds totaling 1 1/2 times GDP if the mortgage banks experience difficulties," Rohde said.
At the moment, Danish mortgage lenders face a national requirement to hold a debt buffer of 2 percent of loans, instead of MREL. In estimating the impact of BRRD, European regulators set the average MREL at 10 percent of liabilities.
Danish mortgage banks provide roughly two-thirds of all loans in the Nordic country, and commercial banks hold billions of the bonds behind those loans to fill their liquidity requirements. Three of the four institutions that dominate the market are owned by universal banks, including Danske Bank A/S. These already face MREL requirements for the remaining parts of their business.
Bank Runs
According to Denmark's mortgage banking industry, the chances of an issuer's insolvency are minuscule. But should it happen, existing procedures are adequate, it says. The industry also points out that it's immune to bank runs, because lenders don't have deposits.
"In the more than 200-year history of the Danish mortgage system, no mortgage bank has ever been declared bankrupt and thus entered into winding-up," said Peter Jayaswal, deputy director at the Association of Danish Mortgage Banks. "We will listen to concerns regarding the current system, but it is important that a resolution scheme for mortgage banks reflects the unique characteristics of the Danish mortgage system."
The Danish Mortgage Banks' Federation, another industry lobby group, says it hasn't calculated the consequences of forcing issuers to comply with MREL.
But the head of the federation, Karsten Beltoft, says one thing is clear. "If the debt buffer is increased, they will have to raise capital of some sort in one way or another."
— With assistance by Patrick Henry, and Peter Levring
Before it's here, it's on the Bloomberg Terminal.
LEARN MORE