U.S. ELECTION WRAP: Final Campaign Trips Show Candidate Paths to Victory
Trump and Clinton are crisscrossing the map to make their final pitches to voters. Their schedules reveal how each candidate thinks he or she can win the White House on Nov. 8.
By and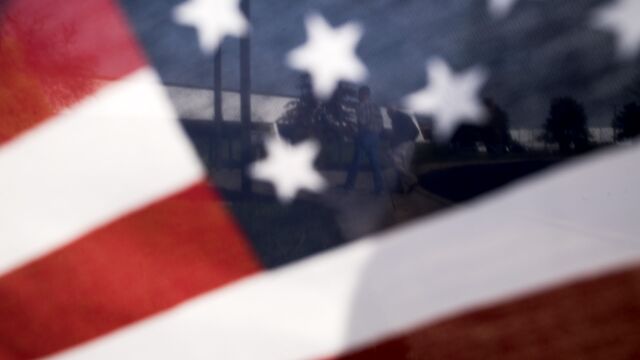 Hillary Clinton and Donald Trump's most precious asset—time—is winding down and their final campaign schedules reveal what each candidate considers his or her best strategy for winning the presidency in Tuesday's election.
Between them, Clinton and Trump barnstorm at least 10 states over the next four days; both will be in Pennsylvania, Florida, Ohio, New Hampshire; Trump also is in Nevada, Colorado, Wisconsin, Iowa and North Carolina; Clinton's schedule includes a Friday stop in Michigan

"The way both campaigns are investing time and effort in the battleground states shows just how close this race could really become on Tuesday and the Clinton campaign isn't taking anything for granted," Ron Bonjean, a Republican strategist and former aide for Senate and House leaders, said in interview with Bloomberg

Trump is poised to log more air miles than Clinton, as his formal schedule has him in nine states Friday-Monday; he also might add Michigan and Virginia
Clinton is set to stump in at least five states
As the race heads into its last weekend, Trump is showing strength in Iowa and Ohio in pre-Election Day voting, while Clinton's advantage looks stronger in N.C. and Nevada, according to Bloomberg Politics analysis


  CLINTON'S LAST BIG PUSH
President Obama campaigns for Clinton in N.C. and Florida over the weekend; on Monday, he will stump in N.H. as well as travel to Philadelphia to participate in the final Democratic rally before Election Day with first lady Michelle Obama and Hillary, Bill and Chelsea Clinton
Clinton running-mate Sen. Tim Kaine plans to spend Election Eve in Virginia, both in the northern part near Washington and in the capital of Richmond (Kaine is a former Va. governor and Richmond mayor)
Clinton's relatively slower schedule shows that she's "close to a lock" on 272 electoral votes, two more than needed to win, Mark Penn, Clinton's senior strategist on her 2008 campaign, told CNN

"No reason to take a lot of risk at this point," he said

Further, Clinton has a network of surrogates that Trump "really doesn't have": Penn
In addition to Obama, high-profile supporters out for Clinton over the next three days include Sen. Bernie Sanders in Iowa, Colorado and Omaha, Nebraska, where Democrats hope to grab 1 electoral vote; Bill Clinton stumps in Colorado; Vice President Joe Biden headlines rallies in crucial Pennsylvania

Musicians coming out for Clinton include: Rapper Jay Z and Beyonce in a "Get Out the Vote" performance in Cleveland; Cher at fundraisers in Boston and Miami; Jon Bon Jovi in N.C. and Florida; Stevie Wonder in Philadelphia

Clinton's decision to hold her final rally in Philadelphia underscores how important the region, and more broadly Pennsylvania, is to her plan for victory; she has a 3-point lead in the state, according to RealClearPolitics


TRUMP SWARMS MAP
As of Fri. afternoon, Trump's final campaign stop before Election Day will be in New Hampshire, in a joint appearance with his running-mate, Indiana Gov. Mike Pence

The Granite State offers just 4 electoral votes, yet could make a critical difference in a close election
"There is always a chance Trump could thread the needle for a win," Bonjean said. "He's investing valuable time in places like New Hampshire that have low electoral numbers, but could push him over the edge."

Trump has caught up with Clinton in N.H., a state where she has been consistently leading, USA Today reported, citing RealClearPolitics polling averages

Trump leads in N.H. by 1.5 points, based on a 4-way contest: RealClearPolitics
FiveThirtyEight has Clinton with a 66% chance of winning N.H. if election held today, vs 34% for Trump

Both Trump and Clinton are laser focused on Pennsylvania, Florida and N.C.
Republican National Committee chief strategist Sean Spicer told CNN that Democrats are down by 100k early votes in N.C. compared to 2012, when GOP nominee Mitt Romney took the Tar Heel State after Obama won it in 2008
RealClearPolitics shows Trump with a 0.8-point lead in N.C.
In addition to the N.H. rally with Trump on Monday, Pence's formal schedule as of Fri. afternoon shows he will be in Michigan, N.C. and Florida on Friday, and then back to Michigan on Saturday; he has no scheduled Sunday stops as of now

Pence also plans to be in Wisconsin on Saturday with House Speaker Paul Ryan and GOP Sen. Ron Johnson, who is in a tough re-election race, Politico reported, citing an unidentified person involved with the planning
NOTE: Pence last month canceled a campaign appearance in Wisconsin with Ryan and Johnson following the release of a 2005 "Access Hollywood" video that showed Trump making lewd comments about women


MICHIGAN & VIRGINIA
The plan for Pence to campaign in Michigan twice over the next two days comes as Clinton speaks Friday at a "get-out-the-vote" rally in Detroit, though Michigan has been widely seen as relatively safe for her
While Clinton has maintained her lead in the Wolverine State, recent polling shows the gap narrowing, Mlive.com reported  
Clinton is hanging onto a narrow 4-point lead over Trump in Michigan, a new Detroit Free Press poll found
The survey shows momentum for the Republican nominee in a state that several weeks ago was believed all but decided for Clinton: Detroit Free Press
Clinton as of Fri. afternoon had a 4.6 lead in Michigan: RealClearPolitics
The decision to have Kaine spend his last day on the trail in Virginia reflects similar dynamics for Clinton in that state

The Democratic nominee has a 5.2-point lead in Va., according to RealClearPolitics polling average, though the race has tightened and both candidates are airing ads in the state that Obama won twice
Michigan and Virginia are among six Democratic-leaning states Trump must "pick off" to get the 270 electoral votes to win the presidency, assuming he takes Florida, Ohio, N.C. and Iowa, Republican National Committee chief strategist Sean Spicer told MSNBC
Other such states include Colorado, Virgina, Pennsylvania and maybe a combination of New Hampshire's 4 electoral votes with 1 vote from Maine's Second Congressional District: Spicer
Spicer, when asked which "blue-leaning" state he thinks Trump has the best chance of winning, said: "I like where we are in Michigan right now and I think Virginia is closing as well"


NOVEMBER 9
The mudslinging presidential campaign notwithstanding, Americans aren't only choosing between two people on Election Day

More than 130 million voters are expected to determine whether the next occupant of the Oval Office starts off with a mandate —- and the allies in Congress to implement it -- or with enemies and further gridlock, with the Supreme Court, the economy, Obamacare, and even the health of the planet possibly hanging in the balance; read full Bloomberg story here

If Clinton wins, her administration could start with a slog unless Democrats win the Senate, Bloomberg's Steven T. Dennis wrote
If Trump wins, it could be a "watershed in world history," both economically and politically, Financial Times chief economics commentator Martin Wolf told Jacob Weisberg this week on Slate's Trumpcast podcast

In Sept., Wolf wrote that the election of Trump "would mark the end of a U.S.-led west as the central force in global affairs. The result would not be a new order. It would be perilous disorder"

Republican strategist Alex Conant, an aide in Sen. Marco Rubio's presidential bid, told CNN that if elected Trump would have "tons of political capital to work with and a Republican Congress"

Clinton would have "no political capital" and would be "weak" because she would be under FBI investigation, he said


TREASURY SECRETARY
If elected, Clinton would likely try to make history with her choice for U.S. Treasury secretary while Trump would probably select someone whose biography resembles his own

Clinton's possible choices for Treasury include Facebook's Sheryl Sandberg and Fed Governor Lael Brainard, people familiar with the selection process told Bloomberg
Another candidate is TIAA-CREF CEO Roger Ferguson, who would be the first African American in the job
Potential Trump nominees include his campaign's finance chairman, hedge fund founder Steven Mnuchin, and investors Carl Icahn and Wilbur Ross Jr., according to a person familiar with his thinking


ADVERTISING
Trump will speak directly to voters in one of the final ads of his campaign, a change of tack for the presidential candidate who has remained mostly quiet in his own TV commercials until now, AP reported, citing analysis of Kantar Media ad data


POLLS
ETC.
CONGRESSIONAL ELECTIONS
SENATE RACES (Republicans hold 54-46 majority)
CA: Democratic Rep. Loretta Sanchez's "wave of attacks" against Democratic state Atty. Gen. Kamala Harris "have failed to turn around her fading campaign," according to Los Angeles Times report on its poll with USC Dornsife

Harris led Sanchez 48%-31% in poll conducted Oct. 22-30 of 697 likely voters (+/- 3.7 ppts)
Democratic Sen. Barbara Boxer isn't seeking re-election
IN: Republican Rep. Todd Young led Democratic ex-Sen. Evan Bayh 46%-41% in WTHR/HPI Indiana Poll conducted Nov. 1-3 of 600 likely voters

Bayh began campaign with big lead yet Young and outside groups "have issued an unrelenting, scorched-earth volley against the former two-term senator and governor," political analyst Brian Howey reported
Poll conducted by Public Opinion Strategies, a prominent Republican firm that's done survey research for Young
Indiana Democratic Party chairman John Zody in statement didn't dispute poll results but said "Hoosiers are eager to elect common sense Democrats this November"
A Young comeback win would be a blow to Democratic hopes of overturning Republican Senate majority; on Election Day, most Indiana polls close at 6 p.m. eastern time, rest at 7 p.m.
Winner will succeed Republican Sen. Dan Coats, who's retiring
MO: Democratic Secretary of State Jason Kander's most recent donors include former Nebraska Sen. Bob Kerrey, the National Organization for Women, and "Breaking Bad" and "Better Call Saul" actor Bob Odenkirk, according to Federal Election Commission filings within past week

Republican Sen. Roy Blunt's donors in last days of campaign included PACs of GlaxoSmithKline, Comerica, Marathon Petroleum
NV: Democrat Catherine Cortez Masto in TV ad said she "brought Democrats and Republicans together" as state Attorney General to combat sex trafficking and drug dealers and "took on the big banks who took advantage of Nevada's homeowners"
"In Washington, I'll work with anyone to solve problems for Nevada," Cortez Masto said
ESAFund, a conservative super-PAC led by TD Ameritrade founder Joe Ricketts, released TV ad of individuals praising Republican Joe Heck, including one woman who says he's "an independent voice for Nevada"

Cortez Masto, Heck in close race for seat of retiring Senate Democratic leader Harry Reid
TX: Democratic Rep. Beto O'Rourke said he may run for the Senate in 2018 against Republican Ted Cruz or in 2020 against Republican John Cornyn, Dallas Morning News reported

"I want to be honest with you, am I looking at one of those two races? Yes," O'Rourke said today at Texas Tribune event in Austin, according to the newspaper
O'Rourke was first elected in 2012 to TX-16, centered in El Paso, after serving on city council
WI: National Republican Senatorial Committee released TV ad saying ex-Sen. Russ Feingold "set up his own legalized slush fund" after leaving U.S. Senate and "used it to enrich himself"
Politifact yesterday analyzed similar claim in Republican radio ad that Feingold "formed his own political group to pay himself and his staff millions"; that assertion is "half-true," the fact-checking group said

Late burst of political activity by NRSC and other groups suggest Republican Sen. Ron Johnson has narrowed or eliminated Feingold's long-running lead in polls


HOUSE RACES (Republicans hold 246-186 majority)
IN-09: Democrat Shelli Yoder's campaign released TV ad saying Republican "Tennessee Trey" Hollingsworth is a "tax cheat" with "criminal business dealings"

Ad calls attention to Nov. 2 Associated Press report that Hollingsworth's company "filed papers in five states that legally obligate the 33-year-old executive to live outside Indiana in order to represent his business interests"
Hollingsworth, who's mostly self-financed his campaign, and Yoder, a Monroe County councilwoman, seeking southern Indiana district of Republican Rep. Todd Young, who's running for Senate
NH-01: Republican Rep. Frank Guinta and Democratic ex-Rep. Carol Shea Porter "at times joined forces" against independent Shawn O'Connor in a debate yesterday and "at other times, they sought to tie O'Connor to their opponent's party," WMUR reported

O'Connor initially sought Democratic nomination with Shea-Porter before waging independent campaign; Guinta, hurt by a campaign finance scandal in 2015, would benefit from O'Connor siphoning anti-Guinta votes from Shea-Porter
Guinta beat Shea-Porter in 2010, lost to her in 2012, then won again in 2014
District includes Manchester, Rochester, Portsmouth, Laconia
NY-01: Republican Rep. Lee Zeldin led Democrat Anna Throne-Holst 57% to 36% in Newsday/Siena College poll conducted Oct. 27-31 (+/- 4 ppts), Newsday reported

Poll showed Trump leading Clinton 51%-38%; in 2012, NY-01 voted 50%-49% for Obama over Republican Mitt Romney
District includes part of Suffolk County, including the Hamptons
NY-03: Democrat Tom Suozzi in TV ad appears with his mother, who says Suozzi "never backed down" as candidate adds he never gave into "the school bully, the bigshots in Albany, and when it mattered, even my own party"

Suozzi, a former Nassau County executive, favored to defeat Republican state Sen. Jack Martins to represent parts of Nassau and Suffolk Counties on Long Island and part of Queens
Democratic Rep. Steve Israel isn't seeking re-election
NY-22: Republican Assemblywoman Claudia Tenney had 38% to 34% for Democratic businesswoman Kim Myers in Siena College/Time Warner Cable News poll conducted Nov. 1-2 of 643 likely voters

Martin Babinec, a self-funded independent candidate, had 16%; sampling margin of error +/- 4.2 ppts
Winner will succeed retiring Republican Rep. Richard Hanna in upstate district
WI-08: Republican Mike Gallagher, looking to the camera in TV ad, said that as a Marine "I swore an oath to support and defend the Constitution"

"I will never stop fighting on behalf of northeast Wisconsin, on behalf of your family, and in defense of our country," Gallagher said
Ad doesn't mention Democrat Tom Nelson, a county executive in Appleton also seeking to succeed retiring GOP Rep. Reid Ribble
Before it's here, it's on the Bloomberg Terminal.
LEARN MORE