Arizona 'Ballot Harvesting' Ban Revived by Supreme Court
By , , , and
Democrats lose New Jersey case alleging voter intimidation

North Carolina ordered to restore purged registrations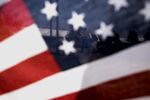 The U.S. Supreme Court reinstated a Republican-backed Arizona law that makes it a crime to collect early ballots from voters and bring them to a polling place -- one of the most popular and effective methods for Hispanics and Native Americans to vote in a state where polls show a tight race between Donald Trump and Hillary Clinton.
The high court's action was one of a flurry of rulings across the U.S. on Friday and Saturday stemming from efforts by Republicans who suspect widespread voter fraud to purge voter rolls, require photo identification, and limit early voting. Democrats have argued voter-fraud fears are unfounded and that the restrictions are really intended to depress voting from minorities and the poor, who traditionally support Democrats.
Also Saturday, a federal judge in New Jersey denied the Democratic National Committee's request to hold its Republican counterpart in contempt of a 1982 court order that bars the party from engaging in voter intimidation under the guise of poll watching.
The legal drama is playing out as polls show the race between Clinton and Trump is running down to the wire ahead of Election Day.
Ballot Harvesting
In the Arizona case, the Supreme Court set aside a San Francisco-based appeals court ruling that the measure would violate the Constitution and the U.S. Voting Rights Act. The law makes it a crime for people who aren't household members or caregivers to collect legitimate ballots from voters and deliver them to a voting center.
The practice had become popular in Arizona among people who lack reliable mail service or have to use public transportation to vote in person. Democrats contended the law unfairly singles out minority voters who have come to rely on this arrangement.
The Supreme Court issued its decision in a two-sentence order without explanation or public dissent, granting a joint request from state officials and the Arizona Republican Party.
The appeals ruling in that case had been handed down as election officials in North Carolina, another critical battleground state, were ordered by a federal judge to restore thousands of voter registrations that had been canceled. Separately, a judge in another bellwether state, Ohio, barred Republican nominee Trump and one of his advisers, Roger Stone of the group Stop the Steal, from engaging in Election Day voter intimidation.
Similar lawsuits against Trump and Stone have been filed in Nevada, Arizona, Michigan and Pennsylvania as Republicans and Democrats alike zero in on getting more of their voters to the polls by Tuesday. Federal judges in Arizona and Nevada on Friday denied requests to issue orders similar to the one in Ohio.
'Ground Zero'
U.S. District Judge Loretta Biggs in Winston-Salem, North Carolina, on Friday issued an emergency injunction forcing the boards of elections in several counties to restore voters whose names had been removed improperly from the rolls. Biggs ruled it was illegal for the election boards to remove anyone's address within 90 days of the election.
"North Carolina is ground zero for voter suppression," said Penda Hair, a civil rights attorney. "It's also ground zero for the fight back."
The North Carolina NAACP and other groups bringing the lawsuit argued the process used for purging the rolls -- concluding a person should be removed if a mailing to their address was returned to the sender -- was illegal. One voter had moved into a nursing home in the same county and the mailing was sent to his old address; another card was sent to a wrong address; another was to a woman who had been evacuated from her home during a hurricane. The ruling involves at least 3,500 voters.
"What they are doing is race-driven, immoral and unconstitutional," William Barber, president of the state's NAACP, told reporters. "We haven't seen this kind of voter suppression since the days of Jim Crow."
'Working Quickly'
Susan Adams, chairman of the Moore County Board of Elections, which was named in the suit, said in a Nov. 1 request to dismiss the case that the NAACP had failed to show that it had standing to sue. She also said the NAACP had failed to prove the existence of an actual controversy.
Kim Westbrook Strach, executive director of the North Carolina State Board of Elections, said in an e-mailed statement after the ruling, "Our agency is working quickly to establish the procedures necessary to comply with the court order between now and Election Day."
Grace Hardison, a 100-year-old North Carolinian whose registration was challenged and is a plaintiff in the case, is a fighter, said her nephew, Greg Sattherwaite. "She wants to make sure this doesn't happen to anyone else, and she's passionate about voting."


Before it's here, it's on the Bloomberg Terminal.
LEARN MORE