Can Google Make Its Mark on the Cloud?
The search giant is a distant third behind Microsoft and Amazon.
By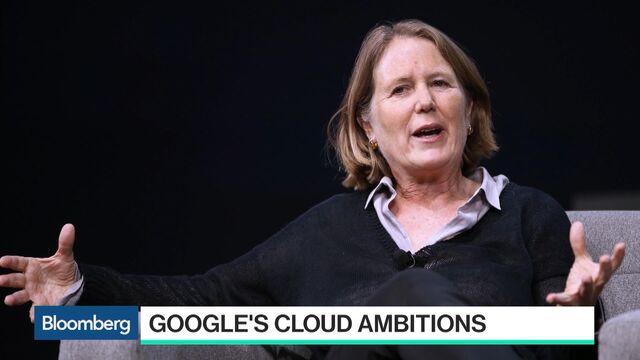 Google was once a cloud pioneer, having spent years stringing together data centers to support its search business. But it squandered that lead by allowing others to market such infrastructure as a service first. Alphabet, Google's parent, is now intent on narrowing the gap with Amazon.com and Microsoft, in large part because it needs to build a reliable revenue stream that doesn't come from ads.
Last November, Alphabet asked board member Diane Greene to piece together the fragments of its cloud business. Greene, the co-founder and former chief executive officer of VMware, which develops cloud systems for companies, has unified several departments into a single unit called Google Cloud. In June she hired Tariq Shaukat to lead its growing sales team. Shaukat's previous job was chief commercial officer for Caesars Entertainment in Las Vegas, making him a bit of an odd duck at a company populated by computer engineers.
More than one person in Silicon Valley has described Greene as having a "blank check" for acquisitions. Since she came on board, her unit has shepherded at least four sizable deals, including the $625 million purchase of Apigee, which makes tools for corporate users of cloud-based applications.
A year into the job, Greene has something to show for her efforts. Google's share of the so-called public cloud market—which includes data storage, computing, and networking services—has more than doubled since the second quarter of 2015, according to estimates from Synergy Research Group. But at 5 percent or so, it's still well behind Microsoft's 12 percent and Amazon's market-leading 43 percent. Amazon Web Services logged almost $8 billion in revenue in 2015 and is on pace to top $10 billion this year. Alphabet has yet to break out results for Google Cloud, but industry insiders estimate its sales are at most a tenth of Amazon's.
During an Oct. 27 call with investors, Google CEO Sundar Pichai said the cloud division would be one of his "largest areas" of investment and personnel growth in 2017. Jonathan Atkin, an analyst with RBC Capital Markets, is skeptical about how much headway Greene can make. "Google has the raw infrastructure to be relevant in this sector, just not the DNA," he says. An investor, who asked to remain anonymous because his venture capital firm works with Google, echoes the thought: "They don't have the DNA to deal with a chief information officer."
For as long as it's been around, Google's priority has been creating software to be used by billions of individuals, which is why it has long neglected the market for business applications. Prabhakar Raghavan, a company veteran who oversees G Suite, Google's version of Microsoft Office, recalls floating an idea for a feature that would appeal to maybe 10 million users. He says the reaction from his engineers was "Give me a break."
Shaukat says times have changed: "It's probably a fair characterization of what we were like three or four years ago as opposed to what we are like today." Meeting with chief information officers and other corporate executives is his "full-time job," he says.
Google is under pressure to sign up customers, because a large chunk of its cloud revenue comes from just two clients, says a former Google employee: Apple and Snapchat's parent company, Snap. Apple has developed an internal photo-storage system dubbed McQueen to gradually end its reliance on Google and Amazon servers, say people familiar with its strategy. An investor close to Snap says it may one day take a similar route.
Google and AWS have engaged in successive rounds of price-cutting to win business. As an additional inducement, Google is offering its cloud customers access to tools that incorporate artificial intelligence, such as an image-recognition feature. Several executives in Silicon Valley have lauded the offerings, but less tech-savvy companies in other industries may struggle to make use of them. "The perception from people is that Google is still quirky to use," says Matthew Prince, CEO of Cloudflare, a web security firm. "It's like everyone is speaking standardized English, and Google [is] the French speaker."
The bottom line: Google's share of the cloud market has doubled, to about 5 percent, in the past year, but AWS has 43 percent and Microsoft 12 percent.
Before it's here, it's on the Bloomberg Terminal.
LEARN MORE