Xi Turns Sights on Wayward Senior Leaders in China Graft Fight
Bloomberg News
New rules raise pressure on top officials to avoid corruption

Measures fall short of proposals pushed by reform advocates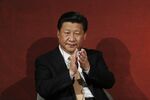 New Communist Party disciplinary rules pushed through by Xi Jinping put senior leaders under greater scrutiny, opening another front in a four-year anti-graft campaign that has helped consolidate the president's power while punishing more than 1 million officials.
The rules detailed by the official Xinhua News Agency late Wednesday put the onus on top officials to set higher standards and called on cadres to report potential violations involving members of the party's Central Committee. The 25-person Politburo should restrain associates and ask family members to avoid inappropriate business activities, according to the rules.
"A handful of senior party officials, overcome by their political cravings and lust for power, have resorted to political conspiracies by working with ostensible obedience, while forming cliques to pursue selfish interests," Xi wrote. "Nepotism, buying and selling positions, and election fraud have endured," he said, adding that power abuse and corruption have spread.
The new rules further strengthen Xi's position against potential rivals ahead of a twice-a-decade party congress next year. Last week the party made Xi its "core" leader, an elevated status that will boost his authority within the leadership and help him advance policy changes and personnel moves.
The measures retain the party's supremacy over internal discipline, with anti-graft bodies still subject to central guidelines. They don't include moves that government reform advocates say are needed to more effectively fight corruption, such as an independent anti-graft agency or public disclosure of personal assets.

"Internal supervision has limitations," said Gu Su, a political science professor at Nanjing University. "A better solution to problems relies on both top-down and bottom-up supervision. A comprehensive set of solutions requires a democratic monitoring system and a society based on the rule of law."
Party members last week approved a code of conduct, which updates a landmark 1980 document that late paramount leader Deng Xiaoping used to enshrine collective leadership and consensus-based decision-making after the Cultural Revolution. They also amended a 2004 internal disciplinary rule, strengthening the party's graft-busting bodies. 
The rules stipulated that reports on top leaders can't be anonymous and must be made to the nation's top anti-graft agency or the Politburo's supreme Standing Committee, led by Xi.
The president said the rules were born out of "a necessity to promote the comprehensive and strict governance of the party, and to solve outstanding contradictions and problems within the party." He listed individualism, liberalism, hedonism, "inflated political ambitions" and "angling for positions" among a host of perceived vices he wanted to correct.
'High Position'
Xi cited some of the top officials toppled in his anti-graft drive, including China's former security chief Zhou Yongkang, a senior aide to his predecessor and two former deputy military chiefs. He described the new code of conduct covering the party's almost 90 million members as occupying a "high position" among the party canon, "second only to the Party Constitution."
While the president said he wanted to make China a place where "nobody dares to be corrupt," almost two-thirds of the officials investigated under Xi involved activities that took place after he launched the campaign, the party's Central Commission for Discipline Inspection said last month. Perceptions about China's corruption problem have worsened since Xi took power in 2012, according to Transparency International.
"There are many loopholes in the existing disciplinary rules," Li Chengyan, director of Peking University's Research Center for Government Integrity Building. "The new ones aim at turning the past four-year experiences into an institutional mechanism."
— With assistance by Ting Shi, and Keith Zhai
Before it's here, it's on the Bloomberg Terminal.
LEARN MORE