U.S. ELECTION WRAP: Michigan in Focus With Five Days to Go
Hillary Clinton and Donald Trump are spending part of the final campaign stretch focused on Michigan. Could the state deliver another electoral surprise?
By and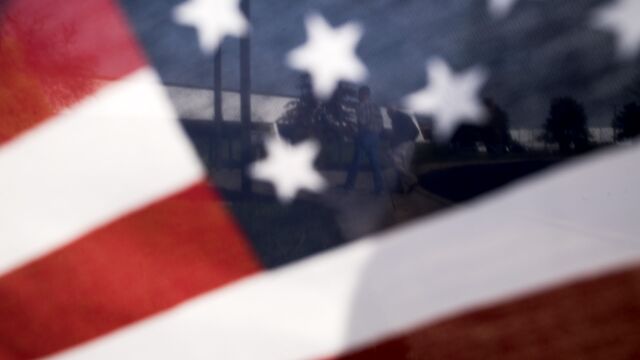 With five days to go, Michigan is looking a little less certain for Hillary Clinton as Donald Trump makes an 11th-hour attempt to win over economically frustrated voters across the U.S. Rust Belt.
The Wolverine State is now "Lean Democrat" as opposed to its earlier status of "Likely Democrat," according to rating by the non-partisan Cook Political Report

Michigan and other "Lean D" states are 'in play'' in the sense that that "they slightly favor Clinton, but aren't a slam dunk or a given," Cook analyst Amy Walter said via e-mail

Michigan has a track record of delivering surprises

Sen. Bernie Sanders won the state's Democratic primary, beating Clinton 50%-48%, marking "one of the greatest upsets in modern political history," FiveThirtyEight wrote on March 9
Not a single poll at the time had Clinton leading by less than 5 percentage points, with many showing her lead at 20 points or more: FiveThirtyEight
Trump won Michigan's Republican primary; exit polls showed about half that electorate self-identifying as white evangelical or born-again Christian: Politico

Bill Clinton won Michigan in 1992 and Democrats won in every presidential election since; state has been seen as part of Hillary Clinton's electoral firewall in the industrial Midwest

Michigan being in play "shouldn't be that surprising given Trump's almost single-minded focus on white, working-class voters," Walter wrote in blog post
"The more surprising thing is that Trump never made a deeper, more sustained effort in this state in the first place," she said. "Democratic worries about a less-than-robust African-American turnout also can make this state more competitive"
"While some Democrats scoffed at Trump's last-minute push into this blue state, it's clear that Democrats are at least concerned," Walter said, citing late advertising and visits to Michigan

RealClearPolitics polling average shows Clinton with a 5.7-point lead in Michigan; FiveThirtyEight's constantly adjusting prediction model gives Clinton a 77% chance of winning Michigan vs 23% for Trump, if the election were held today

MICHIGAN IN FOCUS
Both the Trump and Clinton camps are launching a TV ad blitz in Michigan in the campaign's final days
Trump stumped in the state earlier this week and Clinton is set to campaign in Detroit on Friday, her third visit to Michigan since the Democratic National Convention in July, according to Detroit Free Press
Two of Trump's children, Donald Jr. and Ivanka Trump, fanned out over Michigan this week in bid to appeal to students, women and minorities: Detroit Free Press
Former Michigan Governor Jennifer Granholm, a Democrat and Clinton supporter, told MSNBC she's confident Clinton will win the state

Democrats have a 50k vote advantage over Republicans so far, she said, citing data on ballots already returELECTORAL MAP SHIFTS
Clinton's lead over Trump nationwide has narrowed to 3 points, 45%-42%, from a 9-point advantage on Oct. 19, New York Times/CBS News survey showed

Libertarian Gary Johnson is at 5%, Green Party's Jill Stein at 4%

See Bloomberg poll wrap here
While the race may be tightening, adjustments to swing state ratings remain a "minor" issue, Walter said

Cook Political Report's current forecast: Clinton with 278 electoral votes -- 270 needed to win; Trump at 214 (56 short)

Cook changes:

Ohio and Arizona go from "Toss Up" to "Lean Republican"; North Carolina from "Lean Democrat" to "Toss Up"
Colorado and Michigan go from "Likely Democrat" to "Lean Democrat"

Sabato's Crystal Ball, at the University of Virginia, noted on Thursday that "while polls are all over the map in North Carolina and Nevada, we still see Clinton as a tiny favorite in each state, neither of which is truly a must-win for her to reach 270 electoral votes"

"While Democrats are quite right to be nervous about the outcome, we as handicappers do not at this point believe there is enough of a compelling argument to believe that the race is truly a toss-up, let alone that Trump is favored," Larry J. Sabato wrote
He added: "Does that mean Trump can't win? Of course not"
"In a very close or tied national race, states like Michigan, New Hampshire, Pennsylvania, Wisconsin and others could become toss-ups," Sabato said. "We just don't think that's where we're at, and state-level polling continues to show Clinton leading in all of those vital states"       

 MELANIA TRUMP & BULLYING
Trump's wife, Melania, made a rare appearance on the campaign trail on Thursday when she spoke outside Philadelphia

The current culture is too "mean," she said
"We must treat each other with respect and kindness, even when we disagree"
On her husband: "He certainly knows how to shake things up, doesn't he?"; "Make America Great Again is not just some slogan"
Trump said she would focus on fighting cyber bullying and advocating for women should she become first lady
See full story here

CUBS WIN

UTAH & TEXAS
Trump has safe leads in both Utah an Texas, Utah: Emerson College Polls
Trump is ahead in Utah by 6 points, the same advantage he held last month, a new Monmouth University Poll found

Among Utah voters who have already cast ballots or are likely to vote next week, 37% back Trump, 31% Clinton, 24% independent candidate Evan McMullin
Trump is viewed negatively by 67% of respondents vs 22% who have favorable opinion of him; Clinton's ratings are almost identical with 66% unfavorable, 23% favorable

McMullin drew ratings of 36% favorable and 16% unfavorable, though 49% said they still don't know enough about him to give a rating

NEW HAMPSHIRE
Two polls show the GOP and Democratic presidential nominees are in a dead heat in New Hampshire

A WBUR survey of likely voters has Trump at 40% and Clinton at 39%, within the margin of error
Clinton led Trump by 3 points in last WBUR poll

A Suffolk University/Boston Globe Poll shows Clinton and Trump tied in N.H. at 42%

EXPATS IN ISRAEL
Trump beat Clinton in an Israeli absentee voter exit poll, 49%-44%, according to poll of 1,140 respondents conducted by iVoteIsrael and Keevon Global Research sent by e-mail

Among ultra-Orthodox, Trump receives 85% support; 75% of secular respondents support Clinton
Top 10 U.S. states for voters sending ballots from Israel include swing states Florida, Ohio and Pennsylvania, according to U.S. Vote Foundation, an international get-out-the-vote organization for absentee voters: Jerusalem Post

MOST COSTLY SENATE RACE
The most expensive U.S. Senate race in history is unfolding in Pennsylvania, where Wall Street, unions and billionaire industrialists Charles and David Koch are flooding the state with money, Bloomberg reported

ON THE TRAIL
The political spotlight remains on Florida this week as Clinton and Trump seek the Sunshine State's crucial 29 electoral votes
Trump stumped in Jacksonville Thursday, spending the bulk of his time assailing Clinton and contending that if she's elected "it would create unprecedented constitutional crisis"

He also speculated that Clinton as president would probably be under investigation for "many, many years" and ultimately face a "criminal trial"

Trump also campaigns Thursday in N.C. and Pennsylvania
Obama campaigned in Florida, urging voters to cast their ballot for Clinton and other Democratic candidates
"We've got work to do to finish what we started eight years ago," Obama said at a rally at Florida International University in Miami. He stumped for Clinton in Orlando last week and plans another stop there on Sunday

Obama said he know it's tempting not to focus on politics but stressed that the election is "critical"
He also took time to note that he saw gasoline prices in N.C. this week at $1.99 a gallon, belying critics who eight years ago predicted gas would be $6 a gallon if he became president

Obama poked fun at Trump for being thin-skinned about such things as satirization on NBC's "Saturday Night Live"; he also called on voters to back Democratic Senate candidate Murphy and attacked GOP Sen. Marco Rubio for supporting Trump
Clinton is holding two rallies in N.C. Thursday, one with Sanders
The focus on N.C. by both the Democratic and GOP nominees underscores the former Republican stronghold's importance

RealClearPolitics polling average shows Clinton and Trump locked in a tie in N.C.
NOTE: N.C. has switched from Democratic to Republican in the past 8 years

ETC.

CONGRESSIONAL ELECTION
SENATE RACES (Republicans hold 54-46 majority)
FL: Obama, campaigning for Democratic ticket today in Miami, blamed Sen. Marco Rubio and other Republicans for "gridlock" because "they will do anything to oppose anything good for the country if a Democratic president proposes it," Bloomberg's Sahil Kapur reported

Rubio had 50% to 44% for Democratic Rep. Patrick Murphy in Quinnipiac University poll conducted Oct. 27-Nov. 1 of 626 likely Florida voters (+/- 3.9 ppts)
IN: Republican Rep. Todd Young's campaign released TV ad linking Democratic ex-Sen. Evan Bayh to Clinton and Obama and saying Bayh "left us to work for them"

Republicans have attacked Bayh for making millions at Apollo Global Management and McGuireWoods after leaving Senate
Narrator refers to Young as "a Hoosier, a Marine" and asks viewers, "Want to change Washington? Send the people we send there"
Winner will succeed Republican Sen. Dan Coats, who isn't seeking re-election
LA: A six-candidate Senate debate yesterday in New Orleans included former KKK leader David Duke, who "became the focus of protestors outside the hall and the candidates within," Times-Picayune reported

Duke running as Republican in 24-candidate field that includes Republican state Treasurer John Kennedy, Republican Reps. John Fleming and Charles Boustany, Democratic lawyer Caroline Fayard, Democratic public service commissioner Foster Campbell
If no candidate wins majority Nov. 8, top two candidates compete in runoff Dec. 10
Republicans favored to hold seat of Sen. David Vitter, who isn't seeking re-election
NC: Democrat Deborah Ross had 49% to 45% for Republican Sen. Richard Burr in Quinnipiac University survey conducted Oct. 27-Nov. 1 of 602 likely North Carolina voters (+/- 4 ppts)
NH: Republican Sen. Kelly Ayotte had 49% to 46% for Democratic Gov. Maggie Hassan in American Research Group survey conducted of 600 likely New Hampshire voters (+/- 4 ppts)

Ayotte and Hassan, in their sixth and final debate yesterday, clashed "over the character and honesty of their party's presidential nominees and their records of standing up to them," New Hampshire Union Leader reported
PA: Republican Sen. Pat Toomey is "staying mum" on how he'll vote for president "despite being pressed repeatedly" on the question in TV interview today, Associated Press reported

I get asked by reporters much more often than by voters'' about whether he'll vote for Trump, Toomey told WTXF in Philadelphia; watch interview here
Democrat Katie McGinty had 48% to 47% for Toomey in Quinnipiac University survey conducted Oct. 27-Nov. 1 of 612 likely Pennsylvania voters (+/- 4 ppts)
HOUSE RACES (Republicans hold 246-186 majority)
AK-Statewide: Rep. Don Young, the most senior House Republican, said in TV ad "seniority does work, and it's valuable to the state of Alaska"

Young was first elected in 1973 and has served longer than any Republican in the history of the House except for former Speaker Joe Cannon
Democrat Steve Lindbeck, a former public-radio executive, seeking to unseat Young
CO-06: Sanders will campaign Nov. 5 in Aurora with Democratic state Sen. Morgan Carroll, according to campaign release

Carroll is seeking to unseat four-term Republican Mike Coffman in a district that voted for Obama in 2012 and includes suburbs of Denver
National Republican Congressional Committee in statement said Carroll "fully embraced self-proclaimed socialist" Sanders and that Coffman is "independent leader"
FL-13: People for Pinellas, a super-PAC aiding Republican Rep. David Jolly, released TV ad referring to Democrat Charlie Crist as a "political lightweight" and "career flip-flopper"

Crist is a former Republican governor of Florida who lost to Rubio as independent in 2010 and lost Democratic bid for governor in 2014
Narrator says Jolly is "different" and "Washington insiders can't stand him"; Jolly wrote a biill that would bar members of Congress from directly soliciting campaign contributions
District as redrawn leans Democratic and includes all of St. Petersburg and other parts of Pinellas County
IN-09: Indiana Jobs Now, a super-PAC aiding Republican businessman Trey Hollingsworth, released TV ad attacking Democrat Shelli Yoder on tax policy

Hollingsworth's father has given more than $1m to the super-PAC
Republican-leaning district in southern Indiana currently held by Young, who's running for Senate in lieu of re-election
MN-02: The ''bitter contest" between Democrat Angie Craig and Republican Jason Lewis "has been almost devoid of policy discussions," Pioneer Press reported in story that analyzed their views on health care, economy, national security

Craig and Lewis are seeking to succeed retiring Republican Rep. John Kline in competitive district south of Twin Cities
MN-03: Republican officials "have decided not to put presidential candidate Donald Trump on the sample ballot mailed to voters in the western suburbs," MinnPost reported

Republican Rep. Erik Paulsen, who's seeking a fifth term, "has targeted ticket-splitting independents, emphasizing his bipartisan accomplishments," according to the report
Paulsen challenged by Democratic state Sen. Terri Bonoff in district that voted for Obama in 2012 by <1 ppt and includes Bloomington, Plymouth, Brooklyn Park
NY-19: Sanders sent out a fundraising e-mail for Democrat Zephyr Teachout, a law professor who backed the Vermont senator's campaign for president, State of Politics blog reported

Teachout and Republican John Faso, a former state representative, are seeking to succeed retiring Republican Rep. Chris Gibson in central Hudson Valley
Before it's here, it's on the Bloomberg Terminal.
LEARN MORE