U.S. Charges in Generic-Drug Probe to Be Filed by Year-End
By and
Prosecutors said to ask if executives agreed to raise prices

Antitrust investigation spans two dozen drugs, dozen companies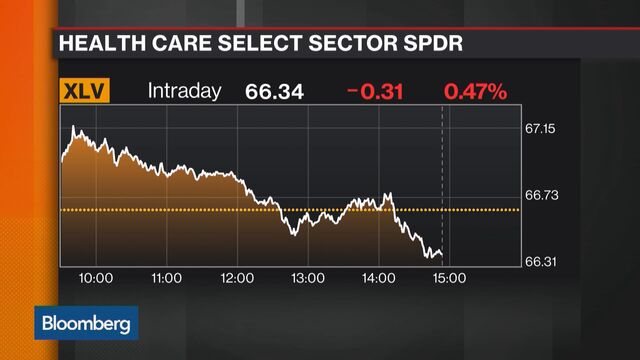 U.S. prosecutors are bearing down on generic pharmaceutical companies in a sweeping criminal investigation into suspected price collusion, a fresh challenge for an industry that's already reeling from public outrage over the spiraling costs of some medicines.
The antitrust investigation by the Justice Department, begun about two years ago, now spans more than a dozen companies and about two dozen drugs, according to people familiar with the matter. The grand jury probe is examining whether some executives agreed with one another to raise prices, and the first charges could emerge by the end of the year, they said.
Though individual companies have made various disclosures about the inquiry, they have identified only a handful of drugs under scrutiny, including a heart treatment and an antibiotic. Among the drugmakers to have received subpoenas are industry giants Mylan NV and Teva Pharmaceutical Industries Ltd. Other companies include Actavis, which Teva bought from Allergan Plc in August, Lannett Co., Impax Laboratories Inc., Covis Pharma Holdings Sarl, Sun Pharmaceutical Industries Ltd., Mayne Pharma Group Ltd., Endo International Plc's subsidiary Par Pharmaceutical Holdings and Taro Pharmaceutical Industries Ltd. 
All of the companies have said they are cooperating except Covis, which said last year it was unable to assess the outcome of the investigation.
"Teva is not aware of any facts that would give rise to an exposure to the company with respect to these subpoenas," Teva spokeswoman Denise Bradley said in an e-mail. "To date, we know of no evidence that Mylan participated in price fixing," Mylan spokeswoman Nina Devlin said in an e-mail. Mayne continues to cooperate with the Justice Department and believes the investigations will not have a material impact on its future earnings, the company said in a statement on Thursday.
Allergan, Impax and Sun declined to comment beyond their filings. Representatives of Endo, Covis, Taro and Lannett didn't respond to requests for comment. A Justice Department spokesman declined to comment.
Shares of all companies named in the investigation fell on the news. Lannett dropped 27 percent to close at $17.25 in New York trading. Impax fell 20 percent to $16.50. Endo declined 19 percent to $14.63, while Teva slipped 9.5 percent to $39.20, Allergan fell 4.6 percent to $188.82 and Mylan fell 6.9 percent to $34.14. Shares of Concordia International Corp., which bought most of Covis's assets, fell 5.6 percent to 4.37 Canadian dollars. Taro shares fell 7.3 percent to $93.68.
Mayne's shares fell 16 percent to A$1.435 at 2:56 p.m. Sydney time on Friday. Sun Pharma lost 4.3 percent to 673.25 rupees at 9:41 a.m. in Mumbai trading on Friday.
Harsh Criticism
Drug pricing has met harsh criticism from U.S. lawmakers in the past year. Former hedge fund manager Martin Shkreli set off the firestorm and drew the ire of Democratic presidential candidate Hillary Clinton after he acquired an old antiparasitic drug and raised the price to $750 a pill from $13.50. Valeant Pharmaceuticals International Inc. was lambasted by Congress for boosting prices of older drugs. In September, representatives grilled Mylan Chief Executive Officer Heather Bresch over the company's sixfold price increase since 2007 to $600 for a pair of EpiPen allergy shots.
While attention so far has been focused mainly on branded drugs, which are more expensive, the Justice Department probe is now bringing the generics industry into the fray. 

Although it isn't illegal for companies to raise prices at the same time, it's against the law for competitors to agree to set prices or coordinate on discounts, production quotas or fees that affect prices. The federal government can prosecute companies for collusion and seek penalties and potentially send executives to jail.
Charges could extend to high-level executives, according to the people. The antitrust division, which has an immunity program to motivate wrongdoers to confess and inform on others, has stepped up its commitment to holding individuals responsible.
Auto-Parts Cartels
While the government may bring the first cases by the end of December, the situation is fluid and timing could slip, according to the people. The investigation is likely to continue after the first cases are filed, said the people, and has the potential to mirror the antitrust division's long-running probe into auto-parts cartels. That price-fixing investigation has resulted in $2.8 billion in penalties and charges against 46 companies and 65 individuals, of which 31 received prison sentences, according to the Justice Department.
Generic drug companies are also contending with a civil price-fixing investigation by Connecticut Attorney General George Jepsen. Jepsen is seeking to lead a group of states to probe the industry, which could result in cases seeking damages, according to people familiar with the matter. A spokesman for the Connecticut Attorney General's office declined to comment.
The first subpoenas in the generics investigation were issued by Connecticut in July 2014, while the Justice Department followed in November, according to regulatory filings by the companies. The investigations initially focused on mid-sized U.S. companies and have since extended to the biggest manufacturers and U.S. subsidiaries of overseas companies.
For a QuickTake explainer on drug pricing, click here.
Industry Consolidating
Generic drugs account for 88 percent of prescriptions dispensed in the U.S., according to the Generic Pharmaceutical Association. Generics makers brought in about $70 billion in U.S. sales in 2015, after discounts and rebates to payers, according to Bloomberg Intelligence. The industry has been consolidating over the past few years, led by Teva's $40.5 billion purchase of Actavis. That's given the biggest generics manufacturers more pricing power, while companies with smaller portfolios have less.
Digoxin, a heart failure drug, and doxycycline, a widely prescribed antibiotic, are produced by several companies and their pricing histories are under investigation, according to filings from some drugmakers. Medicaid spent 121 percent more on doxycycline from July 2013 to June 2014 compared with a year before, despite 38 percent fewer prescriptions, according to an analysis of data by the Congressional Research Service. Medicaid, which provides health coverage for the poor, also spent 90 percent more on digoxin from 2013 to 2014 compared to the previous year, despite a 16 percent decrease in prescriptions.
Doxycycline, Digoxin
Mylan, Mayne and Par have said they've been asked about doxycycline. The drug is also made by Actavis, Sun and Lannett, which haven't disclosed whether they've been asked about it.
Impax, Lannett, Par and Sun all make digoxin, while Covis makes the branded version, called Lanoxin, which it sold to Concordia in 2015. Though Mylan makes a branded version of digoxin, it hasn't been subpoenaed over that drug, according to a spokeswoman. 
Digoxin prices increased nearly sevenfold in late 2013. Lannett raised the list price to $1.185 a pill from 17 cents on Oct. 16, 2013, for a 100 pack of 250 microgram tablets, according to data from First Databank compiled by Bloomberg. Six days later, Impax matched Lannett's price, up from 14 cents a pill. At the time, the two companies dominated the market.
Par introduced its own version to the market in January 2014, also at $1.185 a pill. In March 2015, Sun Pharma followed suit. The list price doesn't take into account discounts or rebates that the manufacturers negotiate confidentially with pharmacies and other purchasers. Impax, Lannett and Par have all disclosed receiving inquiries about digoxin.
Branded Drugs
While it's not unusual for makers of branded drugs to increase prices year over year, generic treatments are meant to be competitive alternatives that help patients and insurers lower costs. Generics are copies of brand-name drugs designed with the same formulation and performance that come on the market after their branded counterparts lose patent protection.
Digoxin is a derivative of the foxglove plant that has been on the market since the 1930s. There was no shortage of the drug's active ingredient at the end of 2013, according to the Food and Drug Administration.
Impax said it also had been asked about calcipotriene, a topical solution used for plaque psoriasis. That's also made by Israel-based Taro, which said it received a subpoena in September, but didn't specify which drugs it had been asked about.
— With assistance by Emily Cadman, Tom Schoenberg, and Robert Langreth
Before it's here, it's on the Bloomberg Terminal.
LEARN MORE