Mexico's Government Is Working on a Trump Contingency Plan
By
Central bank's Carstens is battening hatches for 'hurricane'

Meade doesn't see point in peso intervention for now: Televisa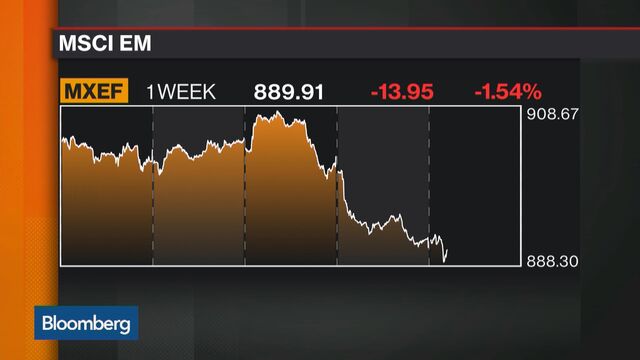 Financial leaders in Mexico anticipating the prospect of volatility in their markets or a slump in trade following the result of the U.S. presidential election are weighing the idea of a wall of their own -- call it a firewall.
Central Bank Governor Agustin Carstens, who has called Republican nominee Donald Trump a "hurricane" for Mexico's economy, told Milenio TV that Mexico risks turbulence no matter who wins the vote on Nov. 8. The central bank is working on a contingency plan with Finance Minister Jose Antonio Meade, who told Televisa Wednesday there's not much point in intervening in the peso for now.

"If the adverse scenario manifests itself, it's possible that Mexican authorities will respond in some way," Carstens said, according to Milenio. "It's a contingency plan that we're talking with the finance minister about. We hope we don't have to use it."
The peso has fallen by 11 percent against the dollar this year through Tuesday, the most of any major currency after the British pound, and has dropped sharply in recent days as prospects of a Trump victory improved. Trump's fortunes in the election have routinely affected the peso after he vowed to build a border wall between the U.S. and Mexico and to renegotiate trade terms that could lead to higher tariffs for a nation that sends almost 80 percent of its exports to the U.S.
Interest Rate
The central bank has raised interest rates 1.5 percentage points this year to boost the peso, including a surprise increase in February carried out alongside the finance ministry's sale of greenbacks. Dollars haven't been sold since.

Meade told Televisa that Mexico has taken measures that have worked against volatility in the market, but that selling dollars to prop up the peso in this scenario would be futile.
"If what we have is a global concern surrounding the result of November 8, where the markets of the world -- not ours, not a local phenomenon, not a phenomenon that we can resolve with intervention -- is moving our exchange rate, then intervention would be like throwing drops of water into the ocean," Meade told Televisa. "It's not the instrument that would help us."
Both the central bank and the finance ministry, asked to elaborate, declined to comment.
Juan Carlos Alderete, a currency strategist at Grupo Financiero Banorte SAB in Mexico City, said all options are on the table to shore up the peso if Trump wins.
Possibilities
Among the most likely measures are "at least a sizable increase" in the key interest rate, "let's say 100 to 150 basis points, and additional measures in terms of fiscal spending to reduce spending even more than what has been already set," Alderete said.
Mexico also can tap its International Monetary Fund flexible credit line; buy longer-term bonds to provide liquidity to the market, which it did during the Lehman Brothers crisis; and the foreign-exchange commission could sell options to buy dollars, Alderete said. Mexico also could arrange dollar-liquidity swap lines with the U.S. Federal Reserve to ensure liquidity.
The peso rebounded Thursday following polls showing Democratic nominee Hillary Clinton holding a lead over Trump.