SocGen Rises After Profit Beats Estimates on Trading Jump
by
Equities revenue rises, bucking industry trend in quarter

Loan-loss provisions decline as Russia returns to profit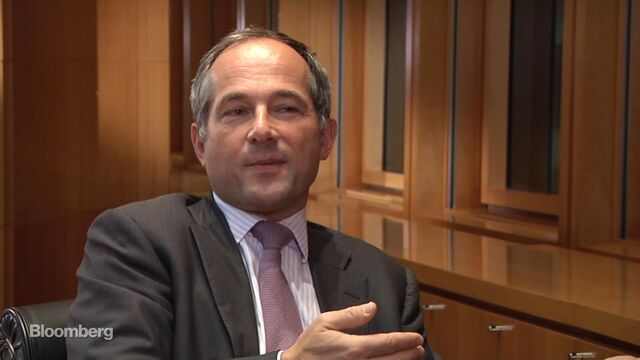 Societe Generale SA rose the most in almost seven months after reporting third-quarter profit that exceeded analysts' estimates on higher revenue from trading stocks and bonds.
Net income fell 2.4 percent to 1.1 billion euros ($1.2 billion) from a year earlier, the Paris-based bank said Thursday. That beat the 790 million-euro average estimate of six analysts surveyed by Bloomberg. Equities trading revenue rose 17 percent to 482 million euros, the biggest increase among major European and U.S. banks.
Societe Generale has avoided a deep restructuring of its investment bank that has engulfed many European rivals and has expanded this year through takeovers in private banking and car leasing. The trading results cushioned a slump at the French consumer bank, as the lender is shutting branches at home and cutting costs to combat higher capital requirements and record-low interest rates.
"These are very good results, especially in investment banking," said Jerome Forneris, who helps manage $9 billion at Banque Martin Maurel in Marseille. "In equities, they did better than rivals."
Stock Climb
Societe Generale's shares climbed as much as 7.4 percent to 36.70 euros, the most since April. They were up 7 percent at 12:29 p.m. in Paris, the biggest gain in the Bloomberg Europe 500 Banks and Financial Services Index. The stock fell 20 percent this year through Wednesday, compared with a 21 percent decline in the bank index and a 2.8 percent drop at BNP Paribas SA, France's largest lender.
Revenue fell 5.6 percent to 6.01 billion euros in the third quarter from a year earlier, beating the 5.94 billion-euro estimate of analysts. The bank set aside 417 million euros in provisions for doubtful loans, a 27 percent decline from the previous year.
France's second-largest bank by market value is "able to post resilient profitability" despite the low and negative interest-rate environment, Chief Executive Officer Frederic Oudea told Bloomberg Television in an interview. Still, reaching a 10 percent return-on-equity objective this year will be "difficult," even if the bank is "delivering step by step to meet this target in the mid term."
Oudea said the bank would consider additional small- and medium-sized "bolt-on" purchases.
Trading Gains
Net income at Societe Generale's global banking and investor solutions division, which houses the investment bank, rose 42 percent to 469 million euros. Equity-trading income benefited from an increase in demand for structured products, especially in Asia. Revenue from trading bonds, foreign exchange and commodities jumped 42 percent to 687 million euros, driven by credit and rates. Revenue from advisory and corporate financing rose 1.1 percent.

Societe Generale's trading activities can keep winning market share in coming quarters as it has an "extremely resilient" model, Oudea told journalists on a call. Societe Generale is bucking the trend on equity-trading income as Credit Suisse Group AG's revenue from equities tumbled 38 percent and BNP Paribas last week posted a 15 percent decline in equity and prime services sales.
Brexit, U.S. Vote
BNP Paribas, France's largest bank, last week posted an unexpected increase in profit as its fixed-income revenue surged 41 percent in the third quarter. The U.K.'s surprise June vote to exit the European Union and uncertainties over the outlook for global interest rates helped spur bond trading in Europe and the U.S. The five top U.S. investment banks collectively saw a 49 percent revenue surge in that business.
Oudea said that any post-Brexit rebalancing of its business would be relatively easy for Societe Generale given its operations in Paris and London. The bank is aiming to limit market risks before the U.S. presidential election next week and French and German votes next year.
Net income at Societe Generale's French consumer-banking unit dropped 15 percent to 353 million euros, as low interest rates squeezed lending margins and financial fees, the bank said. The unit's revenue fell 6 percent to 2.04 billion euros while its costs rose 1.5 percent, partly on investments to improve digital offerings. Societe Generale is seeking to reduce the number of its French branches by 20 percent through 2020.
Profit from international retail banking and financial services, including insurance and car-leasing, rose 31 percent to 457 million euros, Societe Generale said. In Russia, the company's second-largest market by staff, the company swung to a 7 million-euro profit from an 18 million-euro loss a year earlier.
Societe Generale's common equity Tier 1 ratio, a key measure of financial strength, rose to 11.4 percent at the end of September from 11.1 percent on June 30. The bank disclosed a lower CET1 requirement of 7.75 percent under the European Central Bank's process governing restrictions on dividend payments, bonuses and additional Tier 1 bond coupons. Still, the bank reiterated its medium-term target ratio of 11.5 percent to 12 percent.
Watch Next: SocGen's Oudea on 3Q Profits, U.S. Election, Brexit Plan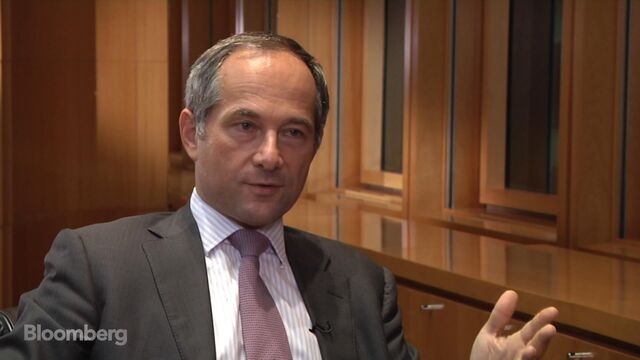 Before it's here, it's on the Bloomberg Terminal.
LEARN MORE