Food & Drink
Big Italian Truffle Crop Means Prices Are Sinking
Get them while you can, but beware of fakes
by and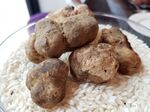 There's great news for lovers of the white truffle.
Heavy rains this year in Italy's Tanaro river basin, home to prized Alba white truffles, has meant an early start to what looks like being a bumper harvest. As a result prices have plunged 30% from last year, meaning 100 euros ($109) buys 72 grams of white truffles, compared with 52 grams in 2015, according to data compiled by Bloomberg. About five grams is needed per person.
"The truffles are fantastic," said Francesco Mazzei, chef-patron at Sartoria restaurant in London. "They started early, and we are selling quite a lot."
There's a caveat: lower wholesale prices don't automatically mean you will get a deal. It all depends on the relationship between wholesalers, distributors and chefs, while rogue sellers who pass off inferior truffles as coming from Alba can also affect the market.  

So be careful where you buy them.
"Just saying they are from Alba increases the margin," said chef Jacob Kenedy of Bocca di Lupo restaurant in London. "You need to know your dealer, like any sort of dealer, to be sure you get the right stuff."
These days, Kenedy allows diners to bring their own truffles to the restaurant. Taxes and even a small restaurant margin pushed prices so high that guests would order just one or two grams per dish, he said. (One option is to buy them from his Gelupo ice-cream store across the street, where they now cost just over £4 ($5) a gram. Or you can start your own truffle farm).
At Sartoria, there's a truffle menu including dishes such as egg tagliolini with Grana Padano Riserva at £28. Extra truffles cost £10 a gram. Mario Batali's Babbo is among restaurants in New York now running a truffle tasting menu. Over at his Del Posto establishment, La Festa del Tartufo on Nov. 20 is already sold out. 

The season normally runs from the start of November to the beginning of January, but this year truffles started arriving in September,  Mazzei said.
"For a restaurant like Sartoria, you have to have white truffle on the menu," he said. "It is an indulgent thing that brings Italian food to the very highest level, and the season is quite short."
The drop in prices is particularly timely for the U.K., where a sinking pound after the nation's vote to leave the European Union raised the cost of imports. The lower wholesale prices mean Britons still can buy 14 percent more truffles for a pound this year. The euro is not far from last year's level against the dollar, so U.S. buyers should see a bargain from last year.
Not all chefs are big fans. Over at the Ritz, Executive Chef John Williams said he prefers Perigord black truffles, and that white truffles are more fun for the waiters who enjoy the pageantry around serving them.
"I am a black tuber melanosporum man," he said. "I love the aroma and flavor of white truffle, but as a cook it doesn't turn me on in the same way."
Before it's here, it's on the Bloomberg Terminal.
LEARN MORE