Mobius Won't Let Scandal Dim His Outlook on South Korea
By , , and
Scandal involving President Park adds to drumbeat of bad news

Korean assets hold onto 2016 gains despite recent selloff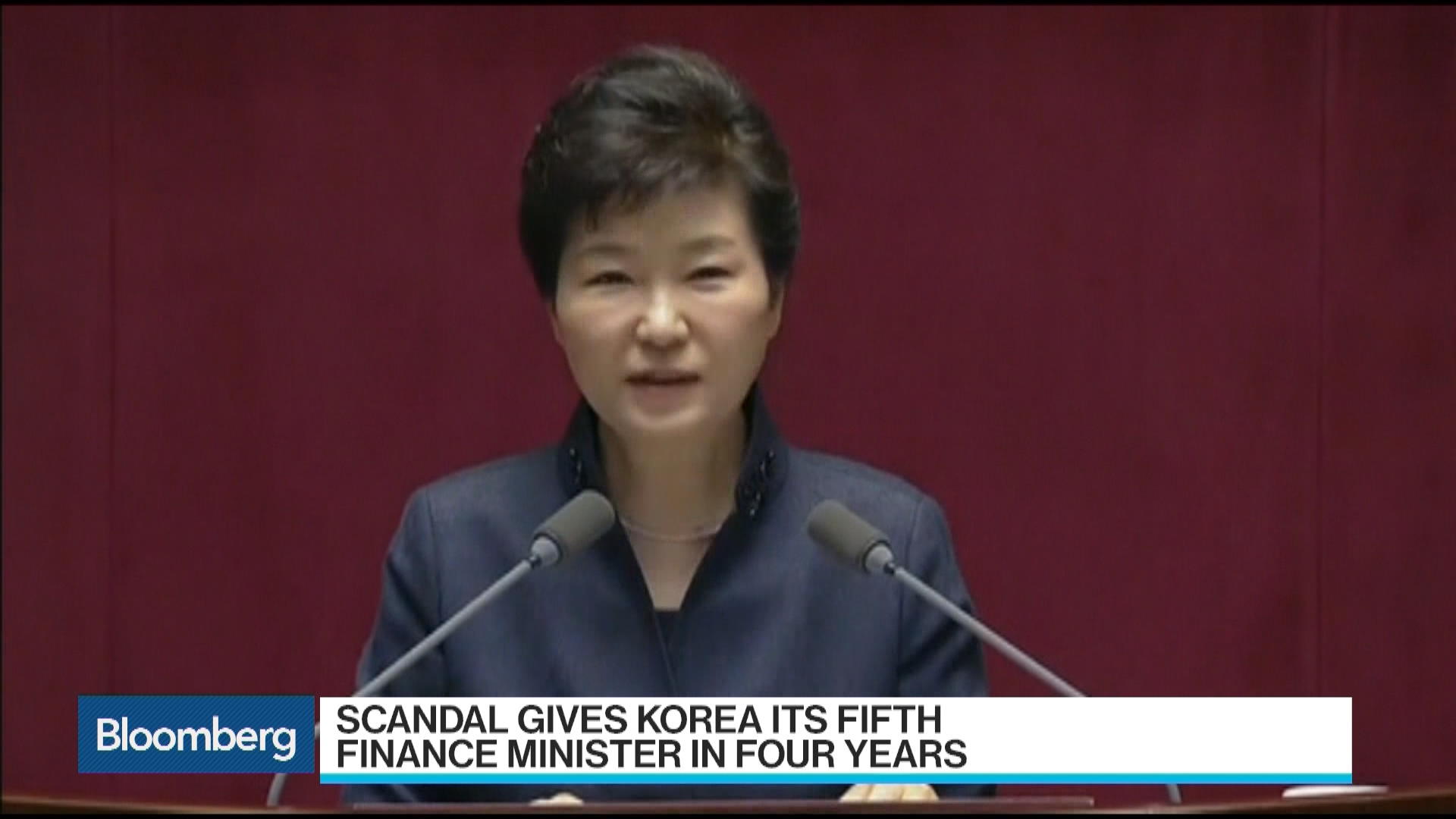 Mark Mobius isn't going to let the latest South Korean scandal dim his outlook for Asia's fourth-largest economy.
If anything, the 80-year-old dean of emerging markets investing says, the influence-peddling allegations engulfing President Park Geun-hye could ultimately make the country a more attractive place to invest.
"This issue is making people increasingly call for reform in South Korea," said Mobius, the executive chairman of Templeton Emerging Markets Group, whose flagship Asian stock fund has outperformed 75 percent of peers over the past year. "It will be good for markets in the end."
The globe-trotting investor is counting on a pattern of resilience that's helped Korean assets eke out gains in 2016 despite a drumbeat of bad news, from exploding phones at Samsung Electronics Co. to turmoil in the nation's shipping industry. While he may prove right in the long run, market turbulence in recent weeks suggests plenty of investors are bracing for the worst. The won led declines among Asian currencies over the past month and Korea's benchmark stock index touched the lowest level since July on Wednesday.

"Korean stocks are undoubtedly cheap in terms of valuation, but investors will have to be prepared for a drop," said Heo Pil Seok, the chief executive officer of Midas International Asset Management, which oversees about $7.2 billion. He predicts the Kospi will fall toward 1,900, wiping out this year's gain.
Park discarded her prime minister and finance chief on Wednesday, her latest attempt to contain the scandal threatening her grip on power. Choi Soon-sil, a long-time friend of Park alleged to have taken advantage of their relationship to meddle in state affairs, has been accused by Korean prosecutors of fraud. The president apologized to the nation on Friday, saying she'll cooperate with prosecutors.
For a Q&A on the controversy, click here.
Political turbulence is nothing new in Korea, but for a country grappling with weak exports, rising household debt and a string of corporate scandals, anything that distracts the government from improving the economy will hurt investor sentiment, said Kelvin Tay, regional chief investment officer at UBS Group AG's wealth management unit in Singapore.
"Unless the politics settle down, I don't think anyone will be keen to go into the market," Tay said.
The scandal isn't the only thing weighing on Korean assets. Many investors say corporate developments -- from the woes at Samsung and the shipping industry to rising bad loans in the banking system -- are bigger concerns than politics. Aberdeen Asset Management, Baring Asset Management and Old Mutual Plc, which oversee a combined $1 trillion, all had underweight positions in the nation's stocks before the scandal erupted.
Fed Risk
Global headwinds have also buffeted Korea as investors positioned for a tight U.S. presidential race and another Federal Reserve interest-rate increase, said Park Sung-jin, who oversees about $8 billion as the head of principal investment at Mirae Asset Securities.
Still, the concerns haven't been dire enough to spark capital flight. International money managers purchased a net $9.5 billion of shares this year, including $128 million over the past month. Foreign bond investors have increased their exposure by $11.7 billion in 2016, though they've been net sellers in recent weeks amid a worldwide slump in fixed-income assets.
While the won has dropped 3.2 percent against the dollar over the past month, it's still up 2.4 percent in 2016. The Kospi has climbed 1 percent this year and the Bloomberg South Korea Local Sovereign Index of bond returns has increased 4.2 percent. The won slipped 0.4 percent at 11:58 a.m. Seoul time on Friday, while the Kospi fell 0.2 percent.
Relative Value
Equity bulls are quick to note that valuations already reflect a lot of bad news, with the Kospi trading at 10 times projected earnings for the next 12 months. That compares with a multiple of about 13 for the MSCI Asia Pacific Index, according to data compiled by Bloomberg.
"At the end of the day, what matters is corporate earnings and the intrinsic value of firms," said Lee Chaiwon, the Seoul-based chief investment officer at Korea Value Asset Management. "Regardless of bad politics, as long as the companies post good earnings, markets will hold up."
For Mobius, a long-time emerging markets optimist, the backlash to Park's scandal offers hope that politicians will become more responsive to calls for reform. The president's approval rating fell to a new low of 5 percent in a Gallup Korea poll published Friday.
"This will eventually lead to reform every aspect of life in South Korea, from chaebol to politics," said Mobius, using the local term for Korea's sprawling conglomerates. "I'm not worried much."
— With assistance by Yuko Takeo, En Han Choong, and Jonathan Burgos
Before it's here, it's on the Bloomberg Terminal.
LEARN MORE