markets
May Unbowed by Ruling Pledges to Hold to Brexit Timetable
By and
Government's job to 'get on with delivering' referendum result

MPs press for greater insight into EU negotiating process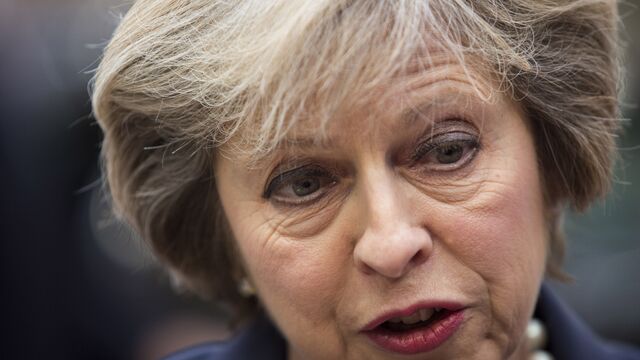 U.K. Prime Minister Theresa May pledged to stick to her Brexit timetable after a court ruled that she needs Parliament's permission to begin negotiations.
The government immediately said it will appeal the decision, adding that it believes the legal process will allow Britain's exit from the European Union by mid-2019. The prime minister's spokeswoman, Helen Bower, said plans to invoke Article 50 of the Lisbon Treaty by the end of March remained unchanged.
"The British people made a decision in the referendum and it's the job of the government to get on with delivering the decision of the British people," Bower told reporters in London on Thursday. "Parliament will have a role to voice its views through debates."
The pound -- the worst-performing major currency of 2016 -- rose to a four-week high against the dollar even though lawmakers didn't call into question the decision to quit the EU.
The legal decision injects further uncertainty into an already opaque process and may require May to dilute her plans in order to win the backing of lawmakers. Opposition members of Parliament said they would use any vote to press for greater insight. 
"It may force the government to reveal more details about their plans for the nature and characteristics of the Brexit deal they are seeking," said Sam Hill, an economist at RBC Capital Markets in London.
Supreme Court
The next staging post will be Dec. 5 to Dec. 8 when the Supreme Court will hear the appeal. A spokesman said it's likely all 11 judges will participate for the first time in the tribunal's seven-year history.
"This is just round one," said Simon Gleeson, co-chair of public policy at law firm Clifford Chance in London. "Whether this tussle continues solely in the courts or also Parliament, in the form of a bill, it will continue to extend uncertainty and make planning and investment tougher for businesses."
The pound climbed against all of its major peers and was up 1.2 percent against the dollar as of 6 p.m. in London. The FTSE 100 Index of shares dropped 0.8 percent, reversing an earlier advance.
Brexit Secretary David Davis said in a Sky News interview that "we're presuming it requires an act of Parliament." He said that meant a bill that passed through both houses of Parliament. May's office later said his comments didn't mean the government accepted the judgment.
Parliamentary Process
Although in theory an act of Parliament can be passed in hours, it requires the agreement of majorities in both the lower House of Commons and the upper House of Lords. On Brexit, legislation would be subject to amendments in both chambers. In neither does May have the votes to push such a bill through quickly. 
Despite the fears of Brexit campaigners, her opponents don't hope to block Brexit. To do so would be electorally risky: Data from the University of East Anglia show that 61 percent of the 650 parliamentary constituencies supported a split, a bigger share than the 51.9 percent of votes in June.
Instead, they aim to restrict her freedom of movement. An amendment might require her to set out her negotiating position or seek to keep Britain inside the EU's single market. That would infuriate those Tories who want the maximum possible distance from the EU, and who might lay counter-amendments.
Carney Warning
Some think the ruling increases the chance of May calling an early general election. Deutsche Bank AG strategist George Saravelos said in a report that his base case is now that May will go to the polls next year with the aim of securing a bigger parliamentary majority and mandate to deliver the form of Brexit she wants. Bower said May remains of the view that an election should not be held before 2020.
Bank of England Governor Mark Carney said the legal debate was another "example of the uncertainty that will characterize" Brexit and hang over the economy. Dutch Finance Minister Jeroen Dijsselbloem, who also chairs the group of euro-area finance chiefs, said in an interview that he hoped Thursday didn't mark the start of "even more vagueness and more of a delay." Sandro Gozi, Italy's junior minister for European Affairs, said that he hoped "this doesn't cause any delay in the notification procedure." EU Commission President Jean-Claude Juncker will speak with May by telephone on Friday.
Immigration Focus
May has repeatedly said "Brexit means Brexit," yet declined to provide much information on her plan, citing concern doing so would put her at a disadvantage when she does engage with her EU counterparts. She has though signaled a focus on controlling immigration rather than ensuring continued membership of the single market.
The London legal challenge, brought by Gina Miller, who runs an investment startup, and Deir Dos Santos, a hairdresser, sought a court ruling that it would be illegal for the government to invoke Article 50 without first consulting Parliament.
The three judges said that the non-binding nature of the referendum made it a poor vehicle to impose sweeping changes on domestic law without a further vote of lawmakers.
The "basic constitutional principles of parliamentary sovereignty" in the U.K. lead to a "conclusion that a referendum on any topic can only be advisory as the result of a vote" unless the language is very clear, the judges said. "No such language is used in the 2015 Referendum Act."
— With assistance by Simon Kennedy, John Follain, John Ainger, Anne Van Der Schoot, Kit Chellel, and Corina Ruhe
(
Adds difficulties of legislating from 10th paragraph.
)
Before it's here, it's on the Bloomberg Terminal.
LEARN MORE