Lockheed Gets a $6.1 Billion Award for F-35s. It's Not Happy
By and
The shares fall after the Pentagon imposes contract terms

The company says it's disappointed by the 'unilateral' action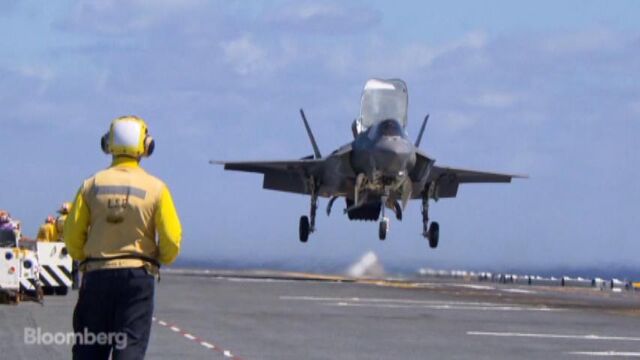 Lockheed Martin Corp. was awarded a $6.1 billion Pentagon contract for 57 of its F-35 fighter planes, but the world's largest defense contractor was less than pleased to hear the news.
It was "not a mutually agreed-upon" contract, Lockheed spokesman Michael Rein said in an e-mail soon after the Defense Department announced late Wednesday that it had awarded the ninth F-35 production contract, the biggest to date. "We are disappointed with the decision by the government to issue a unilateral contract action."
Lockheed shares fell 2.7 percent to $238.40 at 2:48 p.m. in New York, the largest intraday decline since Aug. 16. Through Wednesday, the stock had gained 13 percent this year.
The public display of displeasure was a rare departure from the mutual praise that the Pentagon and its top contractors usually lavish on each other, even when they have differences. This time, defense officials decided to break off talks after 18 months of inconclusive negotiations over the ninth contract for low-rate initial production of the F-35. Talks continue over a 10th contract that once was expected to be issued simultaneously with the one announced Wednesday.
The Defense Department's surprise move "raises obvious questions about whether future profitability on the program will meet expectations, in our view," Seth Seifman, a defense analyst with JPMorgan Chase Bank NA, said in a note to clients. "We do not, however, view this development as the final word on F-35 profitability, even for batch 9."
Squeezing Margins
Lockheed can appeal the award to the Armed Forces Board of Contract Appeals and beyond that potentially in federal court, Seifman said. The Bethesda, Maryland-based company may have an incentive to do so because the contract will become the basis for future production lots.
The fighters would be purchased for 3.7 percent less than the previous lot, potentially squeezing margins for Lockheed's largest source of profit, Howard Rubel, a defense analyst with Jefferies Inc., said in a report to clients late Wednesday. The F-35 accounted for 23 percent of the defense contractor's revenue through September, and that total should reach 25 percent next year, he said.
A one-percentage-point change in annual margins for the F-35 has a $125 million effect on Lockheed's pre-tax earnings, Rubel estimated. "A more difficult pricing environment could postpone or reshape the profit curve," he said.
Bruce Tanner, Lockheed's chief financial officer, said on an Oct. 25 earnings call that the company's differences with the Defense Department concerned the cost to perform the contract, terms and conditions and "the profit level for the contractor."
'Eat the Difference'
"The government wants to push that cost down as far as possible, whereas Lockheed is concerned about committing to produce the jets for an unrealistically low cost and then having to eat the difference," Seifman said in a report Thursday.
The F-35 is the costliest U.S. weapons system, projected at $379 billion for a fleet of 2,443 U.S. planes, with others to be sold to partners such as the U.K., Australia, Japan and Italy. While Pentagon officials have said the F-35's soaring cost has stabilized and its persistent performance problems are lessening, they said Wednesday that they will need as much as $530 million extra to finish the plane's development phase, already projected to cost $55 billion.
The Pentagon's chief weapons buyer has called the decision made years ago to build the F-35 even as it's still being developed "acquisition malpractice."
Republican Senator John McCain of Arizona, the chairman of the Senate Armed Services Committee, said in a statement that the breakdown in negotiations between the Defense Department and Lockheed is "yet another symptom of our flawed defense acquisition system in general and the structure of the F-35 program in particular."
Related story: Lockheed F-35 Needs $530 Million More for Development
Lieutenant General Chris Bogdan, director of the F-35 program office, said in a statement announcing the contract that it was a "fair and reasonable deal" for the U.S., international partners and industry.
"We will continue to negotiate in good faith with industry to keep the F-35 affordable and provide the best possible value for our customers," Bogdan said.
Rein said the Pentagon action "obligates us to perform under standard terms and conditions, and previously agreed-to items" and "we will continue to execute on the F-35 program." But he also added, without elaboration: "We will evaluate our options and path forward."
Lockheed said in a regulatory filing on Oct. 27 that it had "incurred costs in excess of funds obligated" during the negotiations "in an effort to meet the customer's desired aircraft delivery dates" and has about $950 million of potential cash exposure and $2.3 billion in termination liability exposure related to the two contracts.
With longer-term F-35 costs and profit in question, "they won't be able to drive margins up as quickly as they like towards F-16 or C-130 type profitability," said George Ferguson, defense analyst with Bloomberg Intelligence.
Before it's here, it's on the Bloomberg Terminal.
LEARN MORE