Park Under Growing Pressure to Allow Probe Over Korean Scandal
By
New nominee for premier says president can be investigated

Calls for probe had previously come from opposition lawmakers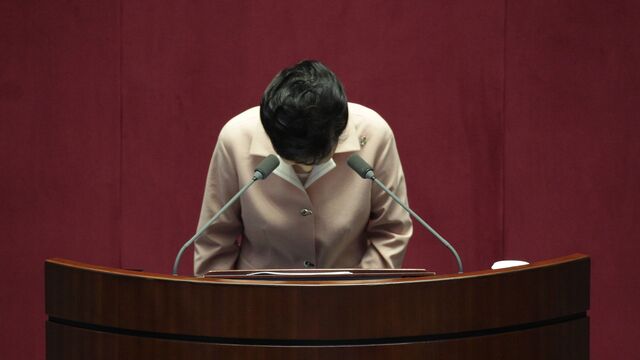 South Korean President Park Geun-hye is coming under growing pressure to allow prosecutors to investigate her over the influence-peddling scandal shaking the nation.
Her new nominee for prime minister, Kim Byong-joon, said Thursday that she could be subject to a probe. "I think investigation is possible, but we have to be careful with procedures as it would involve the head of state," he said at a televised news conference, a day after Park nominated him.
The nominee's remarks came hours after Justice Minister Kim Hyun-woong said he would propose, if it was deemed necessary, that Park should be investigated to clear the allegations surrounding the scandal. Until now, the calls for a probe had come from opposition lawmakers.
"If the president volunteers to be investigated, we could investigate her to an unlimited extent," he said at a parliamentary hearing.
South Korea's constitution states that the president "shall not be charged with a criminal offense during his tenure of office except for insurrection or treason." Even though past presidents have also been embroiled in scandals, none of the 11 -- including Park -- have ever been investigated while in office.
Choi Chang-ryul, a political commentator and professor of liberal arts at Yong In University, said that with a former senior aide being questioned and public anger growing, "it's inevitable for the prosecutors to aim their sword at the president."
Arrest Warrant
Prosecutors are seeking an arrest warrant for Park's longtime friend Choi Soon-sil,  a private citizen, over opposition allegations that she may have meddled extensively in government affairs.
Last week, Park apologized over the scandal, acknowledging that she consulted Choi on certain documents for a period of time after taking office in 2013. She said she was trying to be thorough with her work.
Choi apologized on Monday after arriving at a Seoul prosecutors' office for questioning. She didn't say what she was apologizing for. Her lawyer, Lee Kyung-jae, said earlier that she admitted to "some wrongdoing."
Park's former senior adviser, An Chong-bum, has also been detained in connection with the scandal. He is alleged to have coerced a business lobby group linked with conglomerates such as Samsung and Hyundai to donate tens of millions of dollars to two foundations that Choi controls. An declined Wednesday to answer questions on the allegations from reporters.
For an explainer on the scandal, click here
Prime minister nominee Kim also said Thursday he will exercise all power vested in him under the constitution, citing a history of premiers having much less influence than presidents.
The policy adviser under former President Roh Moo-hyun also said he would consult both opposition and ruling parties on policy matters, and that he may differ with Park on issues such as the nation's finances and security.
About 55 percent of respondents to a Realmeter poll released Thursday said they would like to see Park step down or be impeached. The figure last week was 42 percent.
Before it's here, it's on the Bloomberg Terminal.
LEARN MORE