Investors Are Pouring Into an ETF That Protects Against Higher Inflation
by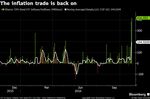 It's the tail end of 2016, but one of Wall Street's favorite trades—inflation-protected Treasuries—heading into this year is finally back in vogue.
Investors' appetites for an exchange-traded fund that provides exposure to bonds whose principal and coupon payments are adjusted for inflation have soared in recent sessions. Weekly inflows into the iShares Treasury Inflation Protected Securities Bond ETF (TIP) reached their highest level on record as investors brace for the possibility of a sustained upturn in price pressures. 

Cumulative weekly inflows are more than $972 million, the highest of any U.S. fixed income ETF over this period. TIP has seen trading volumes north of 4.75 million and 6 million over the past two sessions, compared with a 15-session average of 1.7 million shares.
Global bonds just came out of their worst month in six years as market-based measures of inflation expectations rebounded from their slump following the Brexit vote.
"Yield curves have steepened, and more importantly, Treasury Inflation Protected Securities have drastically outperformed, out of sync with the strong seasonal pattern toward narrower breakevens," said George Pearkes, macro strategist at Bespoke Investment Group. "People send inflows to stuff that's up."
Firmer commodity prices, improving labor markets, and expectations of a more expansionary fiscal policy in the U.S. after the election have all contributed to a rise in market-based inflation expectations.
In a blog post, Enduring Investments LLC Managing Principal Michael Ashton further elaborated on the reasons behind this rise in inflation compensation, which include that inflation itself is rising, the tail risk of above-target price increases is swelling, and "the prices that are changing the most right now are highly salient," such as gasoline and medical care.
Before it's here, it's on the Bloomberg Terminal.
LEARN MORE