ING Climbs Most in Three Months After Earnings Beat Estimates
By
Rising deposits and lending boost net interest income

CEO Hamers sees pressure from interest rates continuing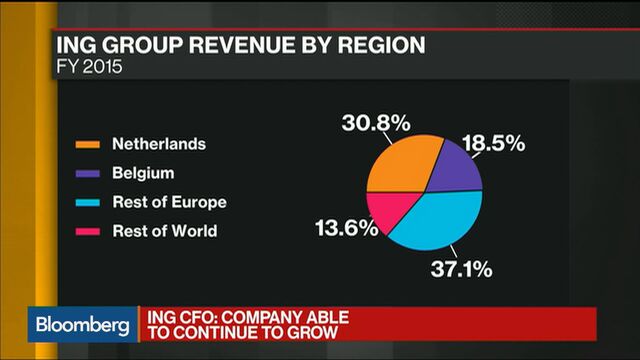 ING Groep NV, the largest Dutch lender, climbed the most in three months in Amsterdam trading after third-quarter profit beat estimates.
ING jumped as much as 4.2 percent in Amsterdam trading, the biggest gain since Aug. 3, and was priced at 12.02 euros as of 9:44 a.m. Net income rose 22 percent in the quarter as investment gains climbed and increasing deposits boosted interest income.
Underlying profit rose to 1.34 billion euros ($1.49 billion) from 1.09 billion euros a year earlier, the Amsterdam-based bank said in a statement on Thursday. Analysts were expecting 1.15 billion euros, based on the average of six estimates compiled by Bloomberg.
ING announced plans last month to eliminate about 5,800 jobs, or 11 percent of its workforce. Chief Executive Officer Ralph Hamers is investing in financial technology to reduce personnel and branch costs, while seeking to expand lending to consumers and companies outside its home market.
To ensure further growth in the current environment, those restructuring measures are "necessary steps to enable ING to evolve with changing customer expectations and to increase operational efficiency," Hamers said in the statement.
For analyst views on ING, click here.
Net interest income, the revenue generated from the difference between what banks charge for loans and pay on deposits, rose to 3.4 billion euros in the quarter from 3.1 billion euros a year earlier, ING said. Net commission income rose 16 percent to 605 million euros. Investment income was 139 million euros compared with a 7 million-euro loss a year earlier. The bank recorded net core lending growth of 3.6 billion euros and attracted 2 billion euros of net customer deposits.
"Q3 results confirmed the attraction of ING, with good top-line momentum, cost control and a strong capital ratio," Anke Reingen and Benjamin Toms, analysts at RBC Capital Markets, said in a note to clients.
Cost Progress
The cost-income ratio in banking improved to 50.9 percent in the quarter compared with 56.1 percent a year ago. It would have been 54.6 percent "if the total regulatory costs in 2015 and 2016 were equally distributed over the respective four quarters," ING said. 
Cost-saving programs that have been under way at ING Bank since 2011 are expected to generate gross annual savings of 1.2 billion euros by 2017 and 1.3 billion euros by 2018. The bank has already achieved 977 million euros of savings, it said.
"The low-rate environment has been here for quite a while and now we see in markets such as Belgium retail an impact that will deliver pressure on net interest income," Hamers said in a call with journalists. "We need to make sure that we have an efficient operation going forward and digitalization will help."
Lenders across Europe are reducing headcount as negative interest rates and stiffer regulation weigh on earnings. Commerzbank AG, Germany's second-biggest bank, said in September that it plans to shed 9,600 jobs and won't consider resuming dividend payments until it has carried out most of the reductions by 2019.
As part of an overhaul announced last year, Deutsche Bank AG scrapped bonus awards for top management, suspended dividend payments and pledged to eliminate 9,000 jobs.
ING's common equity Tier 1 ratio, a key measure of financial strength, rose to 13.5 percent at the end of September from 12.3 percent a year ago. As part of the revamp announced last month, ING said it will maintain a common equity Tier 1 ratio of above 12.5 percent by 2020.
Before it's here, it's on the Bloomberg Terminal.
LEARN MORE