Imperiled U.K. Startup Tries to Reboot 'Moshi Monsters' Brand
By
London's Mind Candy unveils new mobile game for younger kids

More revenue, loan extension needed for company to survive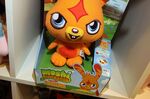 Struggling British gaming company Mind Candy Ltd. is launching a new children's mobile game along with a personalized storybook product in an attempt to reinvigorate its Moshi Monsters brand.
Available for Apple Inc.'s iOS and Google's Android, Moshi Monsters Egg Hunt is a free-to-play app designed to appeal to four- to seven-year-olds, a slightly younger age group than had been the original target for the products. The game lacks any in-app payments. Instead, the company plans to monetize the game's characters through customized merchandise.
"I think this is the formula we have been looking for," Ian Chambers, Mind Candy's chief executive officer, said in an interview Thursday. "I want to build an environment that kids love and parents trust."
London-based Mind Candy, founded by entrepreneur Michael Acton Smith, rocketed to success after creating the Moshi Monsters brand in 2007, becoming one of the most prominent startups in the capital's technology scene. But the company had difficulty managing the transition from desktop gaming to mobile and failed to come up with another hit on the same scale. It has seen revenues fall precipitously since 2012 and the company said in filings with U.K. business registry Companies House in October that unless it boosted revenue and rescheduled the repayment of a 6.5 million pound ($8.1 million) loan from Silicon Valley investment firm TriplePoint Capital, the company might go bankrupt.
The company said it had trouble finding a workable business model for Moshi Monster on mobile because in-app purchases would not be appropriate for a product aimed at young children. The original Moshi Monsters game operated on a monthly subscription model and also made money from licensing fees.
Business Model
The new mobile game lets children create a catalog of different monster characters. For 20 pounds, Mind Candy then hopes to sell personalized storybooks that will be populated with the characters from the child's personal collection.
The company also said it was developing a new animated television program and was in talks with partners about other licensing and merchandising opportunities. Chambers said the original Moshi Monsters brand had grossed $250 million in retail sales and that these firms were eager to partner with Mind Candy on new licensing around the brand.
"It is a big day for us because we are announcing something new for a fantastic brand," Chambers said, adding that "it is no secret that the company has had a challenging couple of years."
Lost Staff
Mind Candy's revenue in 2015 was 7.2 million pounds, down from about 47 million pounds in 2012, when the popularity of Moshi Monsters peaked, according to the company's accounts filed with Companies House. The business lost 10.4 million pounds last year even after laying off a third of its staff.
The company has created two other mobile games -- World of Warriors and Petlandia -- but neither has matched the success of the original web-based Moshi Monsters. Last year, Mind Candy's mobile gaming revenue grew 50 percent to 3 million pounds, narrowly exceeding what the company made in subscription revenue from the legacy desktop-based Moshi Monster game.
Before it's here, it's on the Bloomberg Terminal.
LEARN MORE