The IEA Is Skeptical Electric Cars Will End the Age of Oil
by
Oil demand growth coming from trucks, jets - not cars

Electric cars made up less than 1% of total sales last year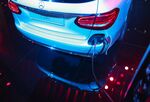 Electric cars won't cause oil demand to peak anytime soon, according to International Energy Agency Executive Director Fatih Birol.
"The oil demand growth is not coming from cars, it's from trucks, aviation and the petrochemical industry and we don't have major alternatives to oil products there," Birol said at the Energy for Tomorrow conference on Thursday in Paris. "I don't buy the argument that electric cars alone will cause a peak in oil demand at least in short and medium term."
The IEA chief's comments add moderation to recent forecasts and warnings on the potentially disruptive effects that electric vehicles will have on the oil industry. Bloomberg New Energy Finance estimates that plug-in cars will displace 13 million barrels of oil a day by 2040. Fitch Ratings reported reported Oct. 18 that battery technologies used by electric cars could trigger a "death spiral" for investors with securities linked to fossil fuels.

The number of electric vehicles on the roads has risen sixfold since 2014 with 550,000 new plug-in cars sold last year, according to the IEA. Electric automobiles made up less than one percent of all new cars sold last year.
Royal Dutch Shell Plc, the world's second-biggest energy company by market value, said on a conference call on Tuesday that oil demand could peak in as little as five years as renewable energy and disruptive technologies gain traction.
"We've long been of the opinion that demand will peak before supply," Chief Financial Officer Simon Henry said. "And that peak may be somewhere between 5 and 15 years hence, and it will be driven by efficiency and substitution, more than offsetting the new demand for transport."
Shell Chief Executive Officer Ben van Beurden, who spoke after Birol at Thursday's conference in Paris, expects that "solar will be a main backbone of the energy system in the second half of the century."
"It depends a little bit on how the world will play out and what kind of business models there are," Beurden said. "Growth of renewables has been remarkable but capacity of industry to make money in that segment has been remarkably absent."
Before it's here, it's on the Bloomberg Terminal.
LEARN MORE