GOP Barred From Sending Poll Watchers to Philadelphia
By
Judge tells Republicans they can't ask poll watchers to travel

Party argued state election provision violates constitution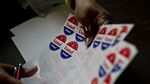 Pennsylvania Republican poll watchers can't travel to cities including Philadelphia to watch for purported voter fraud, as Republican presidential nominee Donald Trump has urged, a federal judge ruled.
The judge on Thursday denied a GOP request to overturn a provision of the state's election law requiring poll watchers to be registered to vote in the county they serve. Republicans said the law was unconstitutional.
"There is good reason to avoid last-minute intervention in a state's election process," U.S. District Judge Gerald Pappert in Philadelphia said in his ruling, noting that the party had waited until 18 days before the election to file the suit.
Were he to block the residency requirement, "poll watchers would be allowed to roam the commonwealth on election day for the first time in the Election Code's seventy-nine year history," he said.
The lawsuit filed Oct. 21 argued that many of the state's electoral districts overlap with multiple counties. Pennsylvania Republicans wanted poll watchers to monitor voting sites especially in Philadelphia county "to ensure the integrity of the vote on behalf of its numerous federal and state electoral candidates," according to the complaint.
Megan Sweeney, a spokeswoman for the Pennsylvania GOP, didn't immediately return a phone call seeking comment on the ruling.
Trump in his rallies across Pennsylvania has singled out Philadelphia as a city to watch for voter fraud, saying the only way he could lose the state is if there is cheating.
The case is Republican Party of Pennsylvania v. Cortes, 16-5524, U.S. District Court, Eastern District of Pennsylvania (Philadelphia).
Before it's here, it's on the Bloomberg Terminal.
LEARN MORE