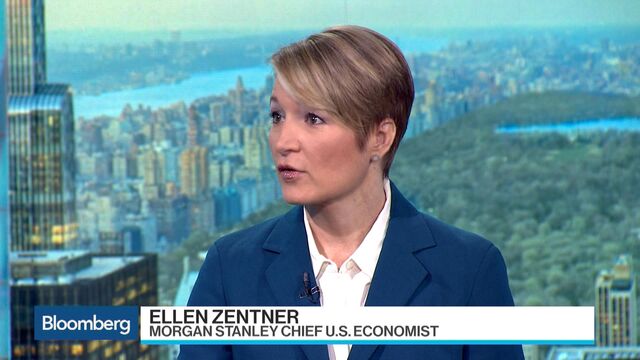 The government's October jobs report is poised to offer the last big data point on a steady if unimpressive U.S. economy, four days before Americans flock to the polls.
Payrolls probably rose 175,000 last month for the first acceleration since June, according to economists' projections ahead of Friday's 8:30 a.m. release from the Labor Department in Washington. While many voters — including the more than 32 million who have cast ballots early — already have made up their minds, both presidential campaigns are likely to use the data to affirm closing arguments on the economy.
The report may also solidify the case for the Federal Reserve to raise interest rates in December for the first time in a year, following the central bank's statement Wednesday that officials would wait for "some further evidence of continued progress" in the economy amid "solid" job gains. The figures should confirm the "trend of broad-based job gains consistent with an ever-improving and healing labor market" and keep the Fed on course, said Emanuella Enenajor, an economist at Bank of America Corp. in New York. 
Beyond the political and policy headlines are a bevy of factors economists will be monitoring to get a better read on how the pace of hiring will close out the year, and how temporary quirks could muddy the picture: 
Storm effect
Hurricane Matthew's East Coast assault was just fading at the start of the calendar week during which government officials survey households and businesses to compile the jobs data. That has economists like Ryan Sweet of Moody's Analytics Inc. on guard for the weather's impact on various gauges in Friday's report.
"Forecasting monthly employment is always a humbling experience, but this October is going to be trickier than usual because there are several temporary factors at play," said Sweet, who's based in in West Chester, Pennsylvania.
The storm might actually help, rather than hurt, the headline jobs figure, since the messy part of the storm occurred before the survey week and cleanup efforts tend to boost payrolls, Sweet said.
The average workweek could come in a bit weaker than usual given the difficulty reporting to the office in the storm's aftermath — important to keep in mind for those looking for a clean read on worker productivity. Average weekly hours otherwise have been very stable, coming in at 34.4 in seven of the last eight months.
QuickTake Understanding the Monthly Jobs Report
Holiday hiring
With hiring managers bemoaning the increasingly intense competition to pick up workers, economists will be watching to see how early holiday-season retail staffing affects the job numbers.
"There's been some talk anecdotally that people who have to hire for the holidays had to hire a little sooner than normal, because they knew it was going to be difficult," said Stephen Stanley, chief economist at Amherst Pierpont Securities LLC in New York.
Package delivery giant United Parcel Service Inc. in September announced plans to hire about 95,000 seasonal workers, more than last year, and is sweetening the deal with bonuses and higher wages in an attempt to snap up labor in a dwindling pool. 

At the same time, Stanley said he's looking for potential rebounds in leisure and hospitality and in healthcare — two categories that disappointed in September. 
Workforce participation
The labor force participation rate — the share of the working-age population that's employed or looking for a job — has served as a window into how much more the employment picture can potentially improve. Incoming millennials have failed to offset an army of retiring baby boomers, so this rate has dwindled despite better prospects for would-be laborers. 
Sweet said he's monitoring the government's tally of discouraged workers, as well as the participation rate among prime-age workers — those ages 25 to 54. That share has been on a strong rebound over the past year, while still far below where it was during the last recession.

"That's a very encouraging sign because the labor supply is potentially problematic down the road — if we don't start pulling more people that are not in the labor force but want a job back in, we're going to start running into supply constraints," Sweet said.  
Wage growth
The boost to paychecks that was absent for so much of the expansion has finally been making a bigger presence, with average hourly earnings gaining ground.
A 0.3 percent rise in October, as projected in the Bloomberg survey, would go a long way in affirming that a pickup in wages is here to stay, said Tom Simons, a money-market economist at Jefferies LLC in New York.
"As the availability of labor starts to dry up, the price of labor is going to increase," Simons said. "We can be encouraged that it still seems that upward momentum is there."


Before it's here, it's on the Bloomberg Terminal.
LEARN MORE