French Republicans Debate Shows More Agreement Than Discord
Gregory Viscusi
Seven candidates largely agree on migration, police protection

Sarkozy hints he may serve only one term if elected again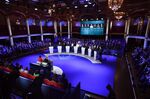 The six men and one woman seeking to be the candidate of France's center-right Republicans party didn't highlight many differences between them in their second debate, instead aiming their fire at Socialist President Francois Hollande.
"I'm not running against Nicolas Sarkozy but against the National Front and the current president who is ruining France," said front-runner Alain Juppe, referring to his main rival, former President Sarkozy, who was standing five daises away on the stage at a Paris theater.
Some of the most heated exchanges came when candidates trailing in the polls such as Meaux Mayor Jean-Francois Cope and former environmental minister Nathalie Kosciusko-Morizet criticized Sarkozy for his close relations with Saudi Arabia and Qatar, which they said support radical Islam.
"If you think we can bring peace around the Mediterranean without sitting at the table with Iran, Saudi Arabia, and Russia, then you don't know these dossiers," Sarkozy said. "These are serious issues that require knowledge of the subjects and not just posturing."
Juppe, who served as foreign minister under Sarkozy, came to his defense. "I agree with Nicolas that foreign policy doesn't involve cutting bridges with those who don't share our ideas," he said.
The candidates all approved of the recent dismantling of a migrant camp in Calais, saying Britain should share more of the burden of migrants seeking to cross the Channel. "We should not be obliged to keep all the people that Britain doesn't want," Juppe said. Sarkozy said that "the British should open centers on their soil to decide who can stay and who can't."
The 71-year-old Juppe reiterated that he would only serve one term, meaning he wouldn't need to curry favor for re-election. Sarkozy hinted he might do the same, saying that he'd be 67 at the end of his first term and "that may be time to thank France." The other candidates, all younger, left open the possibility they'd seek a second term if elected.
Two Rounds
The Republicans primary will be held in two rounds. If none of the seven candidates secures more than 50 percent of the vote on Nov. 20, the top two will face a runoff on Nov. 27. Whoever emerges victorious will be the early favorite to go on to win the presidential election that will be held April 23 and May 7, possibly facing the anti-European Union National Front's Marine Le Pen in the second round.
In the unlikely case that a Socialist candidate faced Le Pen in the second round, they all said they would never vote for Le Pen, though they didn't all openly say they'd vote for a Socialist.
While Juppe has enjoyed a wide lead for much of the primary race, recent polling suggests his advantage is narrowing. With support from 37 percent of voters, his lead dropped to 6 points at the end of October from 12 points at the beginning of the month, according to an Ifop-Fiducial poll Wednesday of 709 voters who plan to participate in the primary. A separate survey by Elabe the same day showed Juppe up by 12 points in the electorate as a whole, but trailing Sarkozy by five points among Republicans supporters. The other candidates were all far behind.
It's the first time the center-right party, which changed its name last year from UMP, has held a primary to select its presidential candidate.
The candidates also agreed police needed more rights to defend themselves after several high-profile attacks on their forces. That exchange brought one of the few heated moments when some candidates such as Jean-Francois Cope criticized Sarkozy's "crazy error" of cutting police jobs during his 2007-2012 presidency. Sarkozy defended himself by saying he had to cut costs after the sub-prime crisis.
While they differed on how much importance to give various policies, they all said France's immigrant-heavy suburbs needed better policing, greater economic opportunities, and renovated housing. Sarkozy said criminals should be tried as adults at 16 years of age, instead of the current 18.
The candidates all said they'd select cabinets with a healthy balance of male and female ministers.
Before it's here, it's on the Bloomberg Terminal.
LEARN MORE