French Frontrunner Aims to Secure Lead With Heavyweight Backers
By and
Juppe backed by Paris region chief, targets northern leader

Polls show Juppe ahead overall, Sarkozy may win Republicans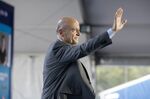 French presidential front-runner Alain Juppe is vaunting endorsements from Republican heavyweights to secure his lead over former President Nicolas Sarkozy amid signs the race for the party's nomination is tightening in its final weeks.
The 71-year-old candidate will parade his latest prize, the endorsement of Paris region chief Valerie Pecresse, during the contest's second televised debate on Thursday evening. Xavier Bertrand, head of the North of France, is the next on his target list. Both Bertrand and Pecresse were ministers under Sarkozy, who is fighting for a come back in the primary vote that will be held in two rounds, on Nov. 20 and 27. 
While Juppe has enjoyed a wide lead for much of the race, which includes six men and one woman, recent polling suggests his advantage is now more fragile. With support from 37 percent of voters, his lead shrunk to 6 points at the end of October from 12 points at the beginning of the month, according to an Ifop-Fiducial poll Wednesday of 709 voters who plan to participate in the primary. A separate survey by Elabe the same day showed Juppe up by 12 points in the electorate as a whole, but trailing Sarkozy by five points among Republican supporters.
"A surprise result is entirely possible," Yves-Marie Cann, a pollster at Elabe in Paris, said in an interview. "There is significant volatility between polls and there is enough uncertainty about who will actually participate in the vote that further tightening is possible."
This is the first time the Republicans are holding a primary vote to select their presidential candidate. The election itself will be held in two rounds on April 23 and May 7. Asked about the latest poll, Sarkozy said he is pleased but played up the uncertainty.
"I prefer when polls go up, but they've got it wrong so many times," he said on France Info radio Wednesday. "The French people will decide eventually. We shall see."
After the Riots
On Wednesday Juppe visited the tough Paris suburb of Argenteuil, where Sarkozy made headlines as interior minister in the run up to his first presidential bid in 2005 by promising to wipe away "the scum" that prevented regular people from going to work in peace.
The Sarkozy visit took place at night during the heated atmosphere of weeks of riots. Juppe came on a calm autumn morning, drawing interest from a few dozen locals, a far cry from the masses of shouting youths who confronted Sarkozy more than a decade ago.
After visiting a few stores and community centers, Juppe gave a run through of his campaign themes, talking first about unemployment, then security, before finishing on issues of French identity and separation of church and state. Sticking to his theme of appeasing social tensions in France, he defended his search for the nation's "happy identity."
"This spirit is important: let's respect each other and let's not give up the joy of living together," he said. "I'm not saying that France today is bathing in good times. On the other hand the role of a politician is to say 'Here is what we can do together. We can return to a harmonious co-existence.'"
Before it's here, it's on the Bloomberg Terminal.
LEARN MORE