Financial Repression Is Ending -- And Governments Can Afford It
Sovereigns can live with higher yields.
by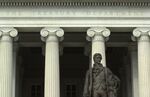 Central banks trying to kick-start growth after the financial crisis by making it cheaper to borrow money have allowed governments to handle heavier debt burdens and ease fiscal policy in tandem. But they've also created an unintended headache in the form of negative real yields, which eat into savers' returns.
Rising indebtedness among governments could be one reason financial repression — in other words, policies designed to help sovereigns borrow cheaply — are still largely in play, muse strategists at Credit Suisse Group AG.
"We have consistently noted that with global credit-to-GDP at all-time highs, there are three simple ways to de-lever at the same time as stabilising unemployment: i) default on government debt (and risk economic chaos); ii) tax the creditor (and risk losing power); and iii) tax creditors indirectly through negative real rates," writes Andrew Garthwaite, global equity strategist. "Clearly, it is the latter that is the main focus for policy makers."
The strategist observes that there's now less of need to benefit the big segment of borrowers made up by governments at the expense of savers: they ought to be able to handle higher interest rates without having their fiscal profile deteriorate. Because governments have largely dialed down their deficits since the financial crisis (a reduction in spending that's recently met with the chagrin of investors, the IMF, and economists like Larry Summers), and because of improved growth, the ratio of credit-to-GDP can hold steady even with yields at higher levels.

"A combination of fiscal tightening and improving growth rates now means that this degree of financial repression is no longer required in most developed markets," writes Garthwaite. "Outside of Japan, government debt-to-GDP and unemployment in the G4 would stabilise on higher real yields."
Which is fortunate, because yields hadn't been waiting for the strategist's permission to trend higher.
Credit Suisse anticipates that the 10-year Treasury yield will rise to 2.15 percent by the end of 2017.
Before it's here, it's on the Bloomberg Terminal.
LEARN MORE