Financial Repression Is Ending -- And Governments Can Afford It
Sovereigns can live with higher yields.
By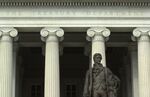 Central banks trying to kick-start growth after the financial crisis by making it cheaper to borrow money have allowed governments to handle heavier debt burdens and ease fiscal policy in tandem. But they've also created an unintended headache in the form of negative real yields, which eat into savers' returns.